Here is some SPOILER info for the upcoming UQ Holder Chapter 139.  (My review of UQ Holder Chapter 139 should come out as soon as they appear on Crunchyroll, depending on when Crunchyroll can actually be bothered to publish the chapter — it should already be published since it is already the 8th in Japan.) The best we can hope for is 5pm PST (I think) on the 8th in the U.S.
UQ HOLDER Chapter 139 SPOILERS
The UQ Holder Chapter 139 goodness begins. The raw is completely out since it is the 8th in Japan.
First up, Negi vs. Nagi-MotB plus our old buddies from Cosmo Entelecheia.
I found this interesting.  It shows how much Eva has mellowed for her to hang with the three cheerleaders (now in college) while Negi and company are out in space, battling MotB. Now whether her remaining out of the action or not is the result of the curse or the result of her not getting involved is unknown. I'm hoping we see more of Eva's involvement in the events of the past.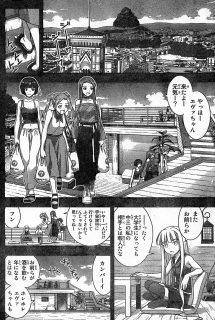 Negi's battle harem arrives.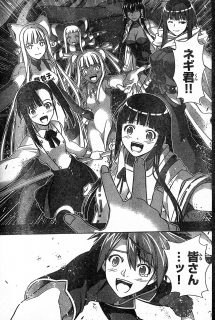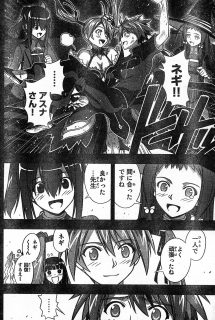 And some other allies as well, including Fate's battle harem. Glad to see them here as well.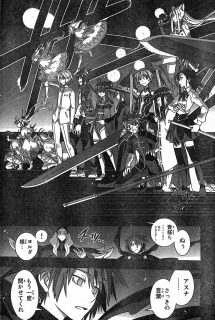 And again, no Touta or any other UQ Holder person is involved. Yay! 😛
If anyone wants to see the full chapter, it is here. Hopefully we get the English version in 16 or so hours, but it could be 40 or more hours if Crunchyroll doesn't publish on time. (And yeah, the chapter will be out on Amazon for those wanting to digitally buy it and and have a reader.)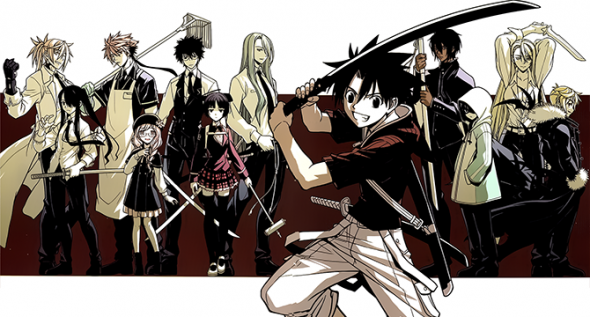 Update: Oh yeah – I forgot the UQ Holder anime teaser trailer.
Thoughts on this?