ユーキューホルダー! 魔法先生 ネギま!2 Manga Review
UQ Holder! Mahou Sensei Negima 2
UQ Holder!: Magister Negi Magi! 2 Chapter 142
UQ Holder Chapter 142

SPOILER Summary/Synopsis: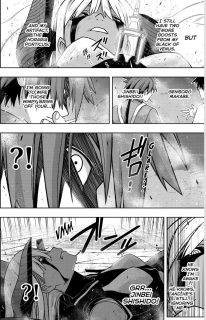 Cutlass is easily able to "kill" Gengorou, then goes after Jinbee. She tries to put a killing blow on Jinbee, but Gengorou shows up again. He's able to defend Jinbee for a bit before getting cut down by Cutlass. However, he returns with a large rotary cannon, emptying a massive barrel of ammo at Cutlass. He then tosses a large number of frag grenades at her before producing a rocket launcher with magic shield piercing warheads.
Jinbee thinks they've got her and wonders how they are going to clean up the mess when Cutlass puts the tail of her second form through Gengorou's chest. Cutlass immediately goes after Jinbee, but Gengorou returns with a katana to try to defend Jinbee. Jinbee is forced to use his switch ability to teleport her to the underground caverns, foiling her killing blow. However, she had planted a teleportation ofuda on Jinbee, allowing her to to immediately return in a new form. She knocks Gengorou far away so she can battle Jinbee unmolested. She cuts off his head, but he's not dead and uses his switching ability to remove her transformed arm.
Cutlass is both angered and concerned learning Jinbee had this skill and could have killed her at any time. She lashes out at him, but Gengorou is back and slices off another transformed arm. She kills him, then immediately lands a killing blow on his respawn, but this time, it is not effective. He informs her that he has three seconds of invincibility after he respawns. He cuts off more of her limbs, enraging her and causing her to transform again. Jinbee manages to knock her out. Cutlass's backup brain activates and she plots the destruction of Jinbee and Gengorou. Jinbee gives her a sideways glare to let her know he's aware that she's conscious.
A teleportation madala shows up as Dana brings in Touta and company along with Chamo in humanoid form. Cutlass freaks upon seeing Dana and dispels her bult to return her to a small, loli form. However, as she leaps away, Dana violates every rule of science and nature to capture Cutlass without using magic.  Cutlass tries to behead Touta, but fails. Gengorou shoots Cutlass, then puts a foot on her and empties a gun at her. Touta stops him since he doesn't want her killed.
They put Touta in a special cell to nullify magic and chi. Gengorou puts Touta in charge of feeding her since he stopped Gengorou from killing Cutlass. They can communicate via a holographic monitor and send her food via a teleportation circle. Touta communicates with her, where she admits she wants to "save" the world. But before that happens, she wants to make people like Touta pay their dues. She smirks as she hints at bad things to come. On cue, a government alert goes up as in space, the elevator is attacked by an apparent satellite.
Thoughts/Review:
Sadly, there were no spoilers for UQ Holder Chapter 142, but I found the chapter to be pretty good, both in action and in giving Gengorou and Jinbee more screen time.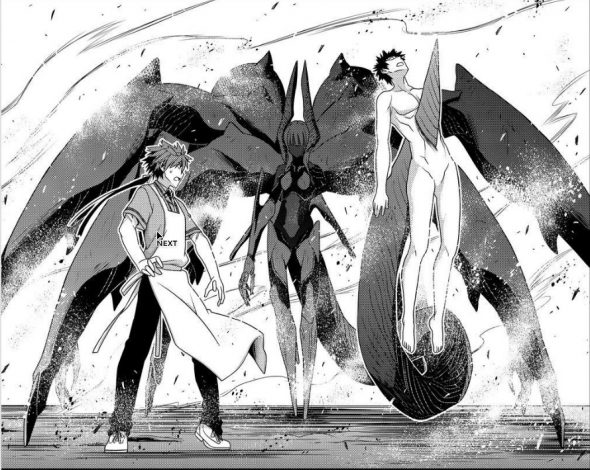 Gengorou and Jinbee
During their fight with Cutlass, we learned a number of things. As first revealed in the anime, Gengorou has a bank of lives at his disposal. Now we know that he increases his bank of lives by doing good deeds. We also have revealed that just like a video game, Gengorou has a brief period of invincibility after he respawns. And finally, like a video game, Gengorou can produce any number of weapons on the fly, as a gamer would do with hotkeys in a game like Doom. (Or any other shooter game, I imagine.)
For Jinbee, we learned a couple of things. His "switcheroo" ability can be used on body parts. Basically, he could remove someone's heart if he wanted to. Baring that, he could certainly cause someone's body to split in half and kill them. That's pretty incredible, if you ask me.
We also learned that his immortality is not affected by the loss of his head. I may be wrong, but I seem to recall that being stated before. Or maybe it was merely speculated that Jinbee might have lost his head. Regardless, he may not have Touta's or Karin's level of immortality, but he's still pretty resilient.
Finally, we learned that Jinbee has some kind of knockout power. And he may have some kind of mental ability since he was able to sense that Cutlass was conscious.
Cutlass
We also learned a few things about Cutlass. For starters, she seems to have been created by an organization called Amater. She has a cyberbrain backup so that she can function even if she gets knocked out. While we already knew she could transform, she does have multiple transformations due to using Black of Venus. That would account for her mazoku appearance when she transforms, where she resembles Poyo somewhat.
We know she has an artifact, but it doesn't appear to be from a pactio. She seems to store it within her body (the Horaria Porticus). I hope we can learn more about her in the future.
Hopefully, we'll soon learn more about this Amater that built Cutlass. Because she's a cyborg, I'd be willing to bet this is separate from the immortal project Negi was built from, but we'll see. I'm guessing they may be the ones responsible for the attack on the space elevator.
And MAN does Cutlass have anger management issues. Rather like me. 😆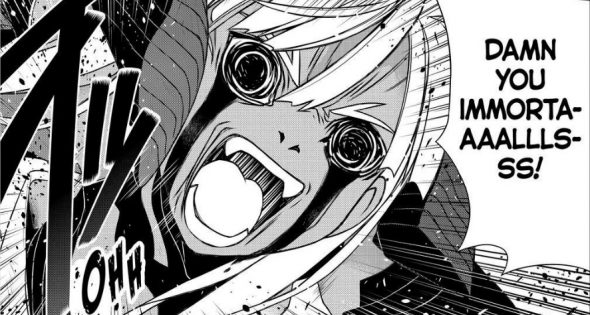 Dana and Company
As expected, Dana arrived with Touta and the others. Also as expected, Dana's second presentation is put on hold. And considering how the chapter ended, we ain't getting it anytime soon. I hate it when character say, "Hey, we have great information," then don't give it for whatever reasons.
I did get a chuckle out of Dana's violation of the forced perspective rule. As a kid, I remember posing for pictures with a forced perspective so it looks like you are holding something large or that something large is small. And I imagined being able to do something like what Dana did when she plucked Cutlass from the air.
At least Touta and company didn't save the day, as I feared they would. Outside of Dana preventing Cutlass from escaping, it was all Jinbee and Gengorou taking down Cutlass.
Final Thoughts and Conclusion
Time to wrap up my review of UQ Holder Chapter 142 so I can put the finishing touches on the latest anime episode (06 as I write).
I'd be interested in seeing how this attack affected Eva's mission to calm the government types.
How did Touta deflect Cutlass's blade from slicing off his neck? I don't remember him studying anything to make himself invulnerable.
Touta's ability to show mercy is something that I think will play an important role in the future.
Did Akamatsu-sensei just kill a cute little girl? Haha! I guess we've a month to find out.
In the end, UQ Holder Chapter 142 is a pretty decent chapter. It allowed us to learn a bit more about Jinbee, Gengorou, and Cutlass. It also appears to be setting up the next arc of the series.