ユーキューホルダー! 魔法先生 ネギま!2 Anime Review
UQ Holder! Mahou Sensei Negima 2
UQ Holder! Magister Negi Magi! 2 – 06
UQ Holder Episode 06

SPOILER Summary/Synopsis: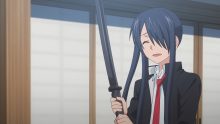 Kuroumaru takes Kurobo to Touta. While walking there, the two talk, but when Kurobo mentions Kuroumaru is attracted to Touta, the talking sword finds itself planted in the pavement. Kuroumaru observes Touta chatting with Shinobu about her speeder bike. Upon returning to the dorm, Kuroumaru takes a shower, but when Kuroumaru comes out, Karin enters the room and discovers Kuroumaru doesn't have a winkle. A little later and outside, Kuroumaru explains that members of the Yata no Karasu are demi-human (ajin) who are genderless until the age of 16. Thus Kuroumaru is neither male nor female.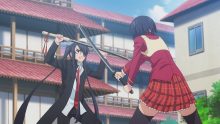 Karin decides to attack Kuroumaru to force Kuroumaru to choose female and be with Touta. Ikkuu arrives, having heard the whole thing. So Karin and Ikkuu hatch a plan to have Kuroumaru disguised as a blonde, female cousin of Kuroumaru's named Kuryuu. Kuryuu wants to go to Shin Tokyo, so Touta borrows Shinobu's bike and across the bay they go. They have a lovely date, ending at the in Amano-Mihashira Orbital Elevator (tower) observation deck. While enjoying the moment, they are attacked by Xinxai and a four-armed guy.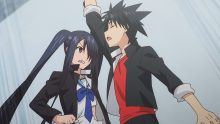 Touta is easily captured. Kuroumaru discovers that as the female Kuryuu, there is a lack of strength that is normally there. However, after some additional fighting, Kuroumaru escapes from Xinxai's trap and frees Touta as well. Xinxai and his companion flee as the police arrive. Touta comes to and sees Kuroumaru, who explains that Kuryuu was taken to safety by Kuroumaru. Touta talks about how attractive Kuryuu was, leading Kuroumaru to decide to leave the option for becoming female on the table. Back home, Ikkuu sees fellow immortal Kirie lighting what appears to be an incense stick.
Thoughts/Review:
As we desperately rush forward to get to Negima elements, UQ Holder! Magister Negi Magi! 2 – 06 shows the folly of a rushed character story with little foundation.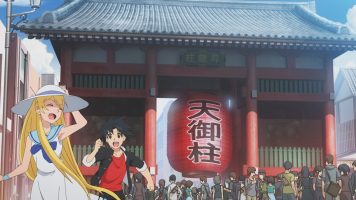 The Kuroumaru Arc
While the manga has a lot of flaws, one thing it did allow is for a natural progression of Kuroumaru's personal arc in dealing with Kuroumaru's feelings for Touta. Further, it also allowed for Kuroumaru's decision on whether to become male or female to flow naturally. So in the manga, Karin discovers Kuroumaru's secret prior to their trip to the slums. Then in the manga, because Kuroumaru is a bit depressed over Touta going to Kaito for training instead of consulting with Kuroumaru, that's when Karin decides to physically confront Kuroumaru by attacking Kuroumaru. It makes sense.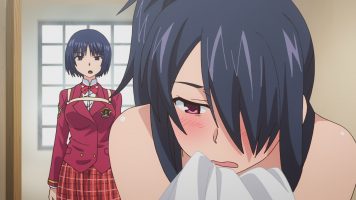 For UQ Holder! Magister Negi Magi! 2 – 06, Karin's discovery of Kuroumaru's secret happens after the events of the slums. Then for no apparent reason, Karin decides to just attack Kuroumaru to force Kuroumaru to hopefully choose to become a girl. Karin's actions in the anime don't make sense because they aren't grounded in having observed Kuroumaru's behavior for a period of time and seeing Kuroumaru's conflict.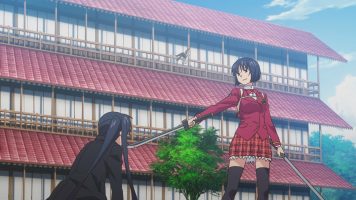 Further, by taking the Kuryuu story element from some 80 or so chapters later and ramming it into the present, things don't add up. In the manga, Kuroumaru had physically begun to transform into a girl, thanks to the feelings for Touta within Kuroumaru. So Ikkuu and Kirie's (not Karin in the manga) actions to have Kuroumaru be disguised as a girl to go out with Touta makes more sense.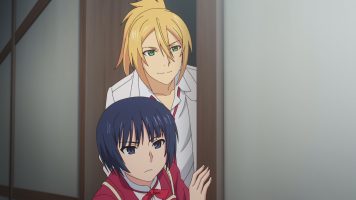 In addition, Kuryuu doesn't come off as some random girl in the manga who just shows up just to ask Touta to show her around Shin Tokyo. In the manga, Kuryuu is a customer of the Inn (and distant relative of Kuroumaru) who just wants a tour guide. That's lost in the anime as Kuryuu comes in, says she's a cousin of Kuroumaru, then wants Touta to take her to Shin Tokyo like a love-sick girl.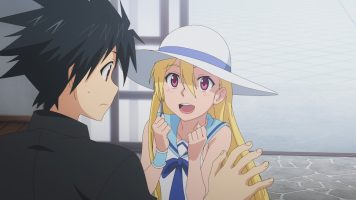 The Possible Fate Problem
In skipping the second fight at the slums, where Nagumo and company try to capture Touta, we lose an element where the table is set that Fate wants to capture Touta. As such, in UQ Holder! Magister Negi Magi! 2 – 06, we run into Fate's companions, as dictated by the Kuroumaru-Touta date story from the manga. Xinxai makes a half-arsed effort at capturing Touta, but quickly gives up. That's because in the manga, by this point, Fate had ordered no one mess with Touta, but Xinxai did anyway.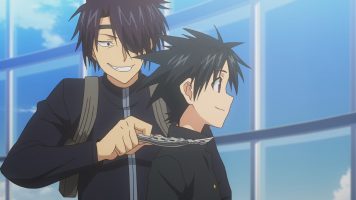 I get that the anime is acting like Xinxai and his four-armed companion (who's name I should look up) have orders to do this. But they gave up too easily, which made no sense. If the anime does the "Fate stomps" story (which it appears they might), we know that Fate didn't let anything stop him in his goal to capture Touta.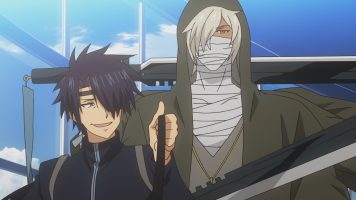 Also, Fate got notified about Touta and started coming down in the elevator. In the manga, that was so he could confront Touta and brutally deal with the others with Touta. In the anime, one would have thought that he would have come down as well, but instead, Xinxai and companion botch things, allowing Touta and Kuroumaru to leisurely escape. Where was Fate coming in to prevent this? As far as I'm concerned, this is another anime story structure flaw.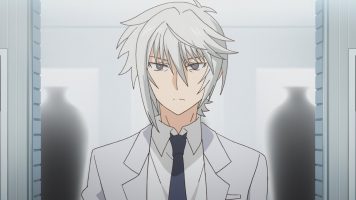 Final Thoughts and Conclusion
OK, time to wrap up my review of, which now gets me caught up with Japan. Yay! As I write this, chapter 142 of the manga has just been released, so I need to get shifted to that.
I don't remember Kurobo ever talking to anyone but Touta before.
Kirie is barely in this episode and already she's annoying me. 😆
Shinobu's speeder bike is here, so I guess the pod race stuff will be in the anime.
An interesting change from the manga is having Eva and Jinbee discuss Touta having Magia Erebea.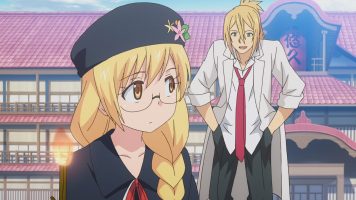 In the end, UQ Holder! Magister Negi Magi! 2 – 06 has some nice elements, but fails overall due to the lack of setup for Kuroumaru's feelings for Touta and the natural progression the manga had for those feelings over 100 chapters.