ユーキューホルダー! 魔法先生 ネギま!2 Anime Review
UQ Holder! Mahou Sensei Negima 2
UQ Holder! Magister Negi Magi! 2 – 08
UQ Holder Episode 08

SPOILER Summary/Synopsis: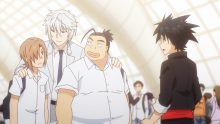 Touta's friends Nikumaru and Mitsuhashi see Touta and greet him. Fate comes up behind them and puts on a smile, but is clearly holding them hostage. Touta is irritated by Fate's words. Touta concedes defeat, but then screams about a terrorist, causing Fate to be confused and allowing Karin to sneak in and get Touta's friends to safety. Ikkuu, who'd been temporarily stopped by Fate's associate Tsukuyomi, manages to get free and cause the orbital weapon platform Al-Iskandariya to attack Fate. Kuroumaru engages another of Fate's comrades (Asura) while Kirie attempts to snag Fate, only to become petrified.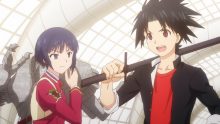 Karin sees the plan is FUBAR and orders a retreat. She grabs the petrified Kirie and ties Kirie to her body. Karin is attacked by a priest named Shaba, leaving Touta to deal with Fate. Fate is surprised by Touta's abilities. Karin sees a timer on Kirie and calls Touta to ask what this is. Touta has a feeling he knows and suggests that they all gather at Fate when the counter hits zero. They do and Kirie breaks free from the petrification spell, thanks to a magic app. Kirie kills herself, returning to her save point while Ikkuu, Kuroumaru, Karin, Touta, and Fate arrive in the caverns under the UQ Holder HQ, where Yukihime is waiting.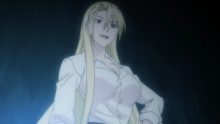 Yukihime and Fate square off against each other, but then back down. Out of respect for them capturing him, Fate says he'll answer one question each from Kuroumaru, Ikkuu, Karin, and Touta. Ikkuu asks what Fate needs Touta for. The answer is to free Negi. Karin asks whom Negi loved — Fate or Yukihime (Eva). Fate responds that Yukihime loved Nagi, but passes on discussing her feelings for Negi after a threat from her. Kuroumaru asks about the urgency of grabbing Touta and learns Fate won't need him for 20 years. Touta asks if Fate killed his parents, to which Fate confirms.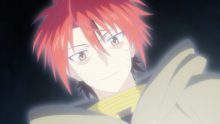 Touta activates his Magia Erebea, but the magic thing planted on him earlier activates. Negi Springfield's image appears and he is able to communicate with the group. After greeting Touta, Fate, and Yukihime, Negi tells Touta Fate is wrong. Yukihime telepathically tells Kuroumaru to find the magic device on Touta and destroy it. Negi is just about to reveal all when Kuroumaru destroys the device. Touta is upset about having this valuable information cut off. Fate and Yukihime agree to an alliance, thanks to this turn of events.
Thoughts/Review:
UQ Holder! Magister Negi Magi! 2 – 08 sees us have the largest break with the manga as the series attempts to speed things up even faster. Not sure how we fit Mizore into the mix with so little time.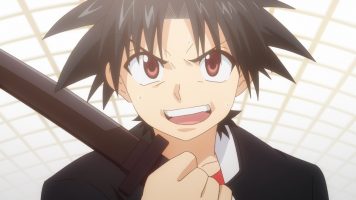 What Was Changed
One of the biggest changes from the manga is that the battle between Fate and Eva (as Yukihime) was axed. So not only did we missed these two giants duking it out, we didn't even get to see Eva use Magia Erebea. With the anime making a lot of note of Touta possibly inheriting this from Eva, I'm surprised that we didn't get to see Eva using ME.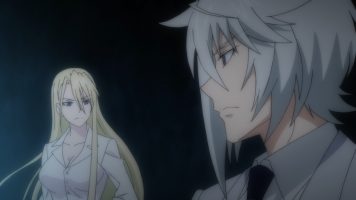 The next major change is in having Cutlass's purpose in bumping into Touta revealed. Instead of being an assassin looking to kill immortals, Cutlass is just Negi's errand girl, allowing Negi to holographically communicate with Eva, Fate, and Touta. I'm going to guess that this communication will replace the manga's shocking communication, whereby the Mage of the Beginning revealed herself after pulling Touta, Eva, and Fate somewhere to reveal Negi and Nagi.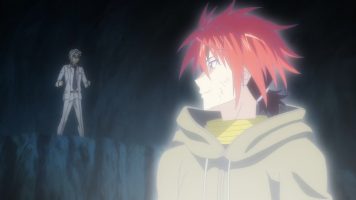 I found it amusing in a non-funny way that while we had to cut the Eva vs. Fate battle, we had lots of time for a lengthy recap at the start of the episode. Go figure.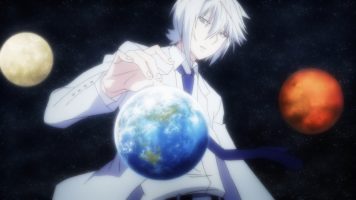 What I Liked
One thing I liked from the anime is seeing just how fast Kirie was taken out of action. That speed was lost in the manga, at least in week-by-week basis. That helped show just how fast Fate can petrify someone.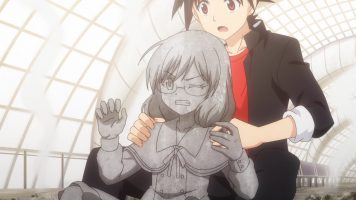 I really hate to admit this, but I laughed out loud at Touta taunting Fate. I guess that's the little boy in me.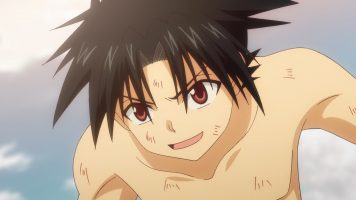 What I Didn't Like
Obviously, I didn't like the fact that the fight between Eva and Fate was cut. That said, the fight scenes that were shown didn't look as ugly as the previous episode, but sadly, they are underwhelming visually. It is terrible of me, but at times like this, I think, "I wonder what kind of magic ufotable could have done with this?"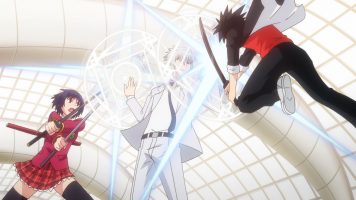 I didn't like how Eva ordered Kuroumaru to kill the transmission from Negi. It is one of those convenient story devices to prevent the audience from learning information while throwing it in your face that the information is RIGHT THERE! 🙄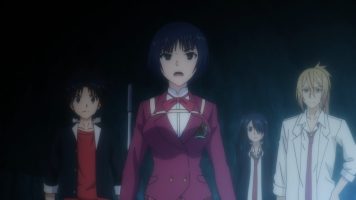 Finally, I didn't like how Tsukuyomi looked in this episode. Maybe it was the blue hair.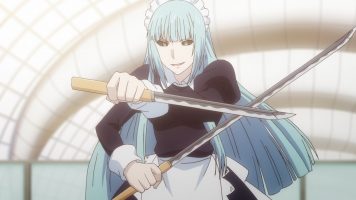 Final Thoughts and Conclusion
OK, time to wrap up my review of UQ Holder! Magister Negi Magi! 2 – 08.
The anime stated that it was 20 years since Eva and Fate last saw each other. The manga stated it was 30 years. I wonder why the 10 year difference?
I'm trying to remember if we've ever seen Touta's friends again since this story came out in the manga. I think not.
With each episode I watch, I can't help but wish that Akamatsu-sensei hadn't been so keen on trying to emulate Mashima-sensei's style of only planning the manga on an arc-by-arc basis. Oh well.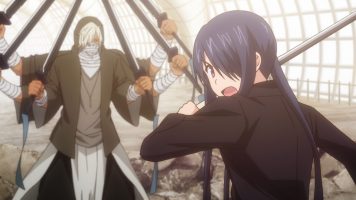 In the end, I can't say that UQ Holder! Magister Negi Magi! 2 – 08 is a bad episode, but the anime just fails to wow me when it should.