ユーキューホルダー! 魔法先生 ネギま!2 Manga Review
UQ Holder! Mahou Sensei Negima 2
UQ Holder!: Magister Negi Magi! 2 Chapter 143
UQ Holder Chapter 143

SPOILER Summary/Synopsis: 
(Part 1)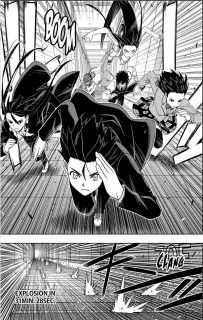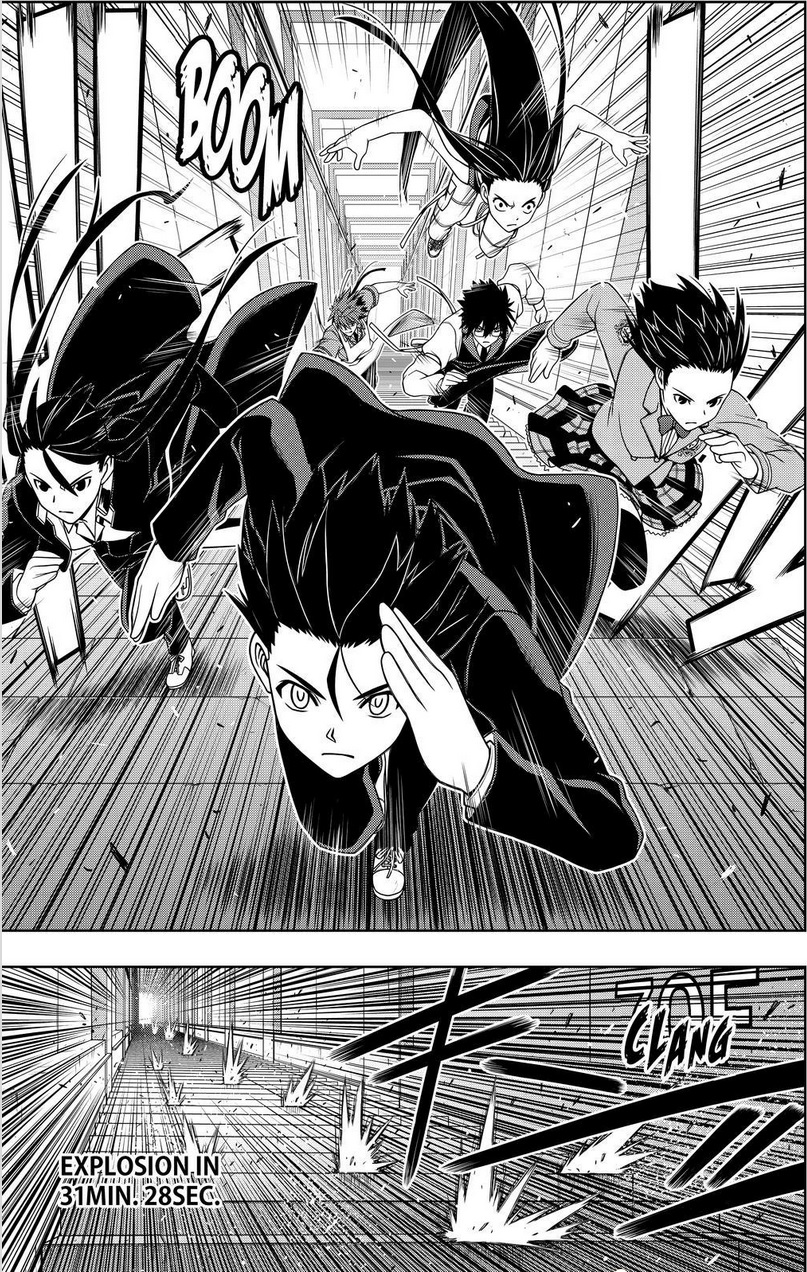 After Cutlass eggs Touta on to use Kirie's reset power to stop the terrorist incident, Touta races off to join the others. Dana, Santa, Kirie, Karin, Kuroumaru, Shinobu, Mizore, Ikkuu, Honoka, and Isana are watching holographic screens with the news of the explosion. Karin briefs him that the attack was on the Japan L.E.O. Station, not the Asia Orbital Station nearly 36K KM above it. Karin estimates that 10,000 people died.
Debris from the station is now striking outside the Senkyoukan. This causes Kirie to decide they should stop this event. Everyone likes the idea of using Kirie's Reset and Restart ability. Touta asks Dana if they do this, does this mean that there's a universe/timeline where the tragedy still happens. Dana throws out the quantum theory on multi-verses and says Kirie's ability allows her to rewrite time.
Kirie's last save point is only 32 minutes before the explosion. Touta attempts to come up with ideas, but all are rejected as impractical. Yukihime arrives and states that the tower has an internal stairway that they will run up in 30 minutes. Since they have to run 300KM, that means 40 stories per second to make it. Further, she has intel showing someone riding the nuclear missile that destroyed the station, whom they'll have to deal with.
Jinbee, Gengorou, Kuroumaru, Touta, Karin, and Santa are tasked with saving the station. Ikkuu, Shinobu, and Mizore are the Earth Observation team. Yukihime, Kirie, Isana, and Honoka are support, remaining at the Senkyoukan. Gengorou and Jinbee are against this whole plan for solid reasons, but Yukihime says this is a way for them to show the Government UQ Holder has value.
(Part 2)
With work assignments handed out, Kirie sends everyone back to 07:00. Mizore and Shinobu get on their air (speeder) bikes and take off with Ikkuu. Yukihime summons a six-armed doll, which slings Jinbee, Gengorou, Kuroumaru, Touta, Karin, and Santa to the tower. Kuroumaru uses sword skills to get them inside, where the race is on up the first 1.5KM straight stairs.
When they reach the staircase, Touta finds the others are more expertly using shundo to get ahead of him. Gengorou smirks has he passes Touta. Halfway up and 15 minutes later, Jinbee teases him. Touta then remembers his White of Mars and Black of Venus powers and stops thinking like a human. With that, Touta literally shundo-runs up the side of the staircase, passing front runners Karin and Kuroumaru.
With 3:50 minutes left, Shinobu, Mizore, and Ikkuu arrive to provide 3D positioning for Yukihime's team. Meanwhile in Kirie's room, Cutlass's robot arm breaks in and approaches Kirie's save point.
Thoughts/Review:
Crunchyroll's QA department missed the boat big time as they didn't post the final page of UQ Holder chapter 143. That aside, Akamatsu-sensei decided he wanted to clear some stuff up for us.
Missing Page
I don't know when Crunchyroll is going to post the missing page, so I'm going to post one here.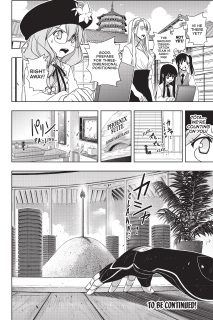 Clearing Up Plot Devices
Akamatsu-sensei took the opportunity of UQ Holder chapter 143 to clear up some plot devices. For starters, he laid out the elements for Eva's shadow-gate teleportation ability. Because Eva was close to Negi in Negima, she was able to gate into Kyoto using Negi's shadow. If there's a shadow within Eva's eyesight, she can use it to teleport herself there. If it is the shadow of a marked item Eva is aware of, she can use its shadow as a teleportation gate. I had thought Eva could use any shadow as a gate, but I'm wrong.
The biggest item Akamatsu-sensei cleared up was Kirie's rewrite ability. Because quantum theory states that for every action, there's a universe/timeline that exists where another action is taken. Akamatsu-sensei decided to throw this actual theory out the door. Well, that's not true. He's thrown part of it out the door. Basically, it exists when he needs it to exist and it does not when he wants to "save everyone" and not have a timeline/universe where the Borg conquer the Federation. (A little Star Trek: The Next Generation reference there. Brownie points if you know the episode that's from.)
I do appreciate that Akamatsu-sensei mocked his own "rewrite" of the quantum multi-verse theory. Having established that there are multiple timeline/universe, created in part by going back in time, Akamatsu-sensei knows that according to this quantum theory, Kirie is kicking off timelines left and right until she finds the right "winning" path. But Akamatsu-sensei apparently doesn't want to deal with the idea of creating a universe where everyone is saved, but there's still a universe where everyone dies.
Jinbee and Gengorou
I'm glad to see that Jinbee and Gengorou are being used in this mission. It would have been a shame for them to have left behind after giving them a couple of showcase chapters. Plus, this will be the first time that the two have worked with Team Touta. They came in once on an assist to prevent Touta from being taken by Fate's hired team, but otherwise, nothing.
Further, we get a look at how jaded immortals have become through Jinbee and Gengorou raising objects to saving 10,000 human lives. I thought about Spider-man and the "with great power comes great responsibility." The immortals have great power, but they aren't exercising responsibility. After hundreds and hundreds of years of life, I can understand why the immortals don't want to become involved in the affairs of mortals.
UQ Holder does do some things, such as when they protected the church and orphans, but that could be chalked up to Eva helping friends. The other missions have been regarding dealing with other immortals, like Santa. Even here, Eva's motivation isn't to help humanity, but to force the government to acknowledge UQ Holder as having value.
This is where Touta's positive influence is helping the UQ Holder organization. Kirie was the one to suggest helping save those 10,000 people, but that was because she knew Touta would have suggested it.
Touta Earns It
Speaking of Touta, it is nice to see him doing something he's actually earned rather than he can just master something 'cause "reasons." Back when Touta learned shundo, he mastered it in relatively short order. However, it never felt like he earned the right to be able to shundo as well as he did.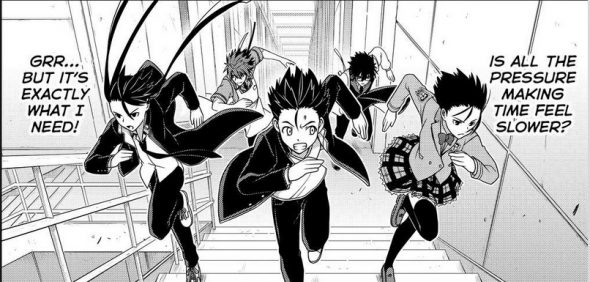 For UQ Holder chapter 143, Touta is able to observe the others performing their shundo moves, which are better than Touta's. And thanks to Jinbee ribbing him, Touta comes to understand that he's thinking as a human, not as an immortal. So for him to pull his own powers, which he trained to do (though he always needed a hoop before), and stop thinking like a human, his solution to get to the top of the tower in the most efficient manner possible works for me. It now feels like Touta earned this moment.
Cutlass's Plan
It was clear from the start that Cutlass baited Touta into doing something, using Kirie's power. And from the missing page, we can see that Cutlass is using her detached, robotic hand to go after Kirie's save point and destroy it. What does Cutlass gain by doing this?
Cutlass could have only put her "Plan B" into action immediately after being captured, otherwise none of it makes sense. That aside, by destroying Kirie's save point, if Touta and company fail, we don't know how far they'll go back. Kirie didn't have save points when she discovered her power, so she doesn't actually need them. (And how she came to understand the need for a save point and its many functions is something I doubt Akamatsu-sensei has bothered to figure out.) We just don't know how far back she'll go.
It is possible that if Touta and company fail, Cutlass gets freed because they'd go back to a time before Cutlass attacked. Since Cutlass spent a great deal of time spying on UQ Holder, her Plan B might be that if she sees the UQ Holder people up in arms about failing their mission, Cutlass can escape unharmed (or do whatever else she intends to do).
If Touta and company succeed, it is possible that Cutlass has allies at the ready to kidnap Kirie. Then Cutlass and her allies can force Kirie to create a new save point, then slaughter Kirie at will until they get their desired outcome. They'd have to deal with Eva to kidnap Kirie, but I suspect it could be done.
Final Thoughts and Conclusion
I've got tons of work (which is why this is so delayed), so let me wrap up my review of UQ Holder chapter 143.
I'm glad Akamatsu-sensei found a purpose for Mizore and Shinobu beyond being harem babes.
Ditto Isana and Honoka.
I would love for the missile rider to be someone we've previously seen in UQ Holder.
It was hilarious seeing Eva use her doll ability to fling Touta and company to their destination.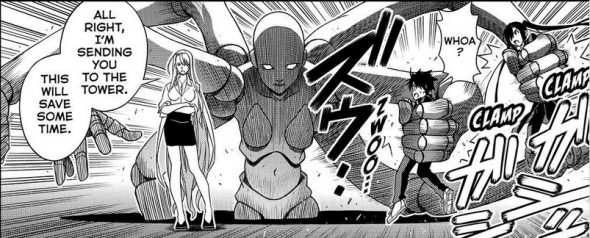 4In the end, UQ Holder chapter 143 is a nice chapter to help setup what's to come. Plus, I liked getting some character insight of Jinbee and Gengorou. And Touta earns a power-up in a logical fashion.