Lupin the Third Part 5 – 06
Lupin III Part 5 06
ルパン三世 PART5
SPOILER Summary/Synopsis: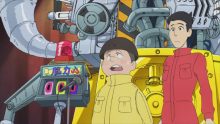 A man and his younger brother are facing the fact that their workshop is about to be foreclosed due to them not paying the bills. After an encounter with Lupin, the two decide to invent a safe that Lupin can't crack. They provide the safe to the Greater Tokyo Bank, where a challenge is issued in Lupin's name to crack it. Zenigata isn't sure about this, but the bank manager is excited. The safe will only open for someone with zero brain power, which the older brother has.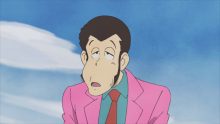 Fujiko and Jigen goad Lupin into accepting the challenge. He gets dumb, but can only lower his brain power to 30, meaning his attempt to open the safe fails. The trio regroup as Fujiko rejects Jigen's idea to strip naked to make Lupin dumb. Eventually they come on a plan, but on the second attempt, Lupin fails as he still has one brain power. The older brother feels sorry for Lupin and encourages him not to give up.Lupin decides to take the opposite approach and begins eating a ton of Blueback fish. Fujiko realizes this will make Lupin smarter, though Jigen doesn't understand how this will help.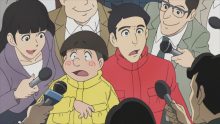 Lupin's brain power returns to its normal 300 level, then attempts to go higher. However, the safe's machinery maxes at 300, so raising his brain power one point causes the safe to go all zeros and then open. Lupin and company are forced to make an escape without stealing the loot. The invention is still seen as a success, so the brother's change their business to selling canned Blueback fish in different flavor sauces. Lupin is annoyed with Jigen and Fujiko, but Lupin is willing to get dumb again if Fujiko strips. Lupin pays for that with a beating.
Thoughts/Review:
With Lupin the Third Part 5 – 06, we get a tribute to the "Pink Jacket" Lupin III series, but with a more general 80's art and animation style.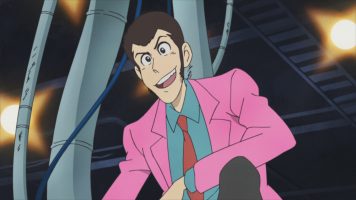 We've Come A Long Way, Baby
The Lupin III Part III "Pink Jacket" series is one I've only watched a few episodes of. A long time ago, I watched the first two TV series, though I only remember a few episodes that I actually owned on video tape. What little I remember of Lupin III Part 3 is that it was silly. There were silly episodes in Lupin III Part 2 as well, though Miyazaki-sensei's episodes I seem to recall weren't so silly and were rather interesting (and foreshadowed his later works in film).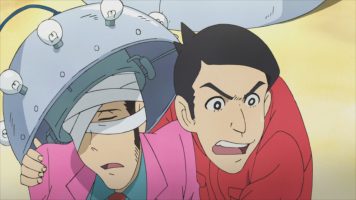 Back in the day, Lupin III TV episodes were episodic in nature. So whether silly or serious, everything was wrapped up in the 30 minute window. The fact that modern Lupin III TV series like Lupin III Part 4 and Lupin III Part 5 are serial rather than episodic is partially why they are so much better in terms of crafting stories. That's not to say there isn't value in the old TV series (especially the Miyazaki-sensei episodes), but I just prefer the more modern series.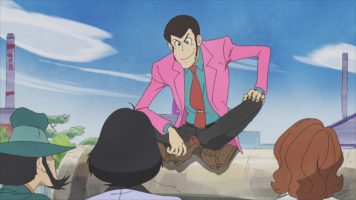 Still, it is nice to see the modern series pay tribute to what's come before.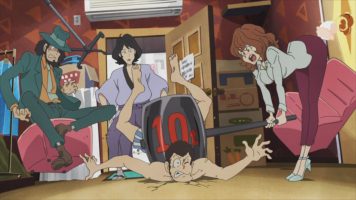 Final Thoughts and Conclusion
Because this episode was a stand alone episode that gave a nod to the Pink Jacket Lupin, there's really not a lot to say. So I'll wrap things up for my review of Lupin the Third Part 5 – 06.
I liked the nod to Castle of Cagliostro in how Lupin and company arrived for the second challenge.
Seeing Fujiko as an integral part of Lupin's gang made me hope that she'll become more important as the new series moves forward.
Of course, I still hope we see Rebecca return for an episode or two.
And I hope that Ami isn't gone forever.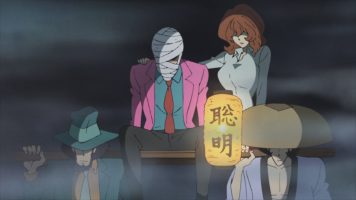 In the end, Lupin the Third Part 5 – 06 does a nice job of paying tribute to the Pink Jacket Lupin as well as 80s anime in general. Now back to the good stuff.