Lupin the Third Part 5 – 15
Lupin III Part 5 15
ルパン三世 PART5
SPOILER Summary/Synopsis: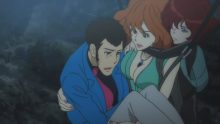 Fujiko rescues the injured Lupin along with Ami. Elsewhere, the coup leaders were unsuccessful in capturing the king nor the two executives of Shake Hand. Dolma makes the coup leaders promise anew to spare the king's life. McGuire renews is vow to help Dolma. Meanwhile, Fujiko manages to get Lupin and Ami through army checkpoints to find an abandoned building to hole up in. Fujiko performs surgery to safely remove the arrow from Lupin's body. She then spends the night with him to keep him warm.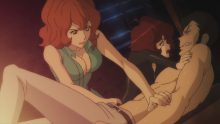 The following day, a resident of the area Fujiko, Ami, and Lupin are hiding turns them in. This forces Fujiko to flee with the other two again. However, their flight comes to an end in the woods. As such, Fujiko shoots the connectors for the sidecar of her motorcycle and leaves Lupin with Ami. Ami tries to get Lupin to the underbrush, but she is spotted. Meanwhile, Fujiko's new flight leads her to be trapped in a shed. The army is about to close in when news hits about the king making a broadcast. The army leaves, save one troop who is the injured Lupin, who's coming for Fujiko. Fujiko demands Lupin say what she means to him.
Thoughts/Review:
Lupin the Third Part 5 – 15 shows us that in the midst of a coup, sometimes relationships are more important…maybe.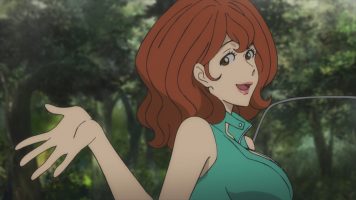 Fujiko and Lupin
This entire arc is really more about Fujiko and her relationship with Lupin than it is about a country going through a coup, wherein is a gem that Fujiko wants. She and Lupin have been rather distant in this series. I often wonder if this is partially because Lupin married Rebecca in the previous series and is still married to her.  I really hope this comes up in the next episode.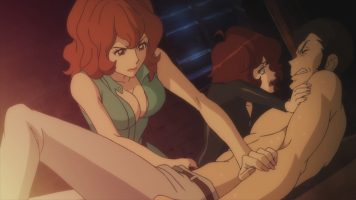 Anyway, Lupin the Third Part 5 – 15 allowed us to see a flashback of when Fujiko and Lupin were still very close, even kissing as they plummeted to Earth after a failed heist on an airship. Fujiko still cares about Lupin, as evidenced by the fact that she bothered to save him and Ami after she secured the Bloody Teardrop. Then she performs basic surgery on Lupin to remove the arrow. Then she uses her body to help keep him warm.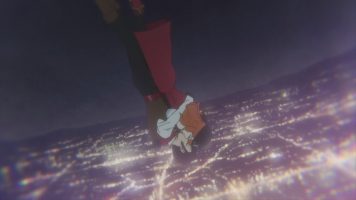 At the end of the episode, we have the injured Lupin racing to Fujiko, proving he still cares about her. So it will be interesting to see where things go in the next episode.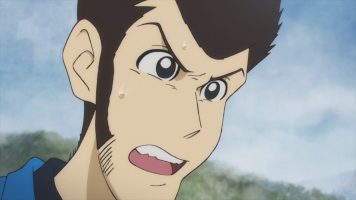 Fujiko and Ami
Whether she wants it or not, Ami is getting quite an education from Fujiko. It seems pretty clear that Ami has a crush on Lupin, so she's getting an education on romance.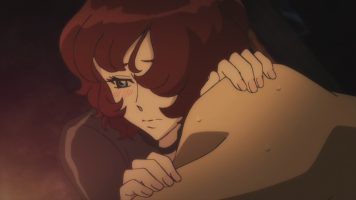 Next, Ami gets a lesson on taking another person's life. Fujiko had Ami throw the grenade into the army truck, killing the soldiers who were trying to kill the pair of them. I liked how Fujiko took the time to sincerely thank Ami for not only saving her life and Ami's own life, but for saving Lupin's life as well. That helped take the negative thoughts about Ami's actions and turn them into positive ones.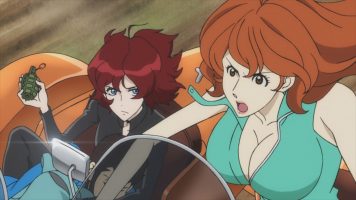 Finally, Ami gets a hard lesson in betrayal. Fujiko abandons Lupin and Ami, and she does it in a callous way. However, in reality, Fujiko was attempting to take the heat off of Ami and Lupin.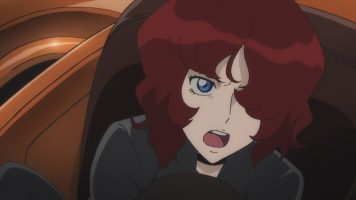 The Coup
The coup story is very interesting and well paced. Dolma is surprising in that she's only going along with the coup leaders until she can regain control. I didn't expect McGuire to actually be working for Dolma in all of this mess.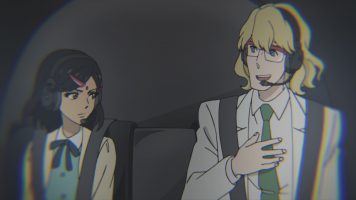 Not sure what the deal is with the two Shake Hand folks. Sure, they helped the king, but there seems to be something more nefarious to their actions. We'll see.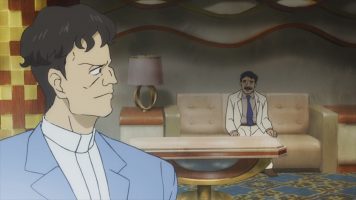 Final Thoughts and Conclusion
Time to wrap up my review on Lupin the Third Part 5 – 15.
Goemon and Jigen were relegated to a couple of speaking cameo roles. I kinda thought they'd find Lupin, Fujiko, and Ami. However, since this arc is more about Fujiko, I understand why the writers kept them away.
Zenigata got a cameo. It is getting rather late in the story for him to have anything meaningful to do.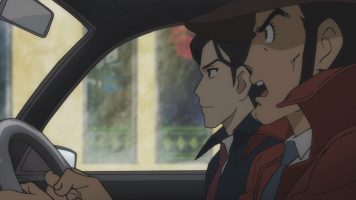 In the end, Lupin the Third Part 5 – 15 turned out to be a very good episode. The coup story is interesting and well paced. However, the real gem of the episode is the exploration of Fujiko's and Lupin's relationship.