Lupin the Third Part 5 – 16
Lupin III Part 5 16
ルパン三世 PART5
SPOILER Summary/Synopsis: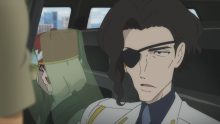 Goemon and Jigen set out to find Lupin. Lupin disguises himself as Colonel Tseng and has Ami dress up to appear to be Princess Dolma. As such, they are able to make it through army checkpoints with ease. As the King makes an address to his people, Zenigata runs into Fujiko. Meanwhile, with things going south, the High Priest shows that his "traditional" temple has very high tech security, including a safe area for fast retreat, accessible via his eye scan.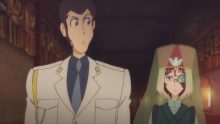 Lupin and Ami come upon this security device, where Ami hacks it to give them access. Meanwhile, Dolma is angry with the High Priest, who's decided to change plans and set up a government in the north of the country. Lupin and Ami show up, where Ami uses Lupin's eye gadget to live-stream what is happening, now that the Internet access has been restored. Goemon and Jigen take out the High Priest's guards, leading the High Priest to desperately attempt to make a deal with Lupin.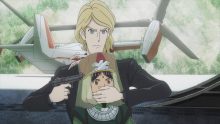 Because of the live-stream, the military turn against the High Priest. McGuire sacrifices himself in order to make sure Princess Dolma is not implicated in any of the coup mess. Dolma and Ami have a private chat about whom they love before parting company. Ami confesses to Lupin, saying it is the only logical explanation to what she's experiencing. Ami informs him that when she becomes better than Fujiko, she'll expect an answer. Lupin agrees to her terms. Elsewhere, Fujiko briefs Zenigata on her conversation with Lupin, including that he took the Bloody Teardrop.
Thoughts/Review:
Welp, Lupin the Third Part 5 – 16 wraps up an interesting story arc. Sadly, it didn't go quite the way I wanted, but that didn't prevent it from being pretty good.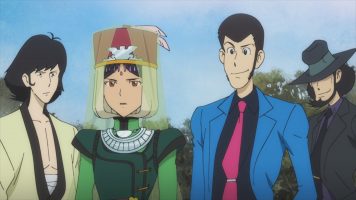 The Coup Story
Were it not for the coup story, there would be no action at all as the purpose of this story arc is more character-based, both for Ami and for Fujiko. Still, for what it was, it provided suitable action elements to keep things going at a good pace without detracting from the actual main story.
That said, the hole Shake Hand element is left in limbo. They are up to no good, but what, who can say. Also, I still don't know why the CIA backed the religious faction in this coup. Maybe this will be explored in the final arc.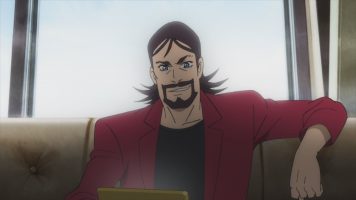 Fujiko and Lupin
I was a bit disappointed at the "resolution" of the Fujiko x Lupin story. I was really hoping for them to have a conversation about the state of their relationship. And I REALLY wanted Fujiko to bring up the fact that Lupin is married to Rebecca. Instead, Lupin doesn't say anything, other than save Fujiko's life and take the Bloody Teardrop from her. But one can see he does care about Fujiko, and we know Fujiko still cares about Lupin, despite her claims to hate him.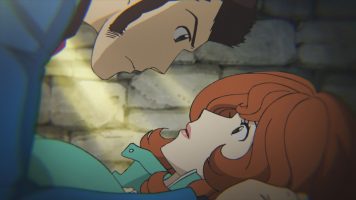 While I didn't hate it, I wasn't that keen on us learning of their conversation via flashback as Fujiko told Zenigata the tale. I guess this was a way for the writers to let Zenigata have some tiny role in the story without much else. That aside, I realize that Fujiko and Lupin's relationship is one of ups and downs, and will always be so. I guess I just really wanted Rebecca brought back into the mix since in the previous series, Fujiko was jealous of Rebecca.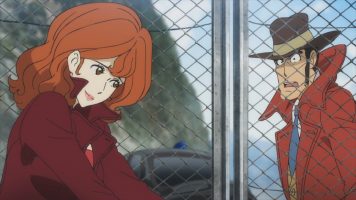 Ami and Lupin
Much like Rebecca in the previous series, Ami has proven to be a very good character for the current Lupin the Third Part 5 series. I like how Ami's time with Lupin and company have allowed her to mature. Also, I like how Ami has come to understand her feelings for Lupin, yet also understands that in order to beat Fujiko, Ami will need more time.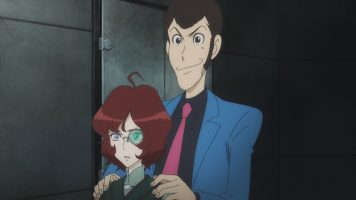 As to Lupin, I appreciated that he didn't just turn down Ami's love confession. Yeah, his heart is with Fujiko, but Ami has skills that could possibly win Lupin over, even more so than Rebecca had. Lupin may not have wanted Ami to be involved in his world, but in Lupin the Third Part 5 – 16, he acknowledges how someone with her skills would be great for his team. Plus, unlike Fujiko, Ami wouldn't betray Lupin.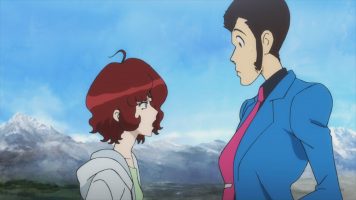 I hope that we see more of Ami, especially in future Lupin installments (assuming there are more).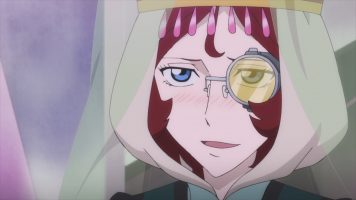 Final Thoughts and Conclusion
Since I am both hungry and tired as I write this, so let me wrap up my review of Lupin the Third Part 5 – 16.
I previously mentioned that Zenigata only had a brief appearance in this episode. I would like to see him have a more substantial roll before this series is out.
Again, Jigen and Goemon are relegated to cameos. Kind of a bummer, but understandable.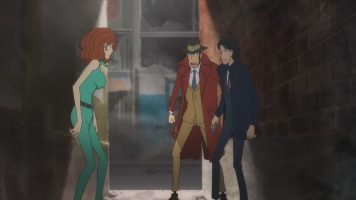 In the end, Lupin the Third Part 5 – 16 wraps up what has been the most interesting story arc of the series. While the romance element between Fujiko and Lupin may not have gone the way I wanted, the episode was still quite enjoyable.