Lupin the Third Part 5 – 22
Lupin III Part 5 22
ルパン三世 PART5
SPOILER Summary/Synopsis: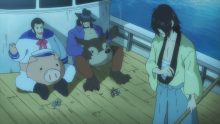 Shake Hanz (Shake Hands) president Enzo issues orders for the company. Elsewhere, Fujiko has a visitor from Enzo's partner Ling Bo, where he talks about Enzo. Meanwhile, Goemon swims to the boat where Ami, Lupin, and Jigen are waiting. Once they arrive at Padar, Ami starts her DDoS attack on Hito-log (PeopleLog). Enzo had expected it, so the tech people are able to keep the site and app up. However, Enzo is surprised by the scale of it, concluding it is coming from Underworld, the system Ami uses.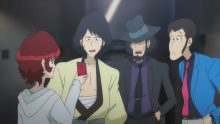 Lupin and company infiltrate Shake Hanz HQ. However, Goemon has issues about his relationship with Lupin, based off of info seen on Hito-log. Lupin alleviates his fears and the group splits up. However, Enzo confronts Goemon, stoking the fires of Goemon's insecurity. Enzo believes that Goemon is merely another item in Lupin's collection. Meanwhile, Zenigata arrives to take Fujiko into custody. Yata cannot understand why Zenigata is trying to nail Lupin's entire gang in one fell swoop.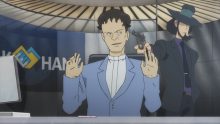 Goemon gets the drop on Ling Bo, Enzo's partner. This allows Lupin and Ami to reach the penthouse office where Fujiko is held captive. Fujiko asks for Lupin to steal her for his final job, since he has a death wish. Goemon enters and challenges Lupin. To Ami's surprise, Lupin accepts. Fujiko advises Ami to accept the outcome, no matter what. Goemon recalls his previous fights with Lupin, then finds himself facing himself. He wins the fight, critically injuring Lupin. Ami calls out for Enzo, begging him to save Lupin since Enzo is her father.
Thoughts/Review:
Although Lupin the Third Part 5 – 22 is a fast-paced, interesting episode, there are some things that just don't quite work for me.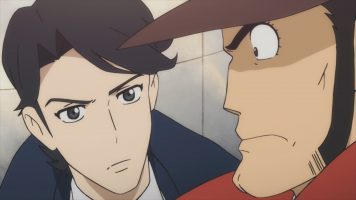 Goemon Turns
I figure I may as well get the worst part of the episode out of the way. Throughout this entire season, we've seen no evidence of Goemon worrying about his relationship with Lupin. As a trusted member of Lupin's gang, I've always figured that Goemon gets some sort of decent pay. Otherwise, why work with Lupin and his thievery at all? And yet out of the blue, suddenly Goemon has issues that the world may just consider him to be Lupin's underling?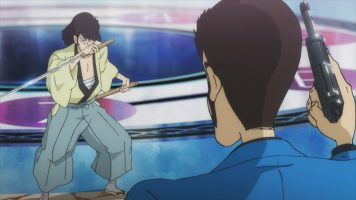 The episode went out of its way to show us clips from older Lupin titles where Goemon and Lupin have fought before. As a fan, I certainly appreciated this. However, the writers were also using it to cover for their lack of prep work for this Goemon vs. Lupin fight. Just because the two characters have had issues in the past doesn't mean that they suddenly have issues at the drop of a dime. Were their relationship that fragile, they could never trust each other or work together so well.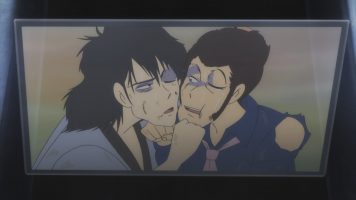 Ami's Story Continues
I love Ami as a character, so much so that I want her to be in future Lupin III titles. (Rebecca as well.) As such, a chance to learn more about her character is a welcome one. And yet the writers, looking for a twist to end the episode, suddenly have Ami spout out the Enzo and reveal he's her father.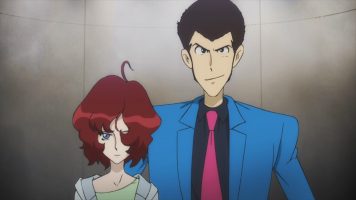 Wait. I'm being unfair. The writers actually did this early in the episode when Ling Bo is talking to Fujiko about Enzo. The second Ling said Enzo had a daughter was kidnapped, probably dead, and probably involved in child porn, I immediately rolled my eyes. ?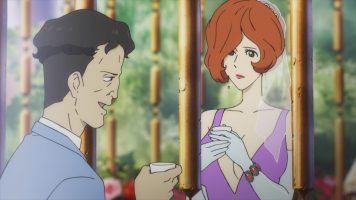 You see, the problem here is that Enzo is supposed to be this big tech guy. He's built this Hito-log social media app that can tell one pretty much anything about anybody. As such, there's ZERO reason he didn't know about his daughter being put into a private boarding school. How could he have missed that Ami was in Padar not that long ago and helped thwart the military coup?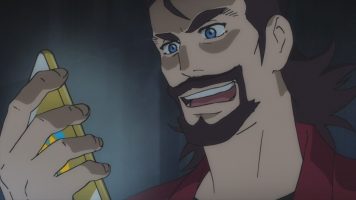 Also, Ami seems to have always known that Enzo was her father. At least with her, I can excuse her not saying anything. After all, she's a young girl and was probably not close to her father after her parents divorced. And she was kidnapped at a very young age, so her kid logic may have decided to just not get involved, especially now that she's in love with Lupin.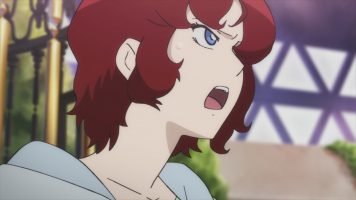 Regardless, I call BS on all of this.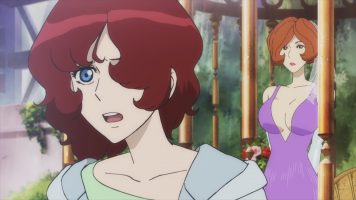 Final Thoughts and Conclusion
Heh. It is another late night, but I am trying to blog a bit more…at least for now. That aside, because it is late, I need to wrap up my review of Lupin the Third Part 5 – 22.
I will give the writers props for not making Fujiko a traitor…so far. Normally, a captured Fujiko has some deal with the villain. As such, Lupin comes in to save her, but then Fujiko turns on him. We'll see if that gets sprung or not.
Speaking of Fujiko, she was unusually poignant in this episode. When she advised Ami about not getting involved in Lupin's fight with Goemon, I got the feeling that deep down, Fujiko loves Lupin. Because Ami is young, she blindly loves Lupin. Fujiko's been with Lupin for a long time, so she knows the good and the bad.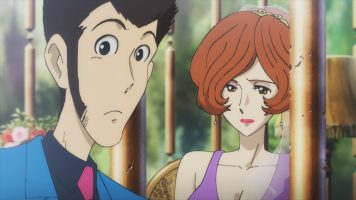 In the end, Lupin the Third Part 5 – 22 is an enjoyable episode in terms of pacing and such. However, I had issues with Goemon's sudden anxiety issues over his relationship with Lupin. And I wasn't too keen on the contrived plot twist of Ami being Enzo's daughter. And finally, the episode makes the franchise feel like it is winding down.