Lupin the Third Part 5 – 21
Lupin III Part 5 21
ルパン三世 PART5
SPOILER Summary/Synopsis: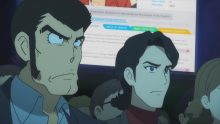 Zenigata and his assistant attend a seminar by president of the IT company Shake Hanz (Shake Hands). They are launching a social media network app called Hito-log (PeopleLog), which will know everything about you by taking your picture. Because it is being broadcast live, Lupin and Jigen get to watch, as does Fujiko. Sometime later, Lupin, Jigen, and Goemon get foiled on a heist, thanks to an angry woman using Hito-log to catch her husband cheating.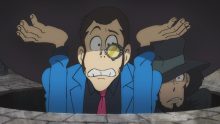 Lupin is irritated by this. However, as he and the guys attempt to eat, someone using Hito-log identify him. Lupin happily admits it, only to find himself being ID'd to the police. The gang make their escape to the sewers. However, when they emerge, a crowd is waiting, thanks to Hito-log predicting their escape route. Lupin activates his new car and they escape, managing to shake off the cops despite Hito-log. When their new hideout already has a welcoming committee of people they've dealt with in the past, Lupin realizes how much trouble Hito-log is for him.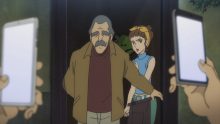 Goemon retreats to the mountains while Lupin and Jigen don their old man disguises and return to their original hideout. Meanwhile, Ami uses Hito-log to see what it says about Fujiko and Lupin being lovers. She is shocked to see a lot of former adversaries of Lupin's posting on Lupin's page. She calls Lupin to arrange an in person meeting, seeing the threat Hito-log is to him. Jigen discovers an unhappy throng waiting outside their French residence. They threaten the female cafe owner, so Lupin emerges in disguise. However, Hito-log ID's him as Lupin.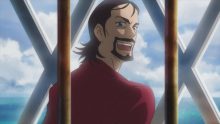 Lupin removes the disguise and kidnaps the cafe owner. As they escape, she realizes that he did this for her sake. Back in Japan, Goemon encounters a lost high school girl in the woods. She uploads his picture to Hito-log and freaks out when his true identity is shown. In France, Lupin finds Zenigata waiting for him in a wooded stretch of road. Zenigata reports that Fujiko has been captured, thanks to Hito-log. The president of ShakeHands has her as his nude captive.
Thoughts/Review:
Well, I thought it was about time to finish this Lupin series and finally watch Lupin the Third Part 5 – 21. This turned out to be quite an interesting episode, looking at social media. (Note: I'm using "Hito-log" as that was the official name of the app. The translator used PeopleLog due to having a script with no references to how the Japanese were spelling it. Ditto Shake Hanz.)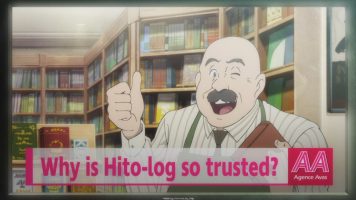 The Dangers of Social Media
The writers of Lupin the Third Part 5 – 21 really got topical here, delving into social media's popularity and dangers. The technology shown in the episode pretty much already exists, though not quite to the level portrayed. But it is true that software exists that can track your eating patterns and predict when you might next want to eat Japanese food (as an example). It is pretty wild.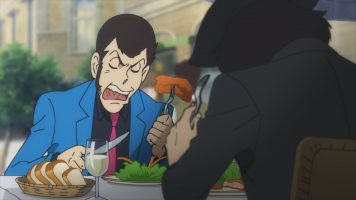 The funny thing is, we as people willingly give up a lot of personal information when we are online. Our cellphones track us out of necessity to keep us connected. But that information can be harvested and used. I remember after I finally got a smart phone years ago, I was surprised to see Google saying, "We saw you were at Wendy's today. How was it? Give a rating!" ?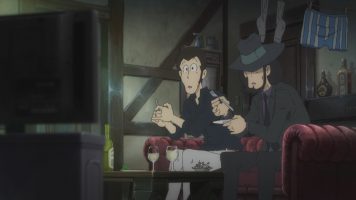 I do like how the writers explored this aspect of social media and how it would impact someone like Lupin. Or even Goemon.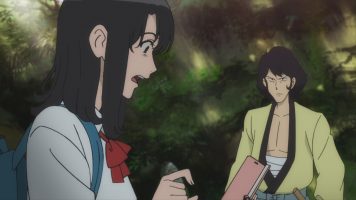 Ami Returns
I was very happy to see Ami return. She really is a nice addition to the Lupin III character lineup. In future series, I hope we see her again, though based on how Rebecca is being treated, I guess that's unlikely.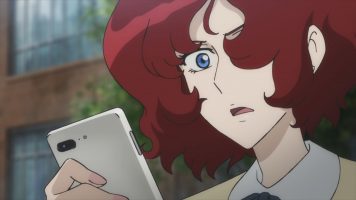 Still, it does look as if Ami will be part of this final story arc, so I am happy about that.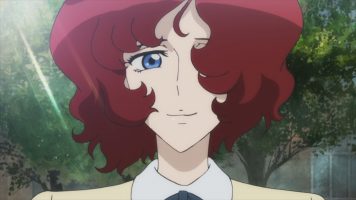 Final Thoughts and Conclusion
OK, I need to get to bed, so let me wrap up my look at Lupin the Third Part 5 – 21.
How many times have I watched a Lupin III episode where Fujiko is captured and naked? Add Lupin the Third Part 5 – 21 to the tally.
Zenigata made me laugh when he scoffed at using Hito-log to find Lupin. And find Lupin he did.
Goemon getting caught in the wilds of Japan…?
We may not have gotten Rebecca in the flesh, but we did get a nod to Lupin III Part 4 and Rebecca when Pietro got a cameo. Indeed, there were a few cameos and cameo references to previous foes Lupin had encountered in the first, second, fourth, and fifth TV series. (And I need to watch/review those two episodes.)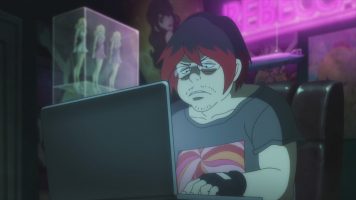 In the end, Lupin the Third Part 5 – 21 did grab my attention as I enjoyed seeing Lupin dealing with social media negatively impacting his trade. My enthusiasm for the series has certainly returned.