ユーキューホルダー! 魔法先生 ネギま!2 Manga Review
UQ Holder! Mahou Sensei Negima 2
UQ Holder!: Magister Negi Magi! 2 Chapter 157
UQ Holder Chapter 157
SPOILER Summary/Synopsis: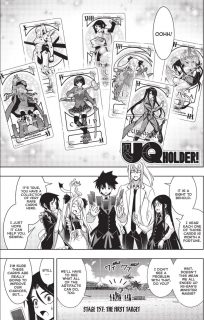 Touta reviews is pactio cards with his Minister Magis. He knows that boosting the team's power via pactiones won't be enough, but he has a plan.
Three month's later, he pays Fate a visit at Fate's offices in the Japan Orbital Elevator. Fate is not amused, but Touta lays out a plan to save Negi and defeat Ialda. Touta mentions the good end from the parallel world and produces a video tape with the proof. However, Fate's attitude leads to Touta decided to duke it out. Fate summons CHAO Xinxai and Asura Tu. However, Touta's Magia Erebea produces two additional arms to block them.
Touta then produced guns from Mana and blows his own head off with the magic bullets inside. This causes multiple ME monsters to appear and defeat Fate's army and minions. Fate is stunned by Touta's powers and apparent ability to teleport. Touta uses a demon form with his ME and defeat Fate without beheading him.
Fate is able to analyze that Touta is being supplied with massive amounts of magical power from somewhere. Touta tells Fate that Fate's plan to make everyone immortal isn't bad on the surface, but that it won't work. He points out that his own immortality is being fueled directly from the planet Venus, which can easily support him. But the entire solar system would die in 200 years if Fate's plan were enacted.
Fate reluctantly agrees to wait on his plan and allow Touta to proceed for now. As they chat, a boy-looking being appears behind Touta with what appears to be a World Tree seedling sprout. Fate shoves Touta aside and gets beheaded by the boy. He introduces himself to Touta as the UQ Holder Number 8, the shinso Nikitis Laps.
Thoughts/Review:
And now, we enter the final phase of UQ Holder with the release of UQ Holder chapter 157. And the chapter certainly feels that way.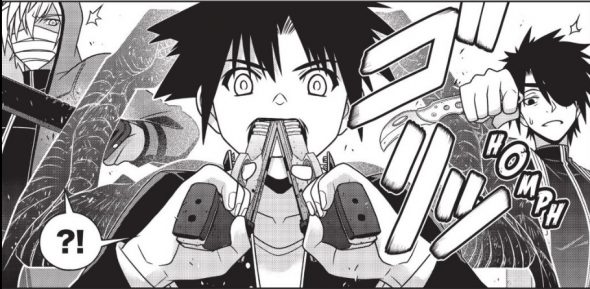 Time Skip
Unfortunately, because UQ Holder is ending in 2-3 years, Akamatsu-sensei has to do a three month time skip. Its not that I wanted to see some long, boring training session. But I will admit that how Akamatsu-sensei handled Dana's training was pretty cool. Touta trained, but we also got to see some of Eva's backstory as well. And that was cool.
With UQ Holder chapter 157, we don't see any training. We don't know what Touta's plan was to beat Fate. As such, Touta returns to being a Mary Sue character. Now, Akamatsu-sensei can just have Touta say that he trained and they took shortcuts. But man, now he can kick Fate's arse as well as Fate's private army . WOOO!HOOO! 🙄
Defeating Fate
Touta's plan pitch to Fate smacked of Negi's plan pitch in Negima! In Negima!, Negi wanted to be Fate's friend for reasons I never could fathom. As such, I never liked the partnership, though I did find Fate becoming a teacher interesting. Too bad that was not explored, but oh well.
At least in UQ Holder chapter 157, Mary Sue Touta did what I wanted Negi to do in Negima!–kick Fate's arse. Fate has always been a smug, "final boss" type character, so even though I wasn't fond of Touta becoming Mary Sue again, I let it slide to see Fate get one handed to him.
Oh, and as a tiny bonus to Mary Sue Touta, I did enjoy seeing CHAO Xinxai  take a beating. But to be honest, I want Karin to kill this bastard while Touta just kicks back with a soda and a tub of popcorn.
The Fur Collar Shino Arrives
With the arrival of shinso vampire Nikitis Laps, UQ Holder chapter 157 finally delivers us the last of the Numbers members of UQ Holder Japan. To be honest, it wouldn't surprise me if this were Ba'al with a shorter hairstyle. After all, Nikitis did appear to have a World's Tree seedling sprout. And he has a similar stature to Ba'al.
Still, why would Nikitis go after Touta? It seemed pretty clear to me that Touta was his target. And based off of what happened to Karin, this appeared to be the way the shinso dealt with immortals.
Finally, is Fate dead? He could be since he's not immortal.
Final Thoughts and Conclusion
Well, I'm later than I wanted getting my thoughts on UQ Holder chapter 157 out. Real life always getting in the way of my fun. 😅😉
While I'm glad to have gotten a glimpse at the new pactio cards, I'm disappointed that we didn't get an exploration of them. Yeah, they'll show up later, but skipping over Santa, Mizore, Ikkuu, Shinobu, and Karin revealing their pactio artifacts only helps the feeling of "Rush! Rush! Rush! Gotta end UQ Holder quick!" 😞
I did have to chuck at Touta having a VHS tape to record the evidence to support his case to Fate. Why a VHS tape of all things?
CHAO Lingshen got a name drop. We'll see if anything happens because of that.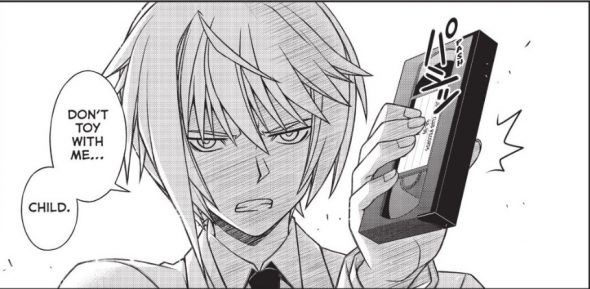 In the end, UQ Holder chapter 157 felt like the accelerator is being pushed on ending UQ Holder. That leaves for a less than satisfying experience, even if I did like seeing Fate take the beating he so richly deserves.