ユーキューホルダー! 魔法先生 ネギま!2 Manga Review
UQ Holder! Mahou Sensei Negima 2
UQ Holder!: Magister Negi Magi! 2 Chapter 158
UQ Holder Chapter 158
SPOILER Summary/Synopsis: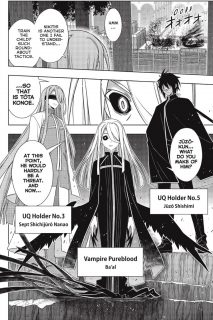 UQ Holder #8, Nikitis Laps has just killed Fate. Nikitis attempts to play it off, but Touta realizes he was the target. Nikitis explains that humanity must not become immortal, thus the reason for Fate and Touta to be eliminated.
Three months earlier, Touta is with his pactiones partners to see some of their new artifacts. Later, Touta has Santa and Kuroumaru join him in the giant cavers under the Senkyoukan. He's on a quest for knowledge and leads them to an underground entrance to Library Island, under Mahora Academy. Touta needs Kuroumaru's skills to help navigate the library maze. He needs Santa's phasing skills to pass through walls in case they need help.
The trio meet the librarian of the Akasha Book Labyrinth. He identifies himself as UQ Holder #8, Nikitis Laps. Nikitis took over the librarian job from Al. Nikitis tells them that he sealed Yukihime's enemy, Ba'al. Touta is immediately ready to trust Nikitis, but has to be reminded by Kuroumaru not to be so trusting. Kuroumaru is suddenly drinking tea wiht the others and slightly disoriented.
Nikitis helps Touta find books, so he studies. He then has Santa and Kuroumaru help him with his theory to make better use of Magia Erebea and his immortal regeneration abilities. Nikitis is impressed with Touta's reasoning skills and offers to assist. He tells them that he's a shinso vampire who was born 12,000 years ago. Nikitis also talks about Touta's powers. His reasoning for helping Touta is his dislike of Touta.
With that, Nikitis obliterates Touta. Touta regenerates into his ME form, causing Nikitis to use his monstrous form. Nearby, this is observed by Ba'al as well as UQ Holder #3 Sept and UQ Holder #5 Juuzou.
Thoughts/Review:
With UQ Holder chapter 158, Akamatsu-sensei rapidly races to end the manga by introducing the final three UQ Holder Numbers to the series, one for the second time.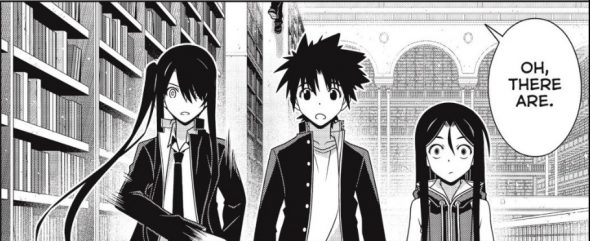 Time Skip for What?
Last chapter, Akamatsu-sensei decided to skip over Touta's training to have him jump ahead by three months. At the time, I felt that Sensei did this so that Touta could be the ultimate Mary Sue character who could do anything 'cause "I learned that during the time skip."
Yet in UQ Holder chapter 158, after Nikitis introduction recap (replaying dramatic introduction at the end of the previous chapter with a bit more tacked on), we jump BACK the three months we had skipped. Why?I thought that maybe Sensei did it to have the shock introduction of Nikitis, but he could have done that without a flashback. Then I though Sensei did this to stay focused, but this too doesn't make sense. It sounds like a case of being too clever by half.
Pactiones, Minus Two
We got to see the pactio artifacts of everyone save Karin and Kirie. I don't know why Karin's wasn't shown or Kirie's, but it annoyed me that they weren't displayed.
Shinobu's artifact being a pod racer makes sense, seeing as how this is her skill. And I can imagine it being juiced up with weapons or whatnot to make her useful in combat.
Ikkuu's artifact is some sort of power armor that can make him as powerful as the others. Again, this makes sense.
As many suspected, Mizore's artifact was the same as her grandmother Ayaka. I didn't have a problem with this because Mizore is so much like her grandmother, only worse in some aspects (which I find charming, but that's just me).
Santa's artifact power makes sense, but not the artifact itself. When Chisame got the artifact, the power matched her Internet hacker stuff, but the artifact matched her cosplay fetish. Santa doesn't have a cosplay fetish, so why is he getting an artifact for cosplay? In my mind, the artifact should match the personality of the person, both in power and in form.
Return to Library Island
In Negima!, the trip to Library Island was mostly a fluff thing with hints of something more. Negi and companions did return to the underground a few times, but I don't think they ever returned to the library outside of a part of it during the Mahora Festival. (I think they were in the library.)
That said, I was glad to see the library again in UQ Holder chapter 158. We get to see it as a functioning library. I liked that.
UQ Holder #8, Nikitis Laps
There are a lot of things I noted about Nikitis, so I'll do these as bullet points.
Nikitis is a liar. He told Touta that he helped seal the shinso vampire Ba'al. However, considering Ba'al is observing Nikitis's plan in action, clearly the sealing thing is a lie. Also, since Nikitis has some convoluted scheme to kill Touta, everything he does is basically a lie. That makes his info dumps suspect.
Nikitis resembles Fate. Fans noted how Nikitis looked like Fate when Akamatsu-sensei teased the character early in the manga. With Touta noticing this, I wonder if it means something.
Nikitis has rewrite-like powers. For Negima! fans, you probably spotted how Nikitis seemed to do to Kuroumaru what Fate did to Jack on the Magic World. Kuroumaru is warning Touta about trusting Nikitis, then Nikitis does something so that Kuroumaru is drinking tea and only slightly disoriented. Does this mean that MotB has some connection to the shinso?

So, assuming Nikitis is actually a member of UQ Holder, why'd Eva let him join in the first place? Why would Nikitis bother to train Touta if he only wanted to kill him?
Final Thoughts and Conclusion
I have to wrap up my review of UQ Holder chapter 158 so I can get to bed and work again in a few hours. (No rest for the wicked during tax season. 😅)
It seems that Ba'al and Nikitis are working together. Being immortal, are they just bored, which is why they don't do anything for ages at a time?
Why does Ba'al have Sept and Juuzou with him? Are they mind controlled? Why are they wearing coverings over their eyes?
In the end, UQ Holder chapter 158 is clearing rushing toward an ending. I'm puzzled by Akamatsu-sensei jumping forward three months, then jumping back three months. I can't say this was a bad chapter, but for some reason, I'm not feeling it like I think I should.