Fruits Basket (2019) 08
フルーツバスケット 08
Furuba episode 08
Story Summary/Synopsis
Tohru gets permission to stay at Shigure's house through the New Year's holiday while Shigure, Kyo, and Yuki head to the Sohma estate for three days. Kyo and Yuki don't want to go, but hearing Tohru encourage them changes their mind. Shigure, Kyo, and Yuki walk to the Sohma estate, where Kyo and Yuki fret about Tohru. Shigure decides to have some fun with this.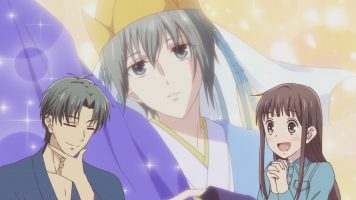 Hana-chan suddenly appears, startling Shigure. She makes mention of how this will be Tohru's first New Year's alone. After her speech, Yuki and Kyo leave and race back home. There, they find Tohru with a bit of a tear in her eyes, sitting at the table, and having her mom's photo with her. The two have mochi and soba, then welcome the new day on the roof of the house.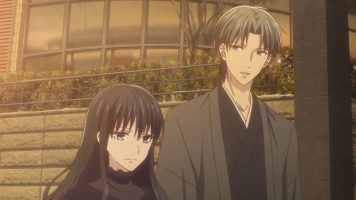 At the Sohma estate, Hatori and Haru meet Shigure. They are surprised that Yuki and Kyo are ditching and ponder how Kagura and Akito will react.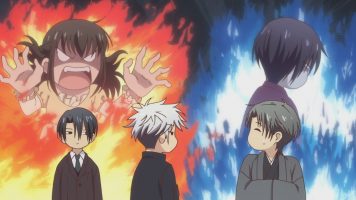 Thoughts/Review
I have to say that though Fruits Basket (2019) 08 does add a considerable amount of stuff to the source story, which was adapted from chapter 11 of the manga, it mostly does a good job of things.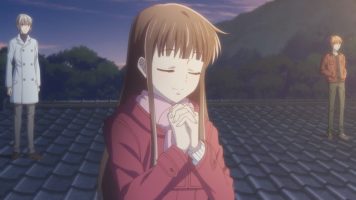 Modifications: Uo-chan and Hana-chan
Right off the start of Fruits Basket (2019) 08, we see a scene with Tohru walking and talking with Uo-chan and Hana-chan. This was not in the manga, but later in chapter 11, Hana-chan mentions that she and Uo-chan had a chat with Tohru. So now we get to see it. I liked seeing how Tohru honestly stated why she didn't want to trouble her friends.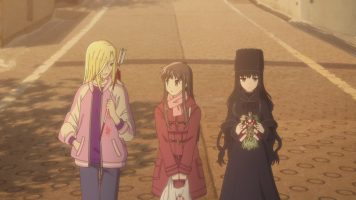 Uo-chan calling Tohru on New Year's eve is another new element added to the anime. I liked this for two reasons. First, it really felt like something Uo-chan would do. Second, it allowed us to glimpse at Uo-chan's home life. The manga doesn't touch that for quite a while, so I like that it is seen now.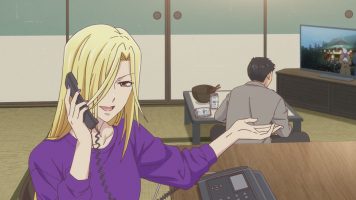 In a similar vein, we got our first glimpse of Hana-chan's family. When Tohru thinks of how Hana-chan is the first person she's going to call the following day, the manga just has a simple, tiny image of Hana-chan acknowledging this from wherever she's at. But in Fruits Basket (2019) 08, Hana-chan acknowledges Tohru's thoughts while in the comforts of her own home. I thought that was pretty cool.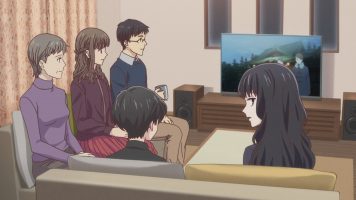 Other Story Modifications
Here are some of the other changes Fruits Basket (2019) 08 made to the source material.
There's a scene added showing Shigure, Kyo, Yuki, and Tohru cleaning/repairing Shigure's home. I suspect a bit of this was inspired from a couple of unadapted pages from chapter 7.
When Hana-chan comes upon Shigure, Kyo, and Yuki and gets Kyo and Yuki to leave, in the manga, she comments on the fact that the two banged their heads together. The original anime series adapted this to as a humorous moment. But it was missing from the current adaptation. I missed it.
A large amount of flashback material from earlier episodes was used. There were no such flashbacks in the manga. I almost felt like this was a cost saving measure on the part of TMS.
Hatori joins Haru in greeting Shigure in the anime. Only Haru did this in the manga.
The scene with Tohru eating soba and mochi with Kyo and Yuki was new. I had not problem with this addition.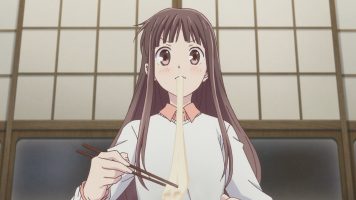 Final Thoughts and Conclusion
In the end, Fruits Basket (2019) 08 does a pretty good job of adapting chapter 11, and then expanding upon it to fill out the rest of the episode's run time.