Tonikaku Cawaii Chapter 69
Tonikaku Kawaii Fly Me to the Moon 69
トニカクカワイイ 69
Spoiler Summary/Synopsis:
Arisugawa-san (Arisagawa-san?) comes home from her overseas trip. Kaname is quite sarcastic to her mother due to her lengthy absence. Arisugawa-san gives Kaname tickets for her and Aya to go to an onsen. Kaname gives the tickets to Nasa since Aya has exams and the tickets expire before Kaname can go. Plus, Kaname wants Nasa and Tsukasa to have a honeymoon.
On the day of the trip, Kaname happily sees the married couple off. Tsukasa is concerned that Chitose might crash on their trip. However, when Chitose hears about Tsukasa and Nasa's trip, she decides to leave them alone. One the train ride, the couple are nervous. When they arrive at the Aizawa resort, they are stunned at its opulence. They have their own private outdoor onsen on top of the public bath.
Thoughts/Review:
So Nasa and Tsukasa finally get their honeymoon in Tonikaku Cawaii Chapter 69. And it is a pretty fun chapter.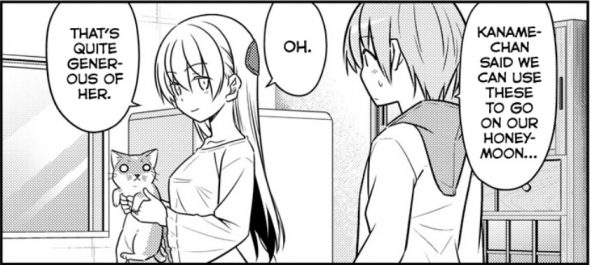 Arisagawa-san Returns
Although Tonikaku Cawaii Chapter 69 is a standard 18-page chapter, Hata-sensei packed it with a lot of material. Right off the bat was the return of Kaname and Aya's mom. I know that this manga series is a comedy one, but she abandoned her teenage girls. Its no wonder that Kaname was so sarcastic. If it weren't for Tsukasa's help, Kaname would have to run the bathhouse on her own.
Anyway, I kinda hope we see Kaname and Aya's father as well as his young wife. It would be interesting to see what Hata-sensei did with that.

Chitose
I liked that Hata-sensei gave Chitose some face time in this chapter. Like Kaname, Chitose is usually a troll and comedy character. But this time, Chitose actually comes off as mature, even if Hata-sensei milks some comedy out of her. I really liked that and hope to see more of it in the future.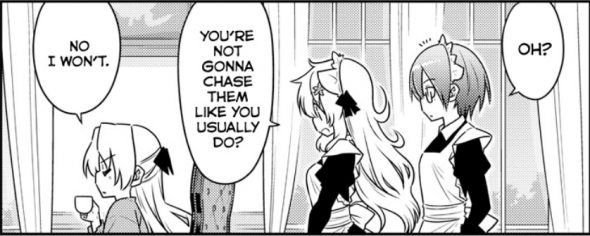 The Honeymoon
As to the honeymoon trip itself, I got a chuckle out of seeing the Aizawa name attached to it. That's Sakuya's family name from Hayate the Combat Butler. We didn't get to see Sakuya, but Hata-sensei has had her cameo before, so maybe we'll see her again.
That aside, I wonder if this honeymoon arc is when Hata-sensei will imply that Nasa and Tsukasa have consummated their marriage.
Final Thoughts and Conclusion
One final thought. Tsukasa again referenced the past as another nod to her possible Kaguya-hime roots. Hata-sensei loves to tease that story element.
In the end, Tonikaku Cawaii Chapter 69 is a fun chapter that contained quite a few elements in it. I look forward to seeing where things go.