Fruits Basket (2019) 15
フルーツバスケット 15
Furuba episode 15
Story Summary/Synopsis
Shigure decides to invite Tohru to the Sohma summer home. Kyo and Yuki are not happy, though Shigure invites them as well. Hatori is drafted to drive them there. At the summer home, Shigure sends Kyo and Yuki to accompany Tohru on her walk to the lake. Because both are acting unusual, Tohru thinks she's done something to offend them. After she slips, their attempt to catch her causes them to transform into their animal forms. Kyo and Yuki start fighting, which causes Tohru to be relieved. They assure her she did nothing wrong.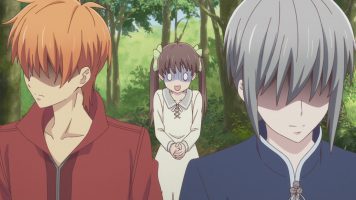 Meanwhile, Hatori questions why Shigure brought him to the summer home. He learns that in addition to ditching his editor, Shigure was attempting to shield Hatori from Kana's wedding celebration. As such, Hatori takes Shigure's suggestion and begins reading.
The following day, Ayame shows up, angering Yuki and Kyo. Again, the trio are sent for a walk to the lake. Ayame, Hatori, and Shigure discuss Kana's wedding. Ayame is not happy with how the situation turned out. However, Hatori has come to accept it. He wants to watch over Yuki, Kyo, and Tohru.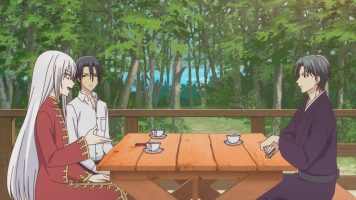 At school, Mayu has photos of Kana's wedding.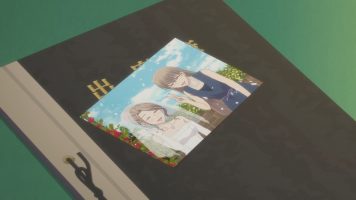 Thoughts/Review
Work is always getting in the way of my fun. Nevertheless, I'm glad to see that TMS is still doing an awesome job with Fruits Basket (2019) 15.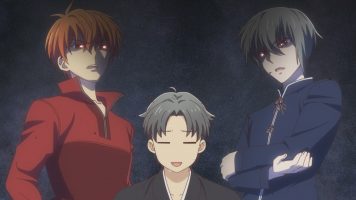 Story Modifications
I am so glad that TMS continues its faithful adaptation work with Fruits Basket (2019) 15. But I do want to note the modifications I did see.
On day one, Tohru's twin tails are longer in the anime. Also, folks clothing is different. However, this is a change of no consequence.
We get to see more flashback material during character internal monologues, which where limited or non-existent in the manga. This is a positive change as Takaya-sensei often went for simplistic backgrounds during these monologues.
The verbal fight between Kyo and Yuki after they transformed into animal form is cut, leaving out one joke. Its only a minor thing and maybe could be added in the BD release.
Ditto the scene of Aya going to make tea. Cutting it doesn't harm the story, but it did provide a bit of local color.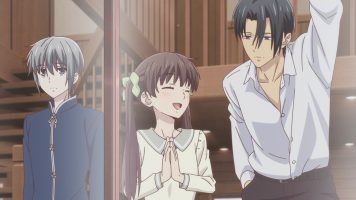 So like I said, I've very pleased with how TMS is handling the source material!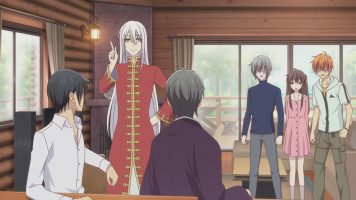 One Small Issue
The only real problem I had with the adaptation is that the anime doesn't really provide an indication of the passage of time. The first half of the manga is one day, but then the second half is another day. While we see Tohru, Kyo, and Yuki have changed clothing for the second half of the anime, there are no other indications that its a new day.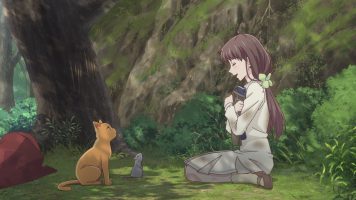 As such, if one hasn't read the source manga, I suspect the scene will play out as if Kyo, Yuki, and Tohru went for their walk. They came home, changed, and found Hatori taking a nap from reading. Then Aya shows up and the trio are sent back to the lake. Because of this, I wish the anime had Tohru give an internal monologue to indicate the passage of time, as she did in the manga.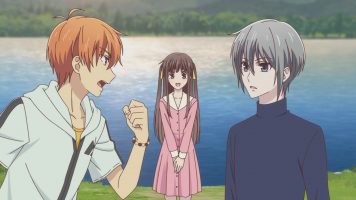 The Subtitles
Thankfully, Kyo wasn't called "Orange" or "Mikan" so I didn't have to see that absolutely idiotic "Carrots" show up on screen. Most of the translation stuff matches what the Twins originally did, only with some natural wording tweaks here and there. (No two translators will translate a passage identically the same.)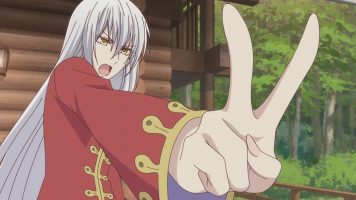 I was pleasantly surprised that the FUNimation subtitles put the "-sama" honorific in this time. Previous instances of its uses were nuked. Indeed, this is going to be shocking, but I think the FUNi subs somewhat trump the Twins (or those whom adapted the TP release) in one area.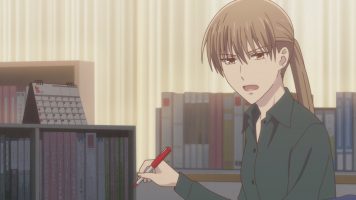 When it came to Mayu being addressed as "Mayu-chan-sensei", both anime and manga did this the same (and correctly so). But when Mayu scolded the girls who addressed her as such, she tells them to address her as Mayuko-dai-sensei. Here too, both anime and manga went with Great Teacher Mayuko. In the manga, the female students respond accordingly. In the anime, they call her Mayuko-dai-sensei-sama, which was translated as "O Great Teacher Mayuko-sama." So even though it is a little thing, I'm glad "-sama" was left in.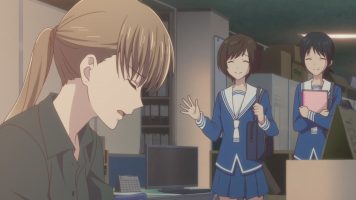 Final Thoughts and Conclusion
In the end, Fruits Basket (2019) 15 is another good adaptation on the part of TMS. I'm loving the visuals of the anime and the faithfulness of the adaptation.