Fruits Basket (2019) 23
フルーツバスケット 23
Furuba episode 23
Story Summary/Synopsis
Tohru is devastated after learned she failed one of her exams. Hana-chan, Uo-chan, and Yuki try to cheer her up since she can just retake the test during the weekend. The depressed Tohru follows Kyo home. She feels even worse when he speaks of her failing a test. However, when she collapses, Kyo panics. He gets her to the house, where Hatori is summoned. Shigure contacts Momiji to inform him that Tohru won't be coming to work.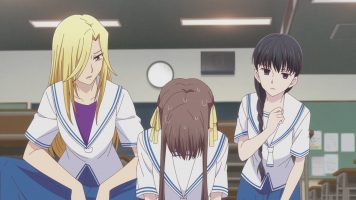 Shigure sends Tohru to get some rest in bed. He discovers Kyo is making food for Tohru. Kyo gets irritated about being teased. He brings the food to Tohru, who's very happy by this. Kyo continues to be irritated, but he controls himself to listen to Tohru state why she's upset. Hatori arrives and gives Tohru a shot to help her get well. Yuki shows up to give Tohru notes for the upcoming exam. Kisa hangs out with Tohru, and Tohru is very happy to be so loved by them all.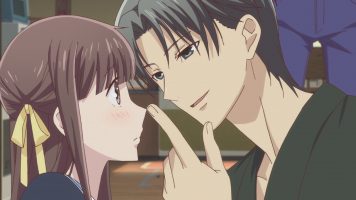 Sometime later, Tohru has passed the makeup test. She is with Kyo and Yuki, walking home in the rain under umbrellas. The rain has drained all of Kyo's natural energy. When they get home, the rain has stopped. Kyo is horrified to find Kagura waiting for him. The normal interactions between the two cause damage to Shigure's house. She he has Tohru give them the shopping list to get them out of the house.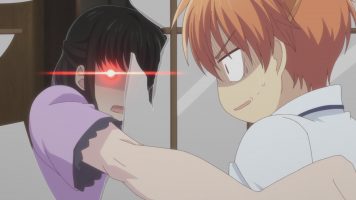 While out, Kagura asks how long Kyo is going to hide his secret from Tohru. This angers him, but since they are in public, Kagura manipulates Kyo into holding her hand for the walk home. Meanwhile, Yuki and Tohru are outside, waiting for Kyo and Kagura to return, when Yuki notices they have a visitor. Kagura and Kyo show up, where the visitor greets Kyo. A shocked Kyo responds by addressing the man as "Shisho."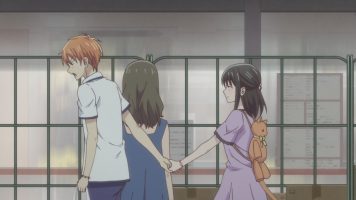 Thoughts/Review
We finally go back to pick up the missing chapter from volume 5 in Fruits Basket (2019) 23. As such, this episode covers chapters 30 and 31, entering us into Kyo's big story.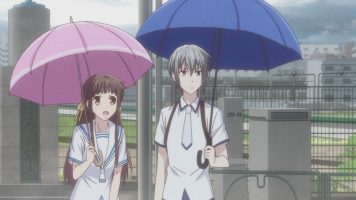 Changes to the Source Material
Thankfully, Fruits Basket (2019) 23 has TMS being ultra faithful to the source manga material. The only change of note is that in the manga, Tohru never interacted with the battered baseball cap while she was sick. In the anime, she does for some reason.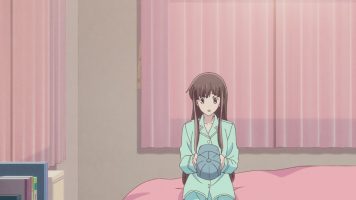 I will note that because TMS has been grabbing chapters from all over to play before Kyo's story, I am bummed that the summer trip to the lake house has been burned already. We'll see how TMS handles its loss.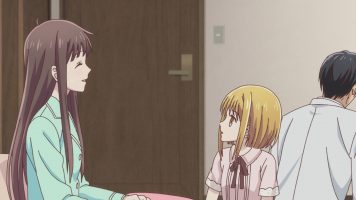 FUNimation
Normally, I complain about something terrible in FUNimation's subtitles. However, this time, I will praise them. Why? Because they used the Japanese title "Shishou" (or "Shisho" as they spelled it). I figured they'd just go with "master" since that's normally what folks do when they encounter Shishou in the wild. But I was pleasantly surprised to find this not to be the case. So credit where credit is due.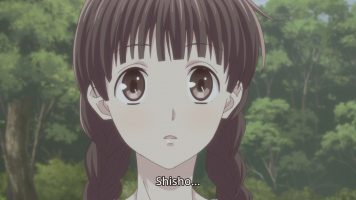 Final Thoughts and Conclusion
In the end, Fruits Basket (2019) 23 is a very good adaptation of the source manga. I really am glad that the anime has really captured the emotional elements from Tohru's illness story. In addition, TMS sets up things nicely for the story to come.