ユーキューホルダー! 魔法先生 ネギま!2 Manga Review
UQ Holder! Mahou Sensei Negima 2
UQ Holder!: Magister Negi Magi! 2 Chapter 164
UQ Holder Chapter 164
SPOILER Summary/Synopsis: 
Touta challenges Ba'al, who has Dana slaughter Kuroumaru. Dana attacks the UQ Holder members while Touta gets the drop on Ba'al. Their battle turns into a battle of monsters. Ba'al tells Touta that he was trying to help humanity in the past until Eva interfered. The Mage of the Beginning's plans for Earth is something Ba'al agrees with. When Touta learns this, it allows him to really go all out.
Nikitis returns to defend Ba'al. Those two go all out while the regenerated UQ Holder members crushed by Dana return to battle her. Sept enters the fray to battle. Kuroumaru realizes that they don't have a chance against three such entities. Dana is about to attack with a micro black hole when Juuzou arrives with Jinbee. Juuzou cuts the black hole and Jinbee deals with Sept.
Ba'al is about to attack which his monsters are hit with an AOE ice spell of massive power. With Yukihime's arrival along with Ikkuu, all of the Numbers members of UQ Holder are on the battlefield.
Thoughts/Review:
Looks like the gang is all here for UQ Holder Chapter 164. And to me, that suggests the end of the manga is not too far away. Maybe by year's end or early next year.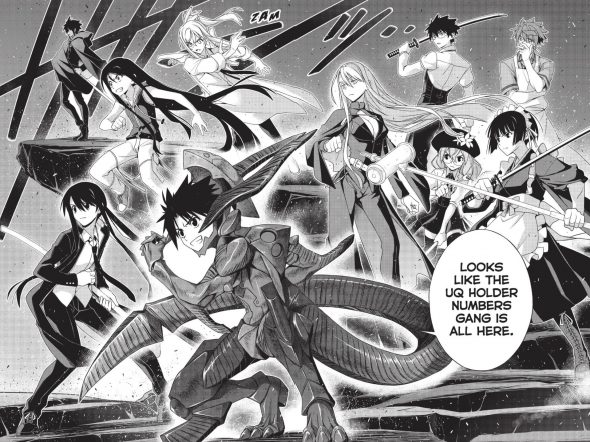 Crazy Shounen Battle
Akamatsu-sensei really is going all out when it comes to the shounen battle of UQ Holder Chapter 164. He decided to have the figurative fight between "monsters" turn into a literal thing. So visually, things look pretty good. However, fights are fights, and it is difficult to really get me jazzed at this point. That doesn't mean there's a problem with what was presented.
Still, I did appreciate Eva, as Yukihime, showing up to be the final piece on the board. It fits the pattern of her entering battle throughout UQ Holder. Further, Akamatsu-sensei shows great respect for Eva as a character. Touta may be the Mary Sue of UQ Holder (though he's not the annoying character he was years ago), and he got his hero's entrance. But Eva got hers, so I'm pretty happy about that.
Hilarious Clothing Thing
As Akamatsu-sensei is wont to do, he finds a way to get his girls naked. And in UQ Holder Chapter 164, that's nothing new, except that in addition to Karin and Kuroumaru being naked, Gengorou is naked as well. And as usual, Sensei finds convenient story reasons to produce naked characters. None of that is anything special or funny.
What was hilarious to me was that after Karin, Kuroumaru, and Gengorou regenerated naked from being killed, Santa asks Karin to put some clothes on. He's told, "There's no time for that!" And so that trio fight naked for the rest of the battle. However, the moment Eva (as Yukihime) enters the fray, suddenly all three are fully clothed again. 😂  I literally laughed out loud at the absurdity of this. They had no time to get dressed, but hey, there they are, suddenly fully (and nicely) clothed.
Final Thoughts and Conclusion
I've read the chapter four times now. However, there's really nothing to analyze or speculate on. That's an element that I miss from Negima! While not all chapters provoked analysis, many did. UQ Holder just does not.
As such, I'll wrap this up by stating that I did enjoy UQ Holder Chapter 164 for what it was–a mindless battle chapter with Eva getting her hero's entrance.