Tenchi Muyo! Ryo-ohki: Heian Muyo!
Hey gang! One of the things we non-Japanese fans of anime miss are many of the extras done in Japan. Audio dramas are one such thing we usually never get. However, those who've watched Tenchi Muyo! Ryo-ohki OVA 2 will know, after the credits for OVA 2 episode 6 (episode 13 as the series was released in America) are done, there's a "slide show" mini episode featuring Washu, Mihoshi, and Ryoko.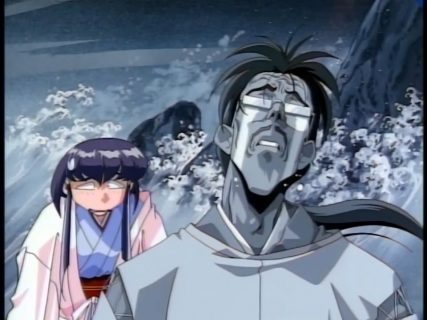 This was actually an audio drama that was given illustrations in order be included in a video release. While it was the only one added in the U.S. release, in the Japanese LaserDisc (LD) release, at least one other audio drama was given this video "slide show" treatment. I think this was included as part of OVA 1 LD. I'm trying to learn which episode it was included with. The audio drama episode was called Tenchi Muyo! Ryo-ohki: Heian Muyo!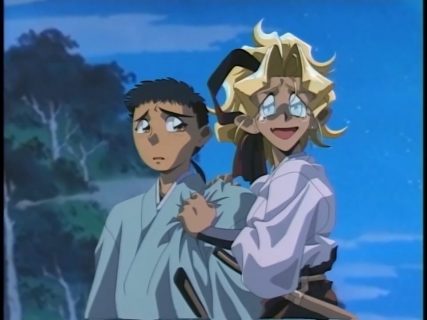 Update: This wasn't part of one of OVA 1's LD releases. It was its OWN LD release, which may explain why Pioneer never bothered to license it for U.S. consumption.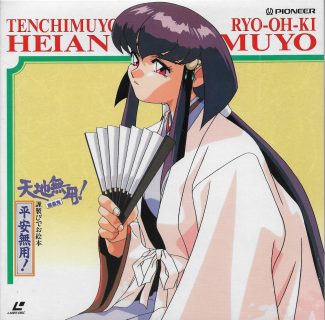 The Audio Drama
The premise of Tenchi Muyo! Ryo-ohki: Heian Muyo! has Aeka, Yosho (in his Katsuhito form), Tenchi, Mihoshi, Ryo-ohki, and Ryoko in the Heian era (794 AD to 1185) of Japan. Aeka is a princess (naturally) and Yosho is a lecherous old man who's with her, but can't have her. Tenchi and Mihoshi are (samurai?) partners on their way to see Aeka. (I'm pretty sure Tenchi calls Mihoshi "Shisho", which would mean she's the master.) They encounter an injured Ryo-ohki on the road. Ryoko shows up and thanks them for helping Ryo-ohki. Then because she's an oni, she kidnaps Tenchi.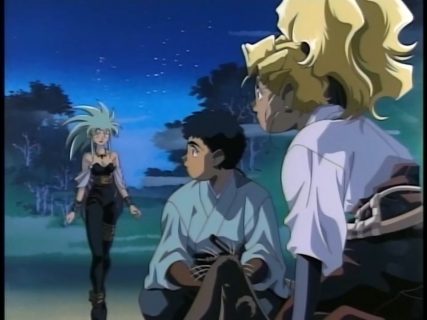 Mihoshi reports this to Princess Aeka, who's not going to have Tenchi-sama kidnapped by that terrible oni, Ryoko. 🤣 Meanwhile, Ryoko wants to drink with Tenchi and have a chat with him about that terrible princess woman. And angry Aeka shows up, which leads to the normal verbal fight between the two. See what I mean!
Special thanks to Eff Efferson for bringing this to our attention. Also, special thanks to Lain32 James for uploading it. If you are coming to this post at a future time and the video is down, please let me know.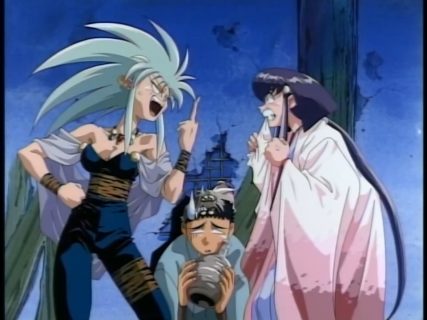 Also, let me know what you think of this little gem. I'd love to get a translation, of course, but what little I understood seemed amusing. Its a shame that more stuff like this wasn't included in the American release. But licensing stuff like this would cost more money, so we non-Japanese fans are left out in the cold.