A Certain Scientific Railgun T 01
とある科学の超電磁砲T
SPOILER Summary/Synopsis
MISAKA Mikoto encounters a trio of children trying to fix a broken teddy bear. She helps them repair it so it moves again. Meanwhile the Daihasei Festival Steering Committee meets with the mandate of getting Level 5 espers to be the face of the event. Elsewhere, SATEN Ruiko and UIHARU Kazari discuss the upcoming festival. They pay a visit to SHIRAI Kuroko, who's in hospital, recovering from injuries received in the Tree Diagram Remnant incident. Mikoto joins them and the group chat.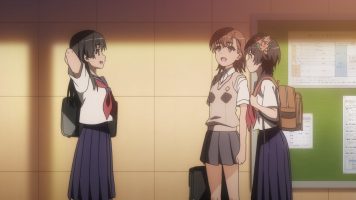 Later, Mikoto encounters KONGOU Mitsuko, WANNAI Konuho, and AWATSUKI Maaya. There, she learns that Kuroko arranged for Mitsuko to be Mikoto's partner for the sporting events in the festival. Back at school, Mikoto encounters fellow Level 5 esper SHOKUHOU Misaki. Misaki teases Mikoto while flaunting her Mental Out abilities.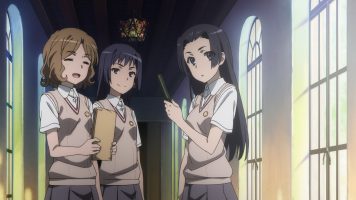 Meanwhile, the Steering Committee's attempts to sign other Level 5's results in failure. Elsewhere, Mikoto encounters one of her clone sisters, MISAKA Imouto. Imouto has been to a local cake shop for a limited edition item. She has an extra one for Mikoto, who didn't get an advanced ticket to buy her own. Still elsewhere, Uiharu and Saten observe things being set up for the festival. A fight between rival school cheering clubs breaks out. Uiharu uses her Judgement position to stop it.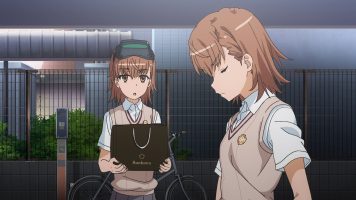 SOGIITA Gunha, the 7th ranked Level 5 esper, sees her "guts" and steps in to help her. He knocks the guys out, praises Uiharu, then leaves. However, the damage to the stage forces Mikoto, who's arrived on the scene, to use her abilities to save them from injury. They go to pay Kuroko a visit, where Mikoto finds Kuroko has a secret photo book of her. Kuroko is electrocuted for this.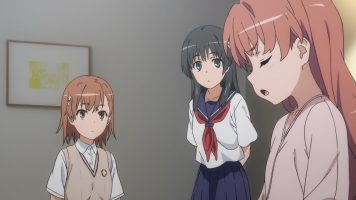 Thoughts/Review
And so we return to the animated world of the Railgun part of the Index franchise. A Certain Scientific Railgun T 01 has a surprising amount of filler, some changes to the source manga, and some irritating subtitles.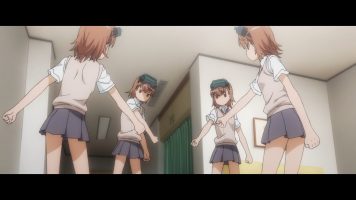 Lots of Filler
As I mentioned, there's quite a bit of filler in A Certain Scientific Railgun T 01. However, some of this is understandable. The production team at J.C. Staff want to reintroduce the characters and world of Academy City to viewers. And I'm OK with this on the whole.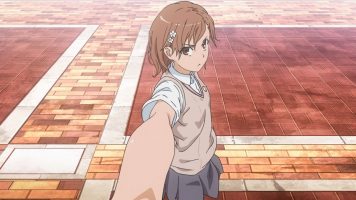 It was nice seeing Mikoto being a good "oneesan" to some kids. It was fun seeing Kuroko up to her usual no good. I liked seeing Mitsuko pretty much as she was created to be in the source manga. (Earlier Railgun anime adaptations made her something she wasn't, especially since she's only introduced into the manga just prior to this arc.) Basically, it was nice seeing all of the girls again, and no Touma!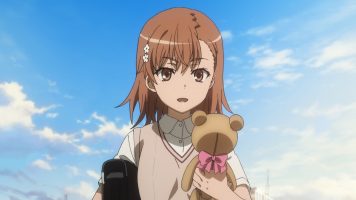 I just wish the anime would have taken the time to explain Kuroko's injuries. The Daihasei Festival starts in volume 7 of the Railgun source manga, chapter 43. Because the events of A Certain Scientific Railgun T 01 actually take place after the events of episodes 6 and 7 of A Certain Magical Index II (volume 8 of the source novel), a viewer coming in new, or having just watched the Index III anime might be confused.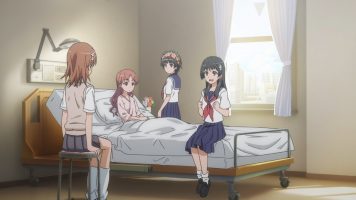 To be fair, the source manga didn't bother explaining this either. But this is something I was hoping the anime would fix. After all, it wouldn't take much to properly set the time period this new Railgun series takes place in.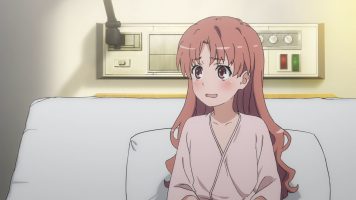 Changes to the Source Manga
Discounting the filler elements, A Certain Scientific Railgun T 01 makes some changes to the source material in terms of setting up plot. I hated that the joke around Misaki was cut. In the manga, when she's out with her two underlings, HOKAZE Junko stops her from eating a second eclair. And when her hired help makes contact with her at the cafe, Misaki has to "freeze" her companions. That's all she does there. In the manga, she has them leave, but commands Junko to go eat a ton of eclairs. 😂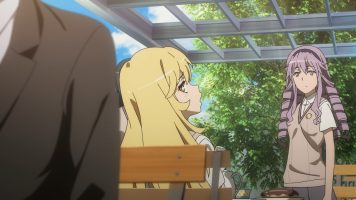 For some reason, Gunha's trademark Rising Sun shirt is turned into a solid colored shirt. Not sure why that is, other than the fear of folks complaining.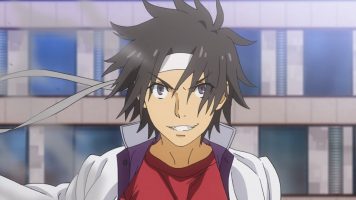 Beyond that, its hard to cite changes because this first episode was mostly filler to set the table. We'll see how the next episode goes.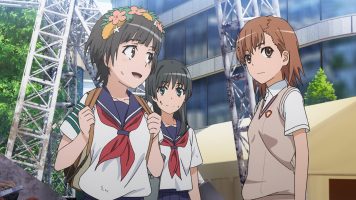 FUNimation/Crunchyroll
The subtitles used for A Certain Scientific Railgun T 01 make me want to claw out my eyes. If I recall correctly, Railgun S had great subtitles. But apparently, we are getting dubtitles from FUNimation (which are used on Crunchyroll's site). What does that mean? Well, naturally, filthy Japanese honorifics are right out. "We aren't going have that dung polluting our beautiful English."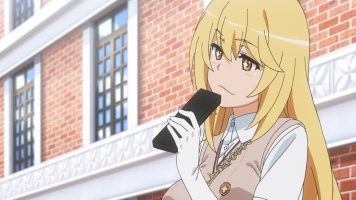 That said, both "-san" and "-sama" are translated as "Miss" 'cause clearly, those two honorifics have the same level of effect as a literary device in the Japanese. Well, that's when "-san" or "-sama" aren't ignored. You know, ignoring an honorific is a valid translation choice and not at all lazy. Unlike leaving the Japanese honorifics in the subtitles, which is not only lazy, but would actually provide the cultural flavor to the English.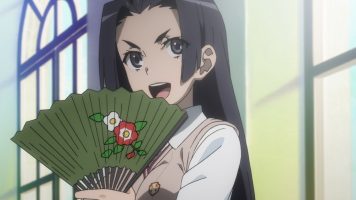 What really grated on me was Kuroko's trademark "Oneesama!" being turned into "Sissy." Sissy? I had heard that FUNimation did this for Index III. Seeing it in Railgun T just…ugh. I guess this was FUNimation's choice for the dubs. I don't watch dubs, so I don't care there. But I don't want such stupidity in the subs. Just leave it as Oneesama like the manga and the earlier anime subs had. But I guess we have folks doing the subs who hate anything Japanese.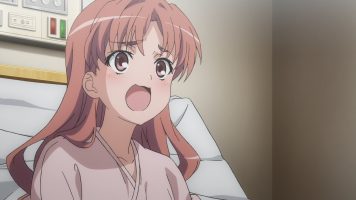 Oddly enough, the Japanese naming conventions apply. Weird.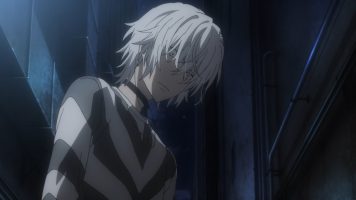 Final Thoughts and Conclusion
In the end, A Certain Scientific Railgun T 01 is fine on an episode level. Its just a shame the enjoyment of the episode is killed for me due to adaptation decisions.