Fate/Extella Link — A New Kind of Game For AstroNerdBoy
Hey gang! As long time readers of the blog will know, I'm a HUGE fan of the Fate franchise. As such, I've tried to watch every anime adaptation that has been made. (Still have some to watch.) And I've even ventured into games. Primarily, I've played Fate/Grand Order, which is the mobile gacha game. (Here's the link to all the FGO videos I've made for the game on YouTube.)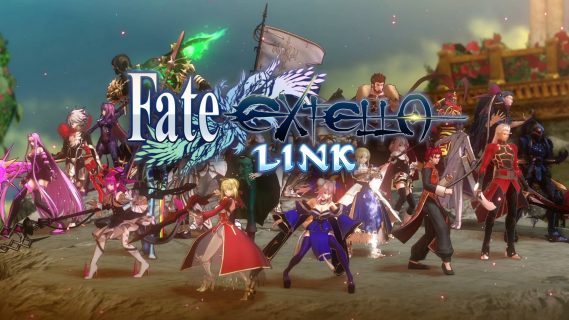 The Fate/EXTRA Game Line
After I watched the Fate/EXTRA anime adaptation of that game (link to my review), I became aware that the Fate/Extella and Fate/Extella Link games had been ported to PC and were on Steam. These are the 3rd and 4th games in the series, following Fate/EXTRA and Fate/EXTRA CCC.
Fortunately, Fate/Extella Link doesn't require you to have played those games. And from what I saw, it didn't require you to know the Fate multi-verse either. The game walks you through the terms, and there's a glossary you unlock early on to explain various Fate terminology.
The English Adaptation
I'm playing Fate/Extella Link in Japanese with English subtitles. Naturally, all Japanese honorifics are stripped 'cause "reasons". And sadly, Nero's "Umu!" catchphrase term is randomly translated or ignored. Fate/Grand Order did allow "Umu!" to stay in the subtitles, which is what I'd prefer.
I had an issue with how the game translated Sousha. This is the term that Nero addresses you (the player character) instead of "Master". It means "instrumentalist" or "player". As such, Nero using the term "Sousha" fits her persona as a performer. So if it were up to me, the term Sousha would be translated as Maestro. That's because a maestro is in fact a master musician, but can also be used for a master performer.
Unfortunately, the official adaptation decided that because Nero is Roman, she should address her Master as "Praetor".  That completely eliminates Nero's whole focus on performances. Yes, she's big on Rome, but she's addressing her Master has a performer. And that's why I hate localization so badly.
My First Game Playthrough
I streamed the game on Wednesday night, as part of my new streaming schedule (Wednesday and Friday nights at 7pm MT). Because this the first game I've ever used a controller in my life (sans a brief flirtation with a Super Nintendo), I did practice going through the tutorial a few times prior to playing. Otherwise, it was all new to me. And getting used to the Xbox One controller (Amazon link) is something I still need practice at. But I'm getting better.
That said, here's the raw game footage from the stream.
I'm still looking to hit 1000 subscribers on YouTube, and slowly keep advancing on that goal. So click this link to help me get a few pennies from my videos.
  And if you are on Twitch, you can follow me there as well. Thanks to everyone who has already done so. I really do appreciate it!
If you've played Fate/Extella Link, let me know what you thought of the game!