Fate/Grand Order Absolute Demonic Front: Babylonia 21
#FGO_ep7 #FGOBabylonia
Fate/Grand Order -絶対魔獣戦線バビロニア- Episode 21
Fate/Grand Order: Zettai Majū Sensen Babylonia ep. 21
SPOILER Summary/Synopsis
Ritsuka awakens to see a relieved Mash. They are joined by Jaguar Man and Quetzalcoatl. After providing Mash and Ritsuka with some refreshment, Jaguar Man and Quetzalcoatl escort Mash and Ritsuka to the now deserted Babylonia wall. After some final words, Quetzalcoatl hugs Ritsuka, then she and Jaguar Man dissolve into energy and vanish.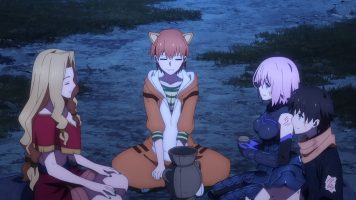 Mash and Ritsuka walk to Uruk and return to their old residence. There, they find Merlin and Ishtar waiting for them. Merlin makes some tea and has a verbal joust with Romani. Ishtar informs them that Ereshkigal is resting in the Underworld. Further, it will take a long time for the place to recover. Ishtar states that she will remain in this era until the first Uruk dynasty ends. Merlin states that he will be returning to Avalon. He explains that he's a fan of Ritsuka's work. Before vanishing, he gives Ritsuka a flower to do with as he wills.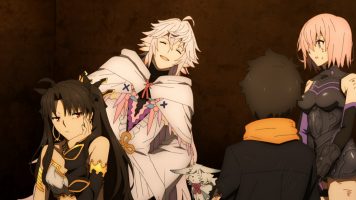 Meanwhile, Gilgamesh in his Archer form, has a chat with Enkidu. In the present, Gilgamesh, in his Caster form, greets Ritsuka, Mash, and Ishtar when they arrive at the ruined palace. He explains how he was able to assume his Archer form in the Underworld. Gilgamesh then tells them the tale of his quest to seek the mystic herb of immortality.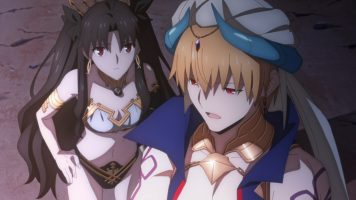 Before Mash and Ritsuka return to Chaldea, Gilgamesh gives them a Holy Grail. After they return home, Chaldea goes on alert. He informs the staff that they now have to deal with Solomon's Singularity.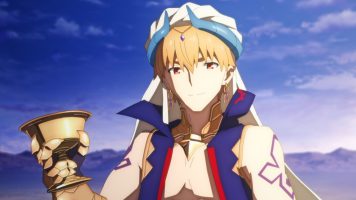 Thoughts/Review
And so this series comes to an end with Fate/Grand Order Absolute Demonic Front: Babylonia 21. But it ends with the notion that maybe, just maybe, they'll animate the final singularity.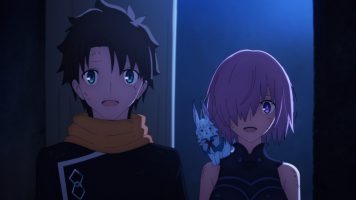 Wrap Up
There's not a ton to remark on regarding Fate/Grand Order Absolute Demonic Front: Babylonia 21. The episode was to basically provide a bit of aftermath wrap up stuff. However, I do appreciate when a series takes the time to do this.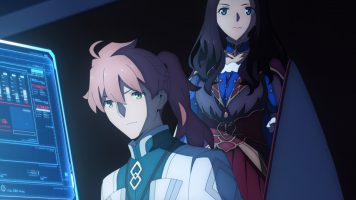 After being MIA in the boss fight, Jaguar Man returns. Apparently she rescued Quetzalcoatl. I suppose the reason they couldn't go into the city is so that we could get a more intimate farewell to them, primarily Quetzalcoatl. Shame we didn't get to see Quetzalcoatl "thank" Merlin.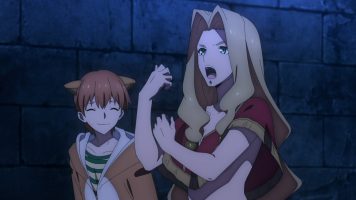 Speaking of Merlin, he gets his farewell in the presence of Ishtar. I did get a kick out of his verbal sparing with Romani.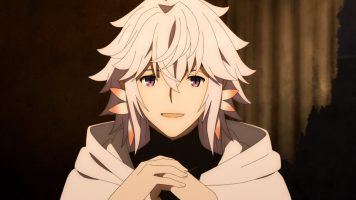 As to Ishtar, I suppose her flying off, then later dissolving marked the passage of time. She mentioned hanging around until the first Uruk dynasty ends. But maybe that ended shortly after Mash and Ritsuka left. (Update: Blog reader Gore pointed out that although the fade scene was quick, it was in fact Gilgamesh, not Ishtar who faded. And Gore is correct. Thanks for the correction!)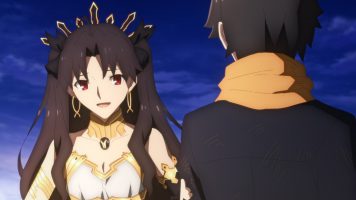 Finally, there's Gilgamesh. I liked that we got an explanation on how he went from his Caster form to his more well known Archer form. What I didn't understand was the scene with him and Enkidu. On one hand, it seemed like a flashback. After all, Uruk was not destroyed. On the other hand, their conversation seemed to be about current events.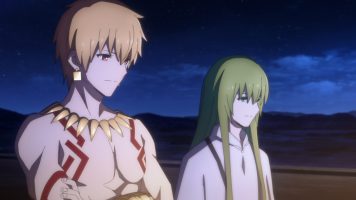 Final Thoughts and Conclusion
In the end, Fate/Grand Order Absolute Demonic Front: Babylonia 21 was a nice conclusion to this series. And hopefully, they'll do another anime TV series for the Solomon singularity. I'll write a series review later.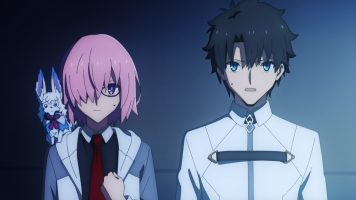 Note: For those interested, I do have some videos on YouTube created for the Fate/Grand Order mobile game. Of course, I do other game playing as well. I'm looking to hit 1000 subscribers on YouTube, so click this link to help me reach my goal. 😁