My Monster Secret Volume 12 Manga Review
Jitsu wa Watashi wa/実は私は 12
My Monster Secret: "Actually, I am…" 12
–> Buy My Monster Secret Volume 12 from Amazon.com
Despite being very busy, I've been making some time to read the My Monster Secret manga series. One good thing about having fallen behind in this manga series is that I don't have long to wait between manga volumes.
NOTICE!!! In the interest of full disclosure, I should mention that I am the adapter for the official English translation of the True Tenchi Muyo! novels, which are also published by Seven Seas.
***SPOILERS***
The Story in Brief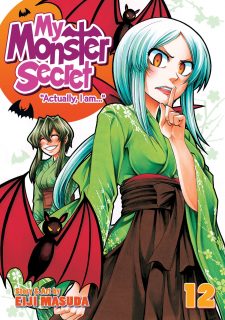 Things get started in My Monster Secret Volume 12 by having the students engaged in an unusual dodgeball battle against Akari-sensei. Sakurada plans to use the event to try to confess to her. Afterward, Akemi (Mikan) and Okada are at the cafe Akari-sensei works at. Okada fails to convince Mikan to go for him as a boyfriend.
Next, Asahi asks Youko on a date. They go to an aquarium. However, their date is remotely observed by Akane, Touko, and Genjirou as Yumi-sensei. Genjirou decides to stop the date and disguises himself as a giant sunfish. His wife counters him. And Akane discovers Akari is also at the aquarium with Sakurada.  Youko and Asahi continue their date. Asashi gets to eat Youko's food.
Shimada makes a move on Yumi-sensei. Shirou wants Asahi to help her train to defeat her mother, the Nympho Icon. However, Youko suspects Shirou is actually in love with Asahi. Later, Nagisa shares a documentary from her home planet which features herself and Youko.
New, underclassman girl MOMOCHI Yuka falls for Asahi. And she happens to be a shinobi. Nagisa becomes aware of Yuka. This leads to both chasing after Asahi, then rejecting him.
Youko x Asahi
It was lovely seeing Youko and Asahi go on their first date. Masuda-sensei does go for some cliched first date stuff. As such, both Youko and Asahi are ultra nervous. And Asahi keeps trying to hold Youko's hand, but naturally, keeps failing.
However, Masuda-sensei moves on from this and actually has them hold hands. He then has them proceed to the traditional bento portion of the date. Youko makes a couple of bento boxes and has her message of love for Asahi in his. And then they feed each other. So it is cute and such.
However, Masuda-sensei does something unusual. He has an ominous image of Youko as a vampire. Until now, her being half-vampire has just been a thing. There's been nothing ominous about it. If anything, her vampire aspects have been for comedic purposes. But in My Monster Secret Volume 12, that one ominous moment piqued my interest. I wonder where Sensei goes with that.
Comedy Stuff
I found the humor of My Monster Secret Volume 12 to be much better than the previous volume. Normally, Akane provides the most humor. But in this volume, she only plays a limited role. She is paired with Youko's mother, Touko. But it is Touko that shines as she's most interested in seeing her daughter's love life advance. Plus, she is playing along with her husband's disguised appearance as Yumi-sensei.
The biggest comedy moment for me was the introduction of the shinobi character, Yuka. There's something about having a partial air-headed character with the powers of a shinobi. Her interactions with Nagisa were hilarious, especially when Yuka would use her "change places" power.
There are other nice humor moments as well. But the above two moments were the best, in my opinion.
Final Thoughts and Conclusion
In the end, My Monster Secret Volume 12 is a good volume. The humor levels pick back up, and the romance story between Asahi and Youko continues. Looking forward to reading the next volume.