My Monster Secret Volume 14 Manga Review
Jitsu wa Watashi wa/実は私は 14
My Monster Secret: "Actually, I am…" 14
–> Buy My Monster Secret Volume 14 from Amazon.com
And so it is time to return to that wonderfully wacky world of My Monster Secret. And the hilarity factor was much improved in this volume.
NOTICE!!! In the interest of full disclosure, I should mention that I am the adapter for the official English translation of the True Tenchi Muyo! novels, which are also published by Seven Seas.
***SPOILERS***
The Story, in Brief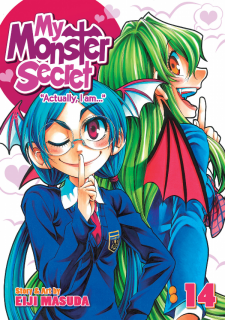 Things get started in My Monster Secret Volume 14 with the 1st year students out at a camp ground to make curry. The succubus Saki decides the ninja Yuka is a rival of sorts and thus challenges her to a curry competition. Next, Karen arranges for Asahi to have a practice session at being a teacher. His practice students are Youko, Nagisa, Akari-sensei (as a yanki), Akane (in multiple copies), and Shiho.
Mikan chases Yuka to try to get answers regarding the future. This leads to Mikan briefly ending up the the future again. Nagisa and Shiho discuss how Asahi so easily accepted them despite their secrets. Nagisa attempts to get Akane to help her let go of her feelings for Asahi. Meanwhile, Shiho gets help from Nagisa and others in her latest battle with her mom, the Nympho Icon. Here, Shiho is forced to confront her own feelings for Asahi.
Next, Akane starts a nagashi soumen tournament at school to troll her students. Afterward, Asahi asks Youko if there's something she wants to do date-wise. She wants to hunt for rhinoceros beetles, leading Rin and Karen to join them. However, every night, the girls fall asleep, leaving Asahi to stay awake all night.
Yuka pursues Okada, leading Shimada to wonder what he can do to improve his image. This leads to Yuka bumping into Shiho and addressing her as Grandma. Shiho freaks out, thinking in the future, she steals Asahi from her best friend, Youko. She confesses to Mikan and Nagisa, only to learn from Rin and Yuka that Shiho apparently marries Shimada (Yuuta) in the future.
The Hilarity Rises!
Masuda-sensei brought his comedy game back big time in My Monster Secret Volume 14. We get a nice amount of Akane trolling hilarity. The joke of Akane being so enamored with Nagisa's desserts is an old one, but it was still very funny to me. When Akane trolled the students for the "top noodles" of the nagashi soumen event, I laughed. But Akane wasn't the only source of laughs.
Asashi's misadventure attempting to go find rhinoceros beetles with Rin, Karen, and Youko had me laughing more than I expected. I'm not sure if his encounter with Nagisa's true from as she battled a rhinoceros beetle was a dream or not. But it still cracked me up.
Finally, the unexpected laugh came from the reveal that Shimada apparently marries Shiho in the future. It was already hilarious when Yuka and other girls were always repulsed to near murderous state by Shimada. But the looks on Shiho, Nagisa, and Mikan's faces as they learn the truth is making me laugh even as I remember it.
Romance Front
There wasn't any real advancement in Youko and Asahi's romance storyline in My Monster Secret Volume 14. I was fine with that. They are a couple now, and the story reflects that.
While Nagisa's feelings for Asahi were mostly played for comedic purposes, I still couldn't help feel a bit sorry for her. Unrequited love does suck, more so when you know you had a chance to be with that person but screwed it up.
I wasn't surprised that Shiho finally conceded to having feelings for Asahi. Here too, Masuda-sensei does a lot of comedic stuff with Shiho's romance story. But as with Nagisa, Shiho's feelings for Asahi come off as natural, not forced. So I like how that all played out.
Finally, there's Mikan. I didn't expect for her to return to the future in her quest to change it. She's desperate to know whom Asahi actually marries so she can arrange things such that she marries Asahi. But even Mikan's future self isn't giving her the answers. I have a feeling Future-Mikan is completing a circle by not telling her past self anything specific.
Change the Future
Interestingly enough, Mikan's desire to change the future is becoming a theme in the manga. Now, there are multiple characters wanting to change the future for a host of reasons. We already know Mikan wants to change things so that she can marry Asahi. Shiho now wants to change the future so that she doesn't marry Shimada. Yuka wants to change things because of Shiho and Shimada. Rin wants to change things because of the Nympho Icon II.
Time traveling can be tricky business in terms of telling a story. Plus, there are the paradox issues, even for works of fiction. So I am curious to see how Masuda-sensei handles this. The easiest solution is that everything everyone does in the present creates the future that Yuka, Rin, and the box girl (whomever that is) have experienced. But then how do the problems of the future get resolved?
Anyway, as I said, it will be interesting to see where Masuda-sensei takes things.
Final Thoughts and Conclusion
In the end, My Monster Secret Volume 14 really stepped up on the humor front. However, there are also interesting plot elements regarding changing the future that I really liked. Plus, I appreciated Shiho finally acknowledging her own feelings for Asahi.