Princess Connect! Re:Dive 01
プリンセスコネクト!Re:Dive episode 01
SPOILER Summary/Synopsis:
An elf-like girl named Ameth sends an unconscious warrior/hero with amnesia named Yuuki the world below. On said word, an elf girl named Kokkoro has been dispatched to find hero by her father on Ameth's request. She finds him on a hilltop, where wolves are attempting to drag him away. She drives away the wolves and speaks words that causes Yuuki to wake. However, since he has no memories, the only thing he knows to say is his name. She makes some onigiri and fends off wolves again.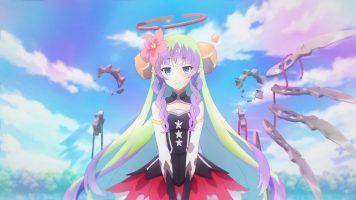 Elsewhere, a powerful teen girl with a sword is heading for the city of Landosol. She encounters two scam artists, who easily trick her to steal her sword. Meanwhile, Kokkoro and Yuuki have arrived in Landosol on the continent of Astraea. She continues to provide a re-education for Yuuki on the various races and such. That evening, Kokkoro discovers the money she has is not enough to pay for lodgings, so the two camp outside the city.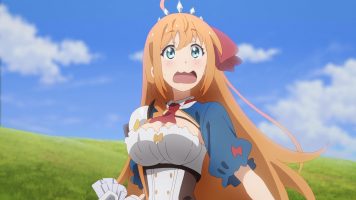 The next day, the pair find a job at the local guild to gather mushrooms. They head to a nearby ruin to gather mushrooms. Unbeknownst to them, the two con artists are there, hiding from the warrior girl when something attacks them. Yuuki finds said girl unconscious from hunger. After feeding her, Kokkoro names the girl Pecorine, which pleases the girl. A mage summons giant mushrooms, whom attack the trio.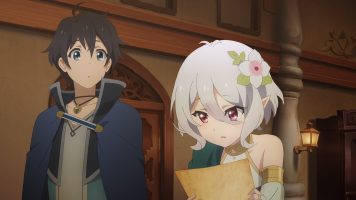 During the fight, Yuuki has a flashback and subconsciously triggers a Princess Knight ability that causes Pecorine and Kokkoro to become more powerful. They gather the mushrooms. However, a small, intelligent (and secretly evil) mushroom attempts to attack Kokkoro. Pecorine grabs it and eats it without thinking, then gets sick. Yuuki carries her on his back and walks back to the city with Kokkoro.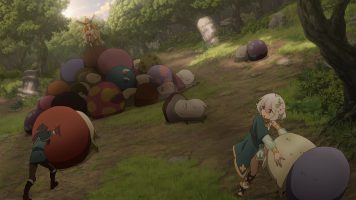 Thoughts/Review:
After seeing a lot of art in my Twitter timeline, and seeing Western Otaku speak of this anime series, I decided to give Princess Connect! Re:Dive 01 a spin. And boy, was this mobile game's anime adaptation a surprise.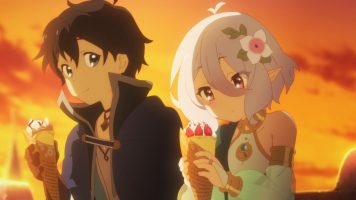 The Unexpected Comedy
I thought I would start off with the element I enjoyed the most in Princess Connect! Re:Dive 01 — the unexpected comedy. Not even three minutes into the episode, we are treated to a moment of levity as Kokkoro finds her new, unconscious master being dragged off by googly-eyed wolves. That became a running gag throughout the episode as these two hapless wolves were determined to drag Yuuki off to wherever.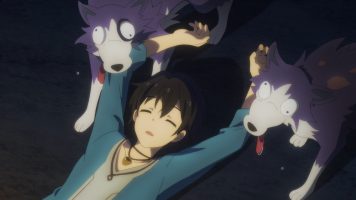 Another great bit of laughs came from the bimbo character, Pecorine. She's complaining that rock monsters are not really edible. And then I realized that she's the one who had sliced up the dead rock monster we saw nearby. Later, we pan across a bridge filled with dead orcs (or whatever), and again, we realize that the now unarmed Pecorine had slaughtered them. 🤣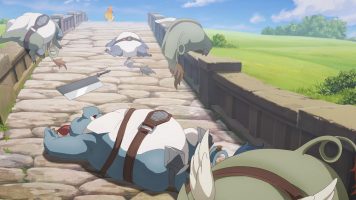 Then in the actual fight we see at the end of the episode, Pecorine ends up eating a supposed cute, helpless, intelligent little mushroom when it goes to attack Kokkoro. No one realized it was trying to attack, and Pecorine deciding to just eat it 'cause it was a mushroom made me laugh out loud.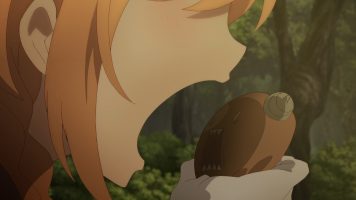 I love unexpected comedy moments where the audience expects one thing and gets something from left field. Hopefully, we'll see more of that kind of humor in the series.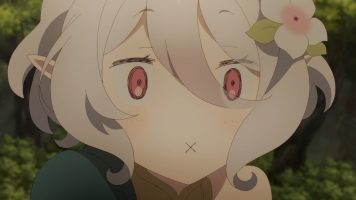 The Hero with Amnesia
Speaking of unexpected, the writers at CygamesPictures came up with a different method of having our hero literally be some level zero character who has to relearn everything from scratch. What I can gather from Princess Connect! Re:Dive 01, Yuuki had a battle harem, fought some boss, and took a serious hit. He was taken to the "heavens", where the "angelic" being Ameth returns him still unconscious to earth for some reason.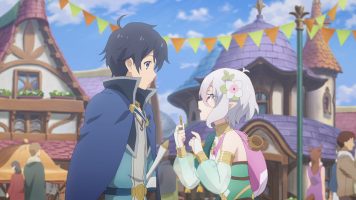 That means that for most of the episode, Yuuki doesn't do much more than smile or give a thumb's up to acknowledge something Kokkoro has said to him. That was unexpected. I don't think I've ever seen the main character of a series start off in this infantile condition. By the episode's end, he is subconsciously and instinctively doing better. That aside, I'm guessing once Yuuki's memories are restored, or once he relearns everything, he'll be a traditional hero character.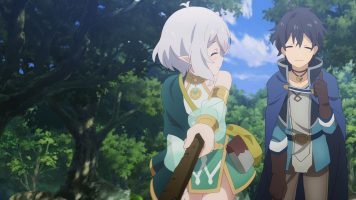 Final Thoughts and Conclusion
Work has me very busy at the moment, so let me wrap up my review of Princess Connect! Re:Dive 01 with some final bullet point thoughts.
The term Kokkoro uses to address Yuuki is "Aruji-sama". It means head of a household; owner of a business; a landlord or landlady; or the master of a servant. I guess Crunchyroll went with "my lord" because "fantasy".
Speaking of Crunchyroll, honorifics are scrapped. So although the characters have Japanese names (even "Pecorine" is actually Japanese, though not spelled with traditional romaji spelling), eat onigiri, and generally behave as Japanese, Japanese honorifics are not welcome.
Based on the visuals to go with the narration during the end credit scene, I'm guessing there are tons of babes that could be added to Yuuki's battle harem.
Pecorine's sword was left at the ruins. I wonder if she gets it back.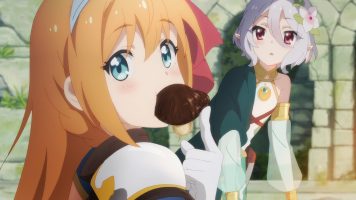 In the end, Princess Connect! Re:Dive 01 was an unexpectedly humorous fantasy title that caught my interest. In some small ways, it reminded me of how The Slayers grabbed my attention so many years ago. And that's a good thing.