Fruits Basket Season 2 01
フルーツバスケット S2 01
Furuba S2 episode 01
Story Summary/Synopsis
Motoko is unhappy to see Tohru with Yuki after school. Sometime later at Shigure's residence, Shigure talks with Tohru as she irons and Kyo eats. Yuki shows up to head to school for Student Council duties. After he leaves, Shigure teases Kyo about being with Tohru in a romantic sense. Meanwhile, the Prince Yuki Fan Club members, lead by Makoto, demand current Student Council President Makoto let them know of any female members on the Student Council. He refuses.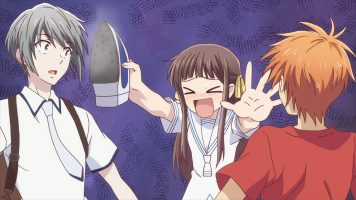 Elsewhere, Yuki goes to the Counselor's Office at Makoto's request. There he finds the room trashed an a girl on her knees. She apologizes and starts cleaning before going to the next room to wake a sleeping boy there. He freaks out when he learns Yuki is there. After a bunch of meaningless banter, the boy introduces himself as Kakeru, the new Vice President. The girl is Machi, the Treasurer.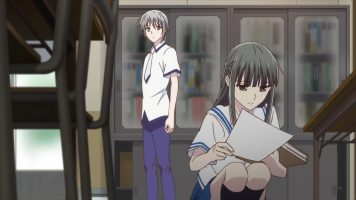 Yuki finds Kakeru's endless prattling reminding him of his brother, Ayame. Makoto comes in, feeling pleased with having picked Kakeru and Machi. Kakeru has to go to work and drags Yuki to walk him out. There, Kakeru tries to make amends to Yuki after Yuki gets angry.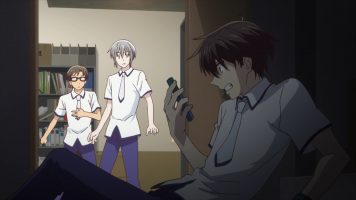 Meanwhile, Motoko enlists the help of fellow third year club member Rika to break into the Student Council Room. They are stunned that the room is unlocked and Yuki is inside. Rika is able to converse with Yuki, but Motoko flubs up and flees. Yuki comes after her, which gives her a second chance. That night, Yuki talks with Tohru about events as they wash dishes.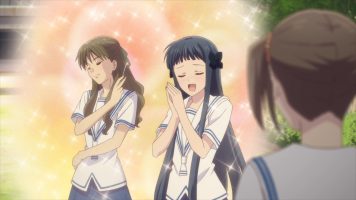 Thoughts/Review
I'm glad that Fruits Basket it back. And Fruits Basket Season 2 01 was fine, though I do wish the anime adaptation had let the source manga's story flow intact.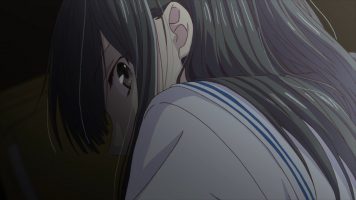 Changes to the Source Material
This episode was adapted from the first page of chapters 42 (Motoko's story) and chapter 49 (Yuki starting as the new Student Council President). And so Fruits Basket Season 2 01 flipped between the two storylines.
Motoko's monologue at the beginning of the episode is extended in the anime.
Tohru's recap scene is anime original, obviously. That's needed
The scene at Shigure's house was somewhat modified in terms of what the characters were doing.
In the manga, Motoko and Rika pretended to want to see the Student Council President because of the upcoming class trip.
The anime cut a moment from Motoko and Yuki talking where Motoko cites the chance to grow as a person being the reason she hasn't given up on Yuki. After Motoko's ugly side came out, I feel this cut removes her redemption aspect.
Rika coming out after Motoko is cut as well. So that means she and Motoko realizing they've violated the rules of the Prince Yuki Club is axed as well.
Also cut is the scene with Kakeru and Machi witnessing this exchange between Yuki and Motoko. But at this point in the source manga, we were getting foreshadowing of the characters.
The end scene showing the different Sohma members is new. But again, this is more about bringing new viewers up to speed.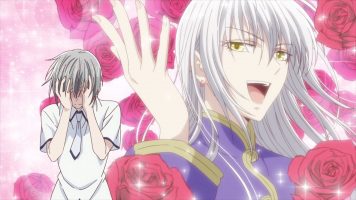 So on the whole, nothing earth shattering as far as changes, even if I miss Rika and Motoko's final scene as well as Motoko wanting to improve herself.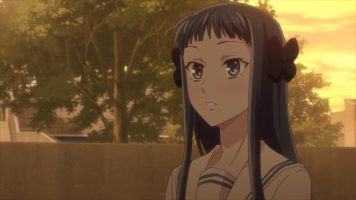 FUNimation
The English word "black" is now OK to use in the English subtitles? Color me shocked! After all, "Black Haru" had be transformed into "Dark Haru" 'cause "reasons." 🙄 But I guess the super sentai color usage was something they couldn't reasonably change without looking asinine. 😑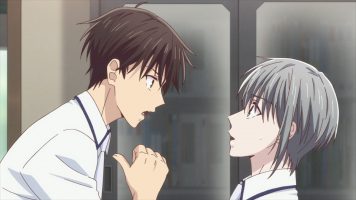 However, the English word "cool" need to be changed to "unruffled" for some reason. I don't get that. To the girls of the Yuki Fan Club, Yuki is the coolest thing ever. But it could mean calm or collective. And the Japanese use the English word to mean both things, just as we do in America. I guess that's why the official English adaptation left it as "cool". And that is the correct thing to do, in my opinion.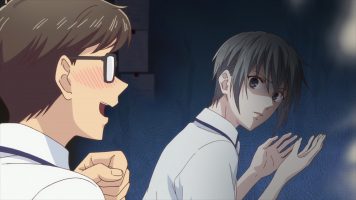 Finally, the use of Japanese honorifics are retained. But we didn't have anything too off the beaten path when it came to honorific usage.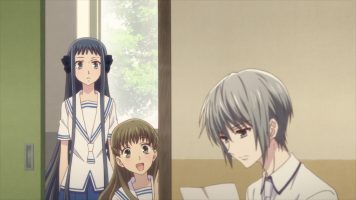 Final Thoughts and Conclusion
Since I already know the story, I am mostly passing on commenting about it. That said, let me wrap up my review of Fruits Basket Season 2 01 with some final thoughts.
Because it had been a while since the first season, I wasn't sure if the kohai yanki trio would get an appearance. I'm glad they did.
Machi and Kakeru's seiyuu both do an excellent job of capturing the characters. Neither character appeared in the original anime adaptation. While I never cared much for Kakeru in the manga, I am looking forward to Machi's tale.
I did like seeing the various Sohma zodiac members getting cameos. Rin was the one I liked most, mainly because I like her forthcoming story.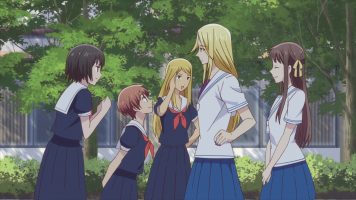 In the end, Fruits Basket Season 2 01 was fine, introducing new characters Kakeru and Machi. And I'm glad to be back in this world.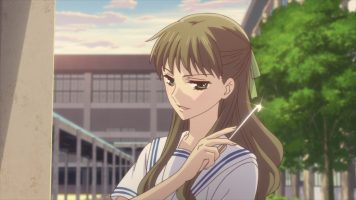 Blatant self promotion time! Help me reach my tiny goal of 1000 plus subscribers on YouTube. If you wish to do so, click this link and you will be subscribed! Thanks in advance! 😃