Princess Connect! Re:Dive 03
プリンセスコネクト!Re:Dive episode 03
SPOILER Summary/Synopsis:
Karyl impatiently waits for Pecorine to leave a restaurant, where Pecorine is eating a ton of food. When Pecorine finally emerges, Karyl is thwarted by the con artists Charlie and Ikacchi, who escort Pecorine to yet another restaurant for yet another feast. Meanwhile, Kokkoro gets a guild creation application. Back at the restaurant, Kokkoro and Yuki startle Karyl, who's become very frustrated at Pecorine's eating. They invite her in, so she reluctantly accepts.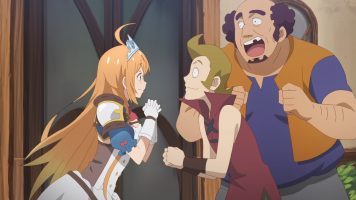 Charlie and Ikacchi are in a food coma, so Pecorine joins Yuki, Kokkoro, and Karyl for another round of eating. Karyl finally orders fish and chips, but the restaurant is out. Pecorine decides to order the special menu–dishes made from bugs. Karyl is horrified, but Pecorine gets a cooked bug in Karyl's mouth, which turns out to taste fine.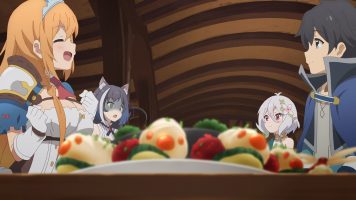 Kokkoro proposes both girls join her new guild. Pecorine accepts, but Karyl storms out of the restaurant and the city. Outside, a female fighter calls out to her, but Karyl has no interest in talking.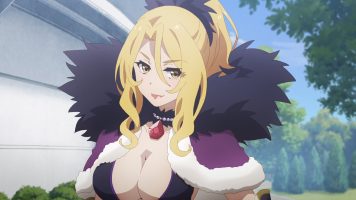 The next day, Kokkoro is disappointed to learn that Pecorine took a job at the special menu restaurant. But she and Yuuki go to the restaurant for a meal just the same. Three young female warriors the unofficial guild Little Lyrical, Misogi, Mimi, and the elf Kyouka, shyly enter the establishment. But they are made welcome, thanks to Pecorine.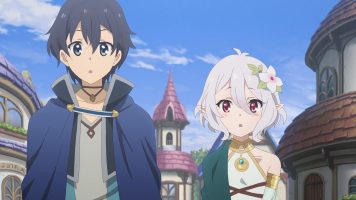 Meanwhile, Karyl has new orders from her superior regarding Pecorine. A giant man enters, causing trouble. He beats up the owner of the restaurant, so Pecorine makes him bug dishes. The man finds them tasty, but since he's there to ruin this restaurant, he goes on a rampage. As such, Pecorine decides to "take out the trash".  Later, Karyl decides to join Kokkoro's guild, and the application for Gourmet Guild is approved.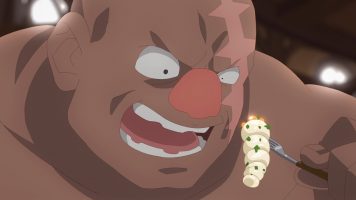 Thoughts/Review:
The humor levels pick back up with Princess Connect! Re:Dive 03. And though not enough main plot elements have dropped to make sense of that just yet, I'm still interested in it.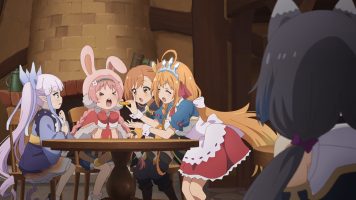 More Comedy
Because Karyl is a tsundere type, some of the comedy of Princess Connect! Re:Dive 03 is dedicated to that trope. However, some of her biggest laughs came from Karyl's frustration over Pecorine's non-stop eating, to say nothing of her shifting to eating bugs. 😂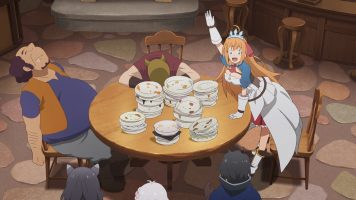 Of course, Pecorine is the show stealer. Her penchant for eating massive amounts of food makes me instantly like her. In that regard, she reminds me of Lina Inverse from The Slayers franchise. However, while Lina is an OP mage, Pecorine is an OP warrior. However, I think Pecorine eats at least three times as much as Lina, and Lina could split an entire menu with her warrior companion, Gourry. 😂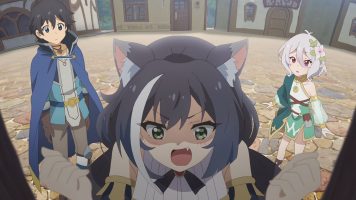 The biggest laugh of the episode came from Pecorine. The moment the giant man squeezed through the doors of the restaurant, I knew he was going to get a beating from Pecorine. However, the writers made me wait, and in waiting, built my anticipation for what was to come. As such, it was funny to me seeing Pecorine produce master chef dishes. But it was laugh out loud funny and satisfying when Pecorine finally unleashed on the bully. 🤣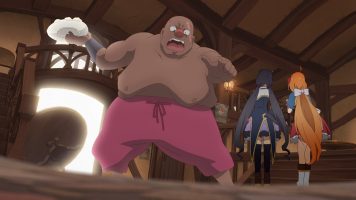 Gourmet Guild
Fans of the game call the Gourmet Guild "Gourmet Edifice", but I don't know which is correct. I guess I'll go with the official anime translation, but a big part of me suspects "Gourmet Edifice" is the correct translated name.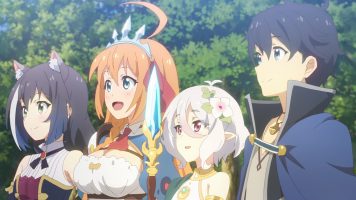 That said, Princess Connect! Re:Dive 03 gave us an idea of what Kokkoro's guild is supposed to do. They aren't going monster hunting or treasure seeking. Instead, they are going to sample restaurants, foods, and the like all around the globe. I gotta admit, that makes me laugh because it is not what one would expect from a fantasy, harem title. (I say "harem" 'cause there's one guy and a lot of babes.)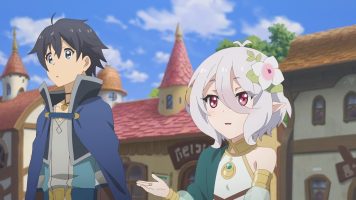 Still, I do think there will be fights and other such stuff, as we've seen in previous episodes. You've got Pecorine as your primary melee fighter. Kokkoro is the support character. Karyl is the mage. Yuuki is the trump card…assuming he continues to improve and regain some memories.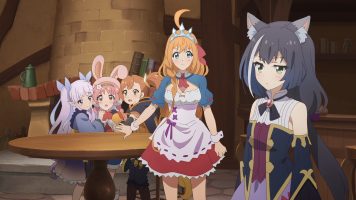 Final Thoughts and Conclusion
Time to wrap up my review of Princess Connect! Re:Dive 03 with some final thoughts.
I guess the girls of Little Lyrical are characters in the game. Part of me wonders if they are just cameo fodder for game players, or if they'll end up joining Gourmet Guild.
I figure the warrior babe who called out to Karyl outside the city is also cameo fodder for the game player.
It seems the con brothers Charlie and Ikacchi will be a permanent fixture in the anime. I got a kick out of their relationship with Pecorine.
Kokkoro is so adorable in the episode. I felt bad for her at times when it seemed her efforts to get the guild going weren't working.
Who was the injured horn girl Yuuki gave food to? She seemed seriously injured, but after Yuuki left, it seemed to be an act on the girl's part, as if to observe how he acted.
I wonder why the people Karyl work for initially wanted Pecorine dead. Now, they want Karyl to mere observe Pecorine. Why?
Yuuki is supposed to be the MC of this series. Yet he had very little to do here, which amused me.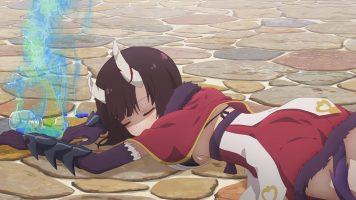 In the end, Princess Connect! Re:Dive 03 was a highly enjoyable episode. There were a number of good laughs to be had in the episode. The Gourmet Guild's purpose is now established. And, it seems we have some plot tidbits.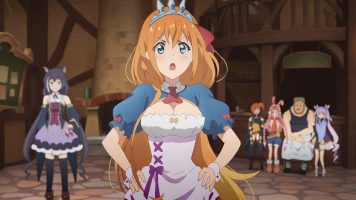 Self promotion time! I do Twitch streaming, currently every Monday and Friday evening at 7pm MT. And if I can work it in, I will stream on a Wednesday. So if you'd like to hang out with me as I play some game or other (currently Marvel Strike Force, Fate/Grand Order, and Might & Magic X: Legacy), you can find me at this link.  https://www.twitch.tv/astronerdboy