My Monster Secret Volume 16 Manga Review
Jitsu wa Watashi wa/実は私は 16
My Monster Secret: "Actually, I am…" 16
–> Buy My Monster Secret Volume 16 from Amazon.com
 I'm always happy to get back into the world of My Monster Secret. The laughs are always welcome, and thankfully, they continue in this volume.
NOTICE!!! In the interest of full disclosure, I should mention that I am the adapter for the official English translation of the True Tenchi Muyo! novels, which are also published by Seven Seas.
* * * S P O I L E R S * * *
The Story, in Brief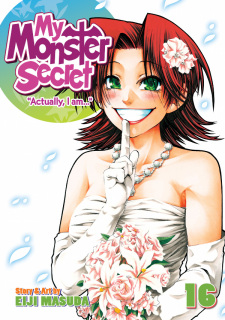 Asahi becomes concerned when Sen starts hanging out with Asahi's sister and wants to address him as "Oniisan".  Mikan, Nagisa, and Shiho engage in a "war" against vicious housewives at the local supermarket to get the flash sales. Elsewhere, Akane trolls Youko over her blood sucking. Later, Shiho desperately attempts to get Shimada's attention. She regrets this and again vows to not hook up with him in the future.
Youko wants to graduate with no regrets. As such, she attempts to eat the entire cafeteria menu in one sitting. Akari-sensei is going insane after attending so many weddings. Akane learns of Sakurada's plan to confess to Akari. However, Akane isn't worried since even she can't control Akari at this point. Unfortunately for Akane, Sakurada has the help of his class. But despite her efforts to stop him, Sakurada reaches Akari and makes his confession.
A New Couple
I have to say, I didn't expect Masuda-sensei to make Akari and Sakurada a couple. Although Sakurada looks over 18, he's not. He's still in high school. So there is this taboo over a student-teacher relationship, even if he's 18. However, the two became a couple at the end of My Monster Secret Volume 16. And it doesn't bother me.
The road to them becoming a couple is a hilarious one. Granted, Akane stirring the pot helps increase the comedy levels a ton. On one hand, Akane doesn't want Akari getting married. On the other hand, Akane enjoys being a troll. So it was hilarious seeing her conflicted at times.
That aside, I did believe the romance between Akari and Sakurada. I liked how the history between them started in a non-romantic form. Then it moved in that direction on Sakurada's part first, then Akari's part next. The joke has always been that Akari is desperate to find the right guy. Yet here, it didn't feel like desperation that caused her to accept Sakurada's confession.
I'm curious to see how Masuda-sensei handles this in coming volumes.
Youko x Asahi
We continue to progress the Youko x Asahi romance story in My Monster Secret Volume 16. Most of this is couched in Akane trolling, which makes it quite hilarious. However, while Akane may be teasing Youko by claiming drinking blood is a sexual act, she's actually concerned about Asahi and Youko because she cares for them. And, she's keeping a promise.
We don't know the exact details of what happened to Youko's parents when they were in high school. But Touko paid Akane with a single popsicle for help protecting Genjirou's secret. And as part of that, Akane is still doing what she paid for by protecting Youko and Asahi.
Nevertheless, Akane trolling aside, it seems that Youko will need to drink Asahi's blood regularly to control her bloodlust. And Asahi is cool with this, which is why Asahi and Youko are such a lovely couple.
Final Thoughts and Conclusion
I am so wasted from the past weekend's work and my lack of sleep. So before the fumes run out, let me wrap up my review of My Monster Secret Volume 16 with some final thoughts.
I noticed in the flashback with Touko and Akane, Akane mentioned wanting to have a win over the then principle. I hadn't thought about who was principle before Akane. But now that the principle has been mentioned, I wonder what happened to them. It would seem this person knew of vampires and such.
I got a laugh out of the story with Asahi and his sister. It will be hilarious if Asahji's sister Mei ends up with Sen.
Another hilarious, non-Akane tale was the chapter where Nagisa, Mikan, and Shiho go shopping for bargains. Depicting housewives as butch "giants" cracked me up more than it probably should have.
And in a volume packed full of comedy, we get a THIRD, hilarious chapter that didn't need Akane to make it funny. This was where Shiho is desperately pursuing the ultimate pervert Shimada. It cracks me up thinking that in future, this pair become a couple.
In the end, My Monster Secret Volume 16 is very funny. We get a tease on what happened with Youko's parents in the past. Asahi and Youko's relationship continues moving forward. And Akane continues to be the master troll.