Tonikaku Cawaii Chapter 109
Tonikaku Kawaii Fly Me to the Moon 109
トニカクカワイイ 109
Spoiler Summary/Synopsis: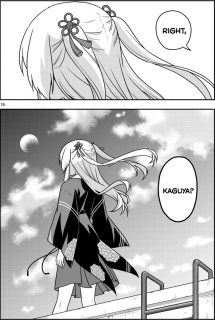 After class, Kurenai decides to ask Nasa for romance advice. She doesn't want to consult with Yanagi-sensei due to the teacher's lack of romance experience. As such, Kurenai tells Nasa that her boyfriend cheats on her. However, Nasa soon learns that the girls in question are from anime and games.
This revelation relieves Nasa. He suggests that Kurenai might be coming on too strong. She decides that maybe Nasa is right. Kurenai bases this on the fact that Nasa knew everyone's name in class. As such, she finds Nasa's wife to be a lucky girl.
Usa shows up, wanting to know Nasa's given name for a phone contact. She and Kurenai are stunned to learn that Nasa's name uses the kanji for Hoshizora, even though it is oddly pronounced Nasa. They tell Nasa that his name is fine as they have someone else in class with a shocking name, though this girl skipped class today.
Nasa returns to the bathhouse to greet a worried Tsukasa. However, Nasa reveals the girls in his class praised her, pushing her worries aside somewhat.
Back at school, class rep Shirogane and Myaako are on the roof discussing things with Kurenai, Usa, Inukai, and Jessie. They want to meet Nasa's wife. The "princess" who skipped class is not amused. Her name is Kaguya.
Thoughts/Review:
It figures that right before Golden Week, Hata-sensei would drop a bomb. And that was just the case with Tonikaku Cawaii Chapter 109.
High School Drama
I was really surprised when Hata-sensei introduced a new setting and job for Nasa in the last chapter. That story element continued in Tonikaku Cawaii Chapter 109. I guess Hata-sensei missed the high school elements from Hayate the Combat Butler.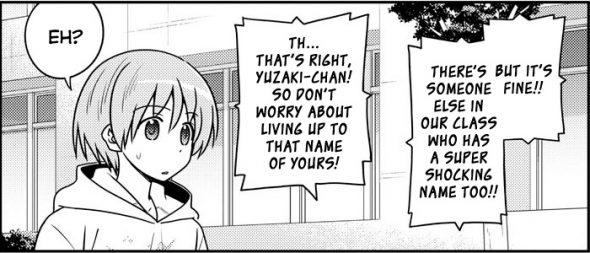 That aside, I guess the girls in Nasa's class are going to seek out Tsukasa and see what she's like. I'm not sure what mischief they have planned. But it will be interesting to see.
Of course the shocking part of the chapter came at the end. The "princess" the girls kept referring to is named Kaguya. And it seems she wears a haori over her uniform. Not sure what that means. To be honest, I thought Chitose might end up being the princess. That would provide some additional comedy elements for Hata-sensei. But that was not where things went.
Regardless, this revelation is an unexpected curve ball from Hata-sensei, who has been implying that Tsukasa is Kaguya-hime. So we'll have to wait and see about this Kaguya character.
Final Thoughts and Conclusion
Let me wrap up my review of Tonikaku Cawaii Chapter 109 and then go to bed.
I have to believe Nasa scored serious brownie points with Tsukasa in this chapter. She was worried about Nasa being in a class full of high school babes. Yet he's bragging about Tsukasa to his class. Well played, sir.
I'm going to guess Hata-sensei might be playing some Final Fantasy VII Remake since he through a Tifa reference in there. It isn't a game I've played, but I'm aware of it.
In the end, Tonikaku Cawaii Chapter 109 was a fun chapter with a surprising ending. It will be interesting to see where Hata-sensei takes things.