Tenchi Muyo! Ryo-ohki OVA 5 Episode 02
天地無用! 魎皇鬼 OVA 5 Ep. 2
SPOILER Summary/Synopsis:
The Kamidake II is in orbit around Earth. Inside, Kiriko, Ryoko Balta, Amane, Neju, and most of the rest of Seina's harem discuss where to raise the children they will bear for Seina. Ultimately, it is decided to take Tenchi's off up. As such, they will build a new home across the pond from Tenchi's residence.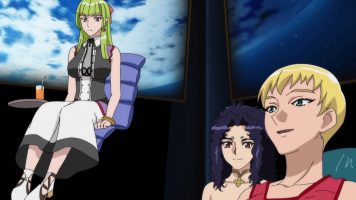 Meanwhile on board Seto-sama's Royal Tree-ship Mikagami, TATSUKI Ringo, a Juraian working for Galaxy Police Accounting Department, questions Seto and Seto's "mirror" self, Kuis (Quis) regarding recent expenditures. They survive and Kuis is sent to Earth. There, she greets Ayeka, Sasami, and Noike. The group then go to Noike's Royal Tree-ship, Kyoko. Thanks to Washu's work, this 3rd-generation Royal Tree is now the equivalent of a 1st-generation Royal Tree. Kuis informs them that she has to report this to the High Council.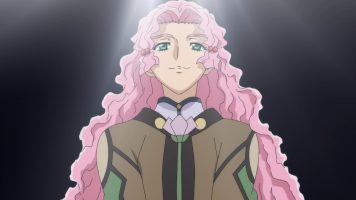 Back on Earth, Nobuyuki is drafting house designs based on the specs that Kiriko and Karen provide. Nobuyuki mentions that there is a consideration in joining Tenchi's household with Seina's to create its own neutral faction on Earth. Kuis joins them and eventually apologizes for the trouble Seto caused Kiriko and others. She then has a private chat with Kiriko and Karen, revealing that Seto wants Seina to deal with the remaining pirates.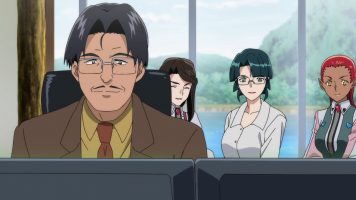 Tenchi joins them and they move the conversation indoors. Kuis reveals the plan to have the remaining pirate factions unite and become a legitimate country. Seina, Fuka, and some other girls will be monitors to a battle royal on Earth. To that end, a 4th-generation Royal Tree is being used to create an artificial island called Banjo Island. Tenchi and Mihoshi will handle any pirates wanting to disrupt things.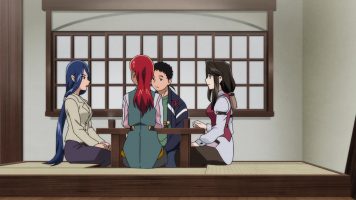 Meanwhile, Seina along with humanoid cabbits Fuka, Miki, Kirche, and "D" are on Banjo Island, overseeing its development. The next morning at the Tenchi residence, Ryo-Ohki finally manages to find Kenshi. Sasami remarks to Aeka on how Kenshi is getting better at avoiding detection. Tenchi, Kenshi, and Ryo-Ohki head to the fields. Ryoko notices an intruder, which Ryo-Ohki has not detected.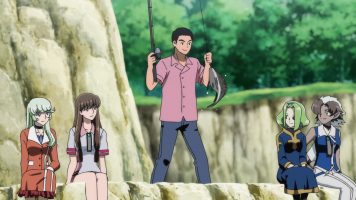 Washu says it can wait until after breakfast, but Tenchi has noticed the issue. He teleports to space and sees a cloaked, pirate ship. He teleports to the ship, then uses his abilities to send the ship to wherever Kuis wanted troublesome pirates sent. Later, Ryo-Ohki pulls her ship out of the water and goes off in it with Kenshi. Rea and Noike chat with Washu about Kenshi going to school. Washu has a solution to help keep Kenshi from blabbing secrets.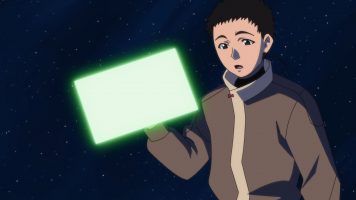 Thoughts/Review:
Well, it was a LONG summary for Tenchi Muyo! Ryo-ohki OVA 5 Episode 02, but that's OK. And it has taken me a while to put together everything for this review. But that's OK too.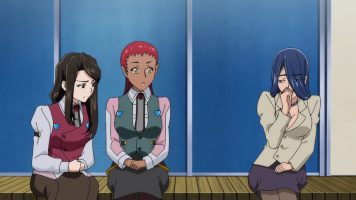 GXP Continues
I'm not going to lie; I loved seeing the cast of Tenchi Muyo! GXP in Tenchi Muyo! Ryo-ohki OVA 5 Episode 02. It was nice seeing Neju having grown up. Gyokuren was missing (I didn't catch if they mentioned where she was at), and there were new members to the harem beyond Jovia. More on that in a bit.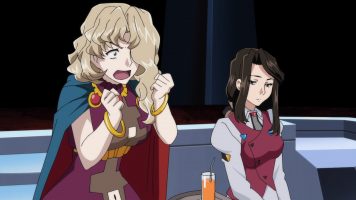 That said, it was interesting seeing the girls calmly discussing raising the children they will have with Seina. There's no jealousy within the harem. It is all just mater of fact stuff.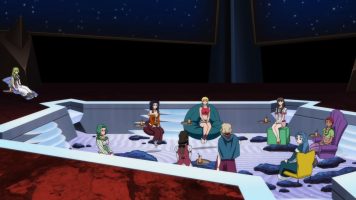 As with OVA 4, OVA 5 is requiring knowledge of the GXP novels in order to fully understand what is going on. I'll discuss some aspects of this later. But in terms of story, the incident with the Renza Federation that kept being mentioned is going to be a mystery to anime-only viewers. And this is a problem.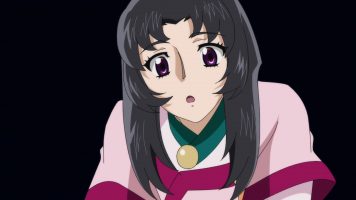 I get that Kajishima-sensei only has six episodes to work with. As such, he's not going to retread ground he covered in the novels. The anime is just to fill in gaps and continue onward. But for those without access to the GXP or Paradise War novels, we won't have context for a lot of things that are discussed.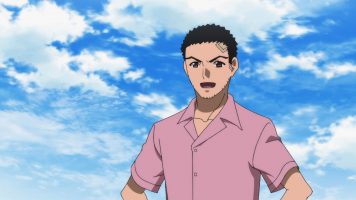 As an aside, the ONLY way to get Seven Seas to consider taking a financial risk on the GXP and Paradise War novels is to buy the True Tenchi Muyo! novels they published. Otherwise, we non-Japanese fans who can't read Japanese are going to be out of luck.
Paradise War
Speaking of Paradise War, Tenchi Muyo! Ryo-ohki OVA 5 Episode 02 gives us a taste of that part of the canon. If you aren't aware of that series, it is another set of novels written by Kajishima-sensei. I think there are three novels to date (I own two). Whether there will be more or not remains to be seen.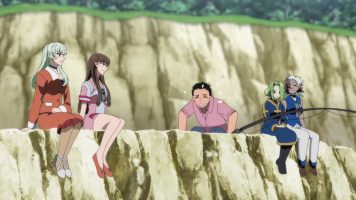 That said, we now know how the events of Paradise War started and why Seina is detached from his harem. It would be awesome if Seven Seas would license those novels and the GXP novels. I am kinda curious to see how things went in those novels. The characters from them are slated to appear in OVA 5.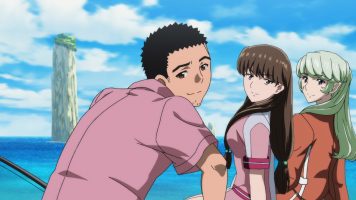 Still, if you were not aware of the Paradise War novels, some of this is going to leave you scratching your head. You may also be scratching your head over seeing characters from yet another Kajishima-sensei series.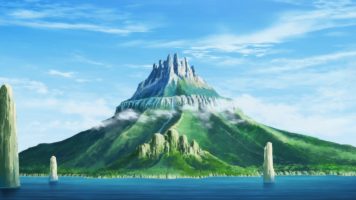 Dual! Parallel Trouble Adventure
If you are versed in all of Kajishima-sensei's works, or have a background with anime from pre-2000, you might have recognized character designs from Dual! Parallel Trouble Adventure in Tenchi Muyo! Ryo-ohki OVA 5 Episode 02. Rather than be from a parallel world, the events of Dual! are in fact from several million years past.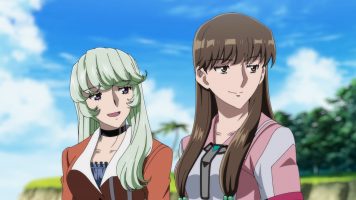 Kajishima-sensei seem to be drawing on the concept from Battlestar Galactica (2003); "All this has happened before, and all this will happen again." Thus, the core characters of GXP are parallel versions of the characters in Dual! But that's not all. We actually have reincarnations of some of the original Dual! girls in this episode. I don't know how this works exactly, but the souls of these girls inhabit some of the cabbit clones Seina rescued in the GXP anime (and novels).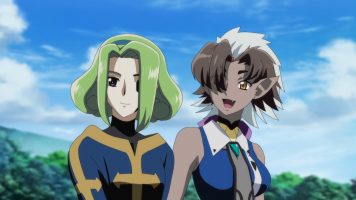 As such, SANADA Mitsuki is reincarnated as Miki Steinbeck in the GXP novels. And they have the same seiyuu. Kirche is heavily implied to be RARA Mitsuki, howbeit with somewhat different character designs. They do have the same seiyuu. And of course, there was D, who apparently has the same name. So Kajishima-sensei continues to use the Tenchi Muyo! Ryo-Ohki series to umbrella all of his other works that are set within universe. And that carries over into OVA 5 Episode 02.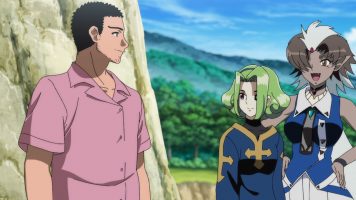 Seto and "Mirror Seto"

Another new character introduced in Tenchi Muyo! Ryo-ohki OVA 5 Episode 02 is Kuis (or Quis, as fandom has been calling her). She too is another character from the GXP novels. She is known as "Mirror Seto" because during a anti-pirate mission when Seto fell into a coma, the shape-shifting Kuis was created to cover for Seto's absence. (How this was achieved hasn't been explained.) As such, she has all of Seto's memories up to the point of Seto's coma.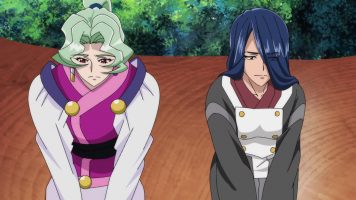 Once Seto was back in the saddle, Quis became one of Seto's chief intelligence operatives. So Ayeka, Sasami, and Noike do know her. That's where the official subtitles get a tad confusing when Kuis asks Sasami why Noike and Ayeka know her. It's more that Kuis is asking Sasami why Noike and Ayeka know of Kuis's involvement with the Renza adventures Kiriko and others had.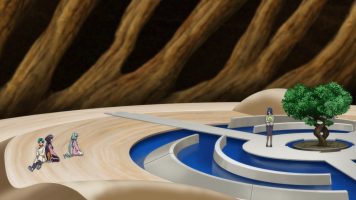 But that aside, I kinda like the Kuis character. It is interesting to have a character who's equal to Seto in almost every way.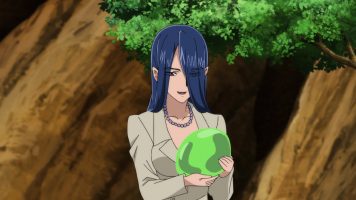 Final Thoughts and Conclusion
As always of late, I'm insanely behind. So let me wrap up my review of Tenchi Muyo! Ryo-ohki OVA 5 Episode 02 with some final thoughts.
Crunchyroll's subtitles have full Japanese honorific usage. And Ayeka's name isn't hosed like it is for their OVA 4 release. Outside of a couple of things that weren't worded quite right, no issues with the subtitles at all.
Although I mentioned this episode still has a higher entry bar, to be honest, I found this episode not only better than episode one, but better than all of OVA 4. Maybe it is because of the GXP crew.
And yes, Tenchi's crew does get a tad more screen time. And we also get a glimpse of why I think there will be no real antagonist in the series. After all, who can fight Tenchi or his harem?
Finally, a blushing Ryoko is fine. 😍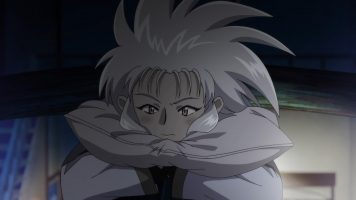 In the end, Tenchi Muyo! Ryo-ohki OVA 5 Episode 02 was actually an enjoyable episode despite its high entry bar. It was nice seeing the GXP crew back. And it was nice seeing Sasami actually as a teenager. Likewise Neju. And seeing Seina as a fine young man was nice as well.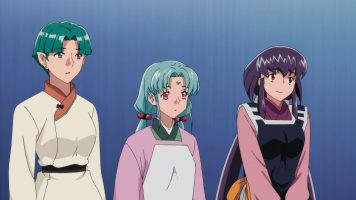 Shout out to the gang at Useless Tenchi! Your's truly had to get up to speed with the gang of Japanese and Western fans there.