Tonikaku Cawaii Chapter 103.5
Tonikaku Kawaii Fly Me to the Moon 103.5
トニカクカワイイ 103.5
Spoiler Summary/Synopsis:
As Nasa and Tsukasa make out in their tent, Nakiri  finds herself outside of it. She was attempting to find the toilet, but now is afraid of moving, lest she reveal her presence.
Meanwhile, Tsukasa wants to be spoiled by Nasa with sweet nothings. She begins scoring what he says, which amazes Nakiri. Further, since Tsukasa is scoring Nasa's early remarks so poorly, Nakiri wonders what would score 100.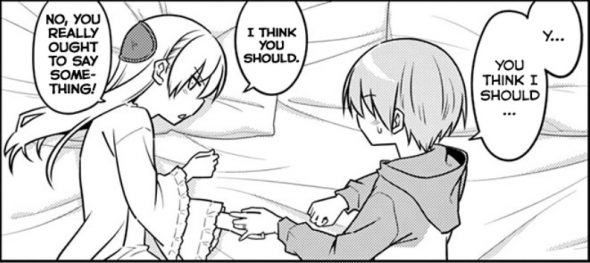 In the meantime, Nasa continues his verbal "assault" on Tsukasa, adding some physical contact. She eventually gives him a score of 100. However, Nasa says he will continue until he gets to 200.
Because the couple is so caught up in making out, Nakiri finds her moment to escape.
Thoughts/Review:
As is normal of late, I'm insanely behind and lacking in sleep. Nevertheless, I thought I'd take a moment to review Tonikaku Cawaii Chapter 103.5, which is an omake chapter in Volume 11 of the manga.
Continuing the Camping Trip
When it comes to the omake chapters, Hata-sensei tends to go further than he does in the published chapters in the magazine. Tonikaku Cawaii Chapter 103.5 is no exception to this rule. As such, we get a lot more of Nasa and Tsukasa being a married couple during the camping trip of chapter 103, all the while keeping it clean.
As to Nakiri, I can understand her not wanting to get caught outside of Nasa and Tsukasa's tent. However, I can't help but think that I would have been able to sneak away if I really wanted to. As such, I kinda suspect she wanted to hear the goings on of a married couple. And indeed, she does express a curiosity to herself.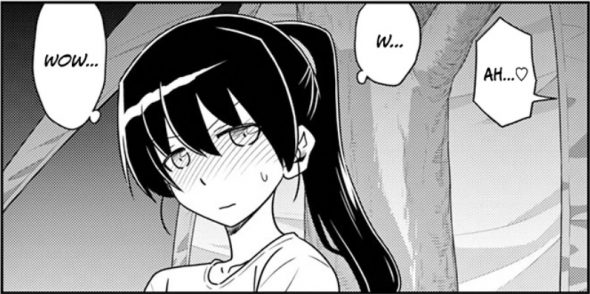 But otherwise, not much to say about the chapter. It is what it is.
Final Thoughts and Conclusion
Before I wrap things up, let me say, "Good grief!" Volume 11 is now out in Japan. Meanwhile, Viz has yet to release Volume 1. If we are lucky, it'll come out September 8. And based on how awesome of a job they've done with Hayate the Combat Butler, one can only imagine how slow they'll be putting that out.