D-Frag! Volume 09
ディーふらぐ!
D-Fragments 09
–> Purchase D-Frag! Volume 09 from Amazon.com
As I write this piece, I'm caught up on one of my favorite manga titles, My Monster Secret. Now, it is time to start catching up on my other favorite manga title, D-Frag! Fortunately, D-Frag! Volume 09 doesn't disappoint.
NOTICE!!! In the interest of full disclosure, I should mention that I am the adapter for the official English translation of the True Tenchi Muyo! novels, which are also published by Seven Seas.
***SPOILERS***
The Story, in Brief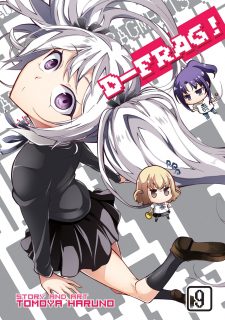 To get things rolling in D-Frag! Volume 09, Kenji learns what the members of his club were doing just prior to him stumbling onto their club and being forced to join. Kenji looks for help on something to set him apart from others, other than his spiky hair. However, when Tama-senpai learns Kenji hasn't had a rematch with Roka, Kenji is forced to set up a rematch.
Roka is MIA, so Kenji crashes at Takao's Game Development Club. Although she'd like for him to be a part of her club, she ends up challenging him to settle things with Roka. Kenji borrows Funabori's desk and parks at the school entrance to wait for Roka, who's been skipping club. Roka shows up and reveals she's been battling other school Development clubs over the Hashimoto Medal that was given to Kenji. However, Kenji's challenge forces her to accept.
Kenji sets up a hit-and-cover, rock-paper-scissor's game. However, he adds one of Roka's bags to the helmet and baton choice of items. He loses the first part, but when she tries to bag him, she only gets a wig, meaning Kenji wins. Hata comes by from the St.Tachikawa Girls School to discuss the medal issue. She's stunned when the buzz-cut guy in club room turns out to be Kenji.
Meanwhile, Takao is unhappy that Kenji cut all his hair off for Roka. Kenji's sister is also displeased by Kenji's actions.
Good Writing
I like how Haruno-sensei continues to lay out his story in D-Frag! Volume 09. On one hand, we have the aftermath to the Hashimoto Island arc. As such, the events from that arc are still impacting the story. And characters from that arc are still around, though it was only Hata. But since she likes Kenji, I supposed that's understandable.
On the other hand, Haruno-sensei also decides to look back at when Kenji first defeated Roka. While I enjoyed the rematch, it really didn't make sense. When Kenji won the King Game and defeated Roka, that was that. Why would there be a need for a rematch? But Haruno-sensei wanted to do it, so it was done. And he did it well, so it is only a minor complaint on my part.
The Wackiness Continues
Speaking of the rematch between Roka and Kenji, that was a foundation for a lot of wackiness in D-Frag! Volume 09. So all of the setup, including the length Kenji would go to beat Roka, were pretty funny to me. The whole story is pretty wacky, but that's what makes it fun.
Inada's attempts to get Takao and Kenji together are always hilarious. And her making poor Oka dress as a female, thanks to a misunderstanding on their first encounter, makes me laugh as well.
And of course, Kenji's constant comebacks are pretty hilarious.
But the queen here has to be Takao-mama. (Man, it sucks that Sensei won't give them proper names.) When one of Takao's older sisters has a mobile game where she's built a rude, male "husbando" character to her liking, Takao-mama wrecks it and turns him into a submissive character. I laughed out loud at that. Takao-mama is such a troll to her first two daughters.
Adaptation
No real complaints from me on the adaptation for D-Frag! Volume 09. Seven Seas has all of the omake chapters included, which is nice. And as usual, full Japanese honorific usage is employed.
Final Thoughts and Conclusion
In the end, D-Frag! Volume 09 continues the wacky fun we've come to know and love from the series. I'm glad to be reading this series again and will now catch up with the rest of the volumes that have been released to date.