Princess Connect! Re:Dive 12
プリンセスコネクト!Re:Dive episode 12
SPOILER Summary/Synopsis:
Pecorine wakes from a nightmare, were her parents didn't know her. At breakfast, Karyl notices the lack of bread. Pecorine informs them that a monster is blocking a major bridge on a road to the city. As such, trade is down. She gets the guild to agree to take the dangerous quest to defeat the monster. After winning, the masked Shadow absorbs a human and appears to take note of the fight.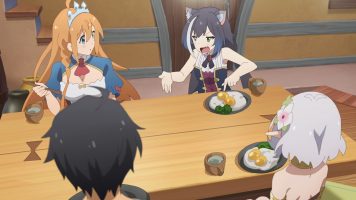 Upon returning to town and filing a report with the guild office, word of Pecorine defeating the monster spreads. Folks praise Pecorine, so she decides to take her guildmates to the crepe shop. There, the owner of the shop is also the guild leader for Rino and Shizuru, who are working the stand. Yuuki's sisters offer up stuff on the house, so Pecorine indulges. Meanwhile, the shop's owner investigates deaths while the masked Shadow evolves.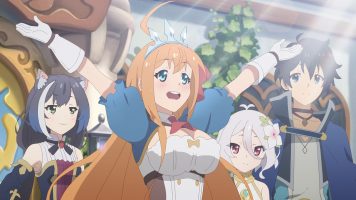 That night, Yuuki has a nightmare that his guildmates are slaughters. He finds himself in Ameth's realm, where she explains it was part dream, part memory. The next morning, he decides to take sword training very seriously and trains with Pecorine. At lunch, Pecorine encourages Yuuki to eat. Other customers in the restaurant negatively remark on Princess Eustania (Eustiana), which depresses Pecorine.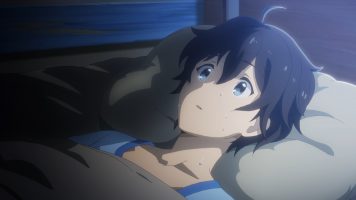 Meanwhile, the mutated masked Shadow attacks the city. Pecorine rushes to help Karyl, but the Shadow quickly regenerates from Pecorine's attack. During the fight, Karyl becomes trapped by a boulder. As such, Pecorine uses her body as a shield to protect Karyl. Pecorine gives Karyl her protective shoulder guards, then attacks the Shadow. Karyl is shamed by Pecorine's heroism.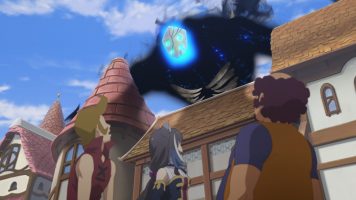 Kokkoro and Yuuki arrive on scene. Yuuki becomes enraged and starts powering up. However, he has a flashback to his dream and panics. A wall springs up to shield the group from the Shadow's next attack. Yuuki is pulled away, where he finds the crepe lady. Elsewhere, Kokkoro finds herself in a castle. Inside one of the rooms, she finds a portrait showing that Pecorine is a princess.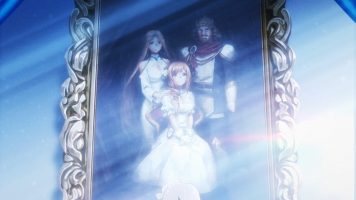 Thoughts/Review:
After so much inconsequential fluff, we really get into plot with Princess Connect! Re:Dive 12.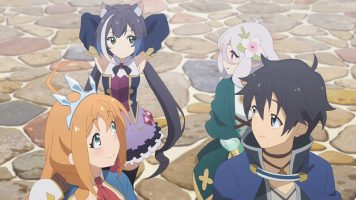 The Plot
Periodically, we've seen bits and pieces of plot happen in this series. With Princess Connect! Re:Dive 12, there's a push on the plot aspect. I suppose it is because the series is ending in one more episode. That said, things are far too muddled for my tastes. I really wish more time had been spent developing the plot and such rather than trying to promote the game and give cameos to all the babes that can be collected in the game.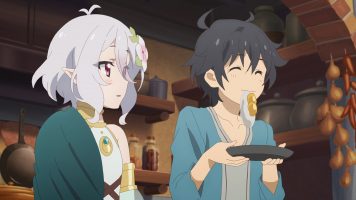 Still, if I've understood things, I would guess that maybe Karyl's queen/actual guild leader is whom Yuuki fought with whatever party in the past. Yuuki has never met Karyl's queen, thus I suspect this is a memory. However, for his former guildmates, he replaced them in his dream with his current guildmates.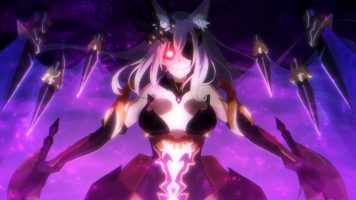 That said, there's a ton of questions I have. Here are just a few.
Why is Karyl's queen doing all this stupidity? What is her goal?
If Ameth is so powerful, why won't she unlock Yuuki's memories?
If Pecorine is a princess, why has no one missed her? Or for that matter, why has no one recognized her? After all, she's wearing a bloody diadem.
Is Eustania Pecorine's mom?
Who is the "crepe oneesan"? How is she so powerful?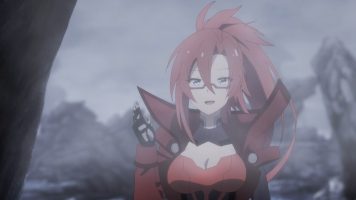 But at least this episode made Yuuki much less stupid, which is a relief. Also, I'm glad Karyl has finally made her choice.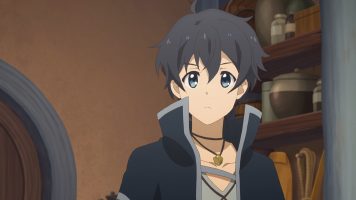 The Humor
Despite plot actually playing a part in Princess Connect! Re:Dive 12, there was actually a bit of humor as well. I only note it 'cause it actually made me chuckle out loud. (I try not to laugh too much, less I evoke a coughing fit.) That was when Rino and Shizuru made the mistake of letting Pecorine eat all of the crepes she wanted for free.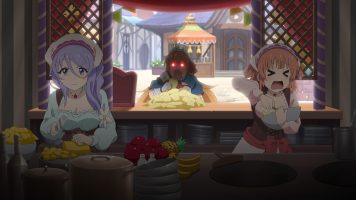 Final Thoughts and Conclusion
In the end, Princess Connect! Re:Dive 12 has a bit of humor, and a bit more plot. But I'm left with a ton of questions and only one more episode.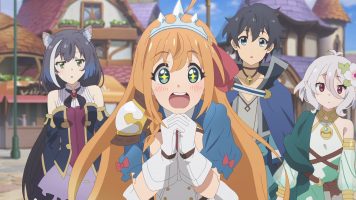 Self Promotion: If you are ever bored, I stream on Twitch Monday and Friday nights ~6pm or 7pm MT). If you'd like, come by some time. https://www.twitch.tv/astronerdboy