These Two Will Be Married in 100 Days (Manga Review)
100日後に結婚する二人
100nichigo ni Kekkon Suru Futari
I'm a pretty big fan of HATA Kenjiro-sensei. His two big works of note are Hayate the Combat Butler and Tonikaku Cawaii: Fly Me to the Moon. Of course he's done other titles as well, including the abandoned Ad Astra Per Aspera. Recently, Hata-sensei did a Twitter exclusive manga work (mostly in the form of a 4-panel comic strip) entitled These Two Will Be Married in 100 Days. So I thought I'd give it a read.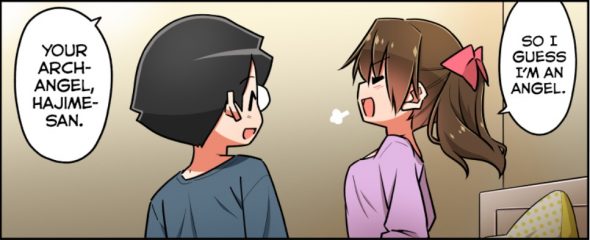 The Story, in Brief
The plot for These Two Will Be Married in 100 Days starts a guy named Hajime, who loses his job. Despite having no money, he rescues a cat. The cat turns out to belong to an idol named AMEMIYA Himeka. However, Hajime doesn't recognize her as an idol, but merely a very attractive girl. She asks him out to dinner as thanks, feeling she can trust him because her cat did.
Sometime later, Hajime invites Himeka over to cook for her. On a sudden whim, he asks her to marry him. She eventually turns him down, but agrees to date him. After a while, the two fall in love. This causes Hajime to decide to start looking for a job. He hits up a female senpai who's hiring, leading to a misunderstanding. After Hajime confesses to being unemployed, Himeka takes the job with his senpai.
Himeka encourages Hajime to follow his passion, which is cooking. She quits her job as an idol and eventually, the two get married.
Another Look at Marriage
For those who read Tonikaku Cawaii: Fly Me to the Moon, you'll know that this is a manga title dealing in part with a newlywed couple. However, that manga title has an apparent strong supernatural element to it in that it is using the Kaguya-hime story as a basis. There's nothing wrong with that, but clearly, Hata-sensei wanted to do more marriage stuff.
These Two Will Be Married in 100 Days is Hata-sensei's way of doing another marriage manga title. However, unlike Tonikaku Cawaii, These Two Will Be Married in 100 Days is slightly more grounded in reality. Yeah, it is an otaku male fantasy to hook up with the idol babe. But beyond that, this short manga series is mostly about how two people meet by accident and fall in love.

Since Hata-sensei published These Two Will Be Married in 100 Days on Twitter, he was able to more strongly suggest that Hajime and Himeka had sex than he could do with Tsukasa and Nasa in Tonikaku Cawaii.
Himeka and Maria
In Hayate the Combat Butler, there are a couple of female characters that Hata-sensei apparently decided to clone for other titles. The first is Hina, whom I believe is the basis for the Tsukasa character in Tonikaku Cawaii. The second is Maria, who is clearly the inspiration for Himeka in These Two Will Be Married in 100 Days. Sensei even had Hajime fantasize about Himeka in a maid uniform, and she looked a lot like Maria.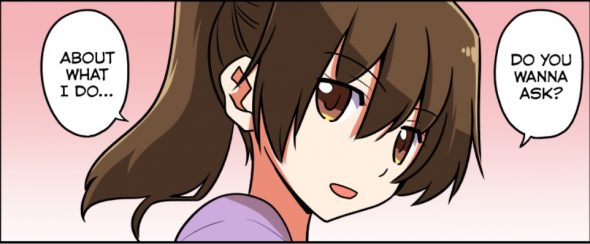 Further to that, Himeka's personality is very similar to Maria's. As such, this leads me to believe that Himeka was Hata-sensei's way of doing a story about Maria without actually having Maria in the story.
Cameos
Speaking of Hayate the Combat Butler, there were a lot of character cameos from that manga in These Two Will Be Married in 100 Days. This is something Hata-sensei loves to do–bring in characters from his other works into something current he's working on.
The first Hayate the Combat Butler cameo was the idol Ruka. That made sense seeing how Himeka is also an idol.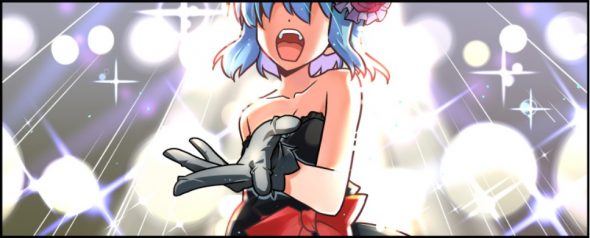 Next was Nagi's grandfather, Mikado. He wasn't named as far as I know, but it was clearly him. Mikado runs a restaurant this time and has KASUMI Aika working as a waitress. (Her name appears on the marriage form as a witness.)

But the thing that clearly identifies Mikado is him telling Hajime that there's no magical power that can grant your wish. At that point, we are shown a picture of Yukariko and Nagi.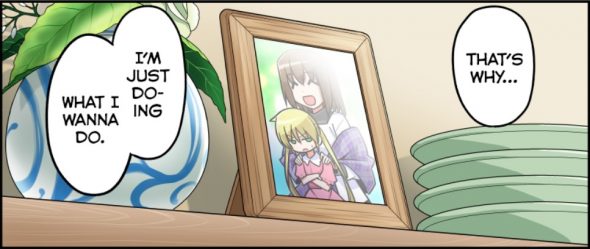 The final cameo that I noted came from Tonikaku Cawaii. This time, Hajime sees Nasa and Tsukasa making out in the woods.

I'm going to have to keep an eye open for possible Hajime/Himeka cameos in Tonikaku Cawaii.
Final Thoughts and Conclusion
In the end, These Two Will Be Married in 100 Days is a cute fluff manga series about a couple who meet and eventually marry. Considering most of the series is a 4-panel comic strip, don't expect things to get too deep. And since it is only 100 "chapters" long (each comic strip is a chapter), it doesn't get a chance to do too much. However, I enjoyed it just the same.