Princess Connect! Re:Dive 11
プリンセスコネクト!Re:Dive episode 11
SPOILER Summary/Synopsis:
Two girls are dispatched from another realm to earth. Meanwhile, Pecorine makes pancakes for breakfast. When Karyl doesn't come down, Pecorine assumes the worst and accidentally destroys Karyl's teddy bear. Pecorine, Kokkoro, and Yuuki head into town. Kokkoro attempts to find materials to fix the bear. Yuuki goes on his own and finds a Shadow attacking a man. The shadow defeats Yuuki, but he's saved by Shizuru, who claims to be his Oneechan.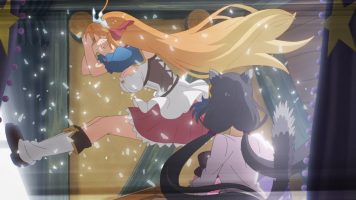 A girl named Rino drags Shizuru off. Apparently, Yuuki is her Oniichan, but Shizuru stops her from going after him. Meanwhile, Karyl gathers flowers for her queen. However, at her queen's castle, Karyl witness the creation of a new Shadow, which kills her flowers with its presence. Back in town, Yuuki and Kokkoro have hotdogs for lunch. Yuuki makes a mess, so Kokkoro goes to get some water to clean.
Kokkoro is challenged by Rino. Shizuru arrives and introduces them before discovering Yuuki is missing. Kokkoro gets Pecorine and they follow a lead that ends up being a captured Charlie. They go to the guild hall, where Karen reveals Yuuki was there for a quest. Yuuki shows up with rare silk from a quest. He explains that he fled the bench he was eating at because Eriko was in the area.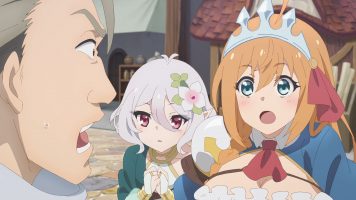 That night, Karyl returns home, wondering what to do. She's disappointed the guild house is empty. However, when Pecorine, Kokkoro, and Yuuki show up with her repaired bear, she's happy.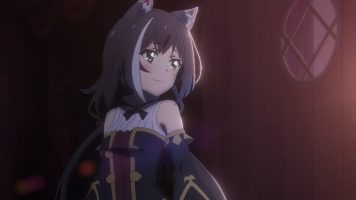 Thoughts/Review:
We actually return to some plot in Princess Connect! Re:Dive 11. And there was a bit of humor as well.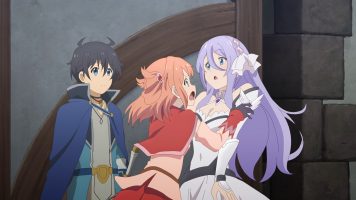 The Plot Thickens…Sorta
There were a couple of plot developments in Princess Connect! Re:Dive 11. First, Yuuki's sisters show up. I suspect they may have been part of Yuuki's crew before he lost his memories. Regardless, why are they only showing up now to watch over Yuuki? Why aren't they trying to help him recover his memories?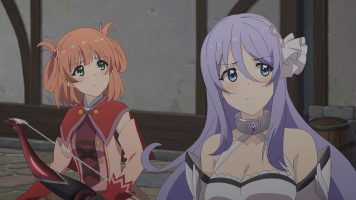 The other plot element comes from Karyl and her secret mission from her queen. Clearly, Karyl will not ultimately go along with her queen's plans regarding Shadows. But it seems that the queen is growing weary of Karyl. It wouldn't surprise me if a Shadow possesses Karyl at some point. We'll see where things go.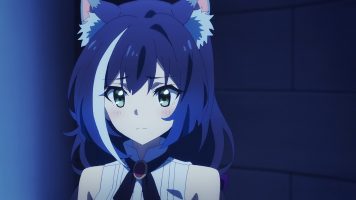 Some Humor Returns
Shizuru and Rino's arrival in Princess Connect! Re:Dive 11 provided a new humor element, howbeit a mild one. That said, I did get a chuckle of Shizuru literally head bashing Rino whenever Rino started going out of control. Naturally, Rino loses a bit of memory in addition to calming down.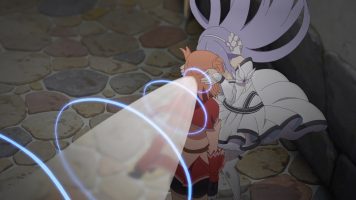 Another slightly more funny element was Yuuki fleeing when he spotted yandere Eriko. Yuuki has mostly annoyed me as a character due to his ongoing stupidity. However, he got smart all of the sudden upon seeing Eriko. So that made me chuckle.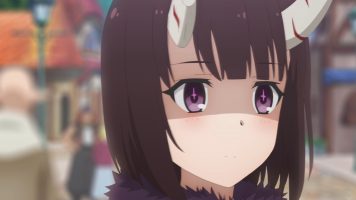 Finally, Pecorine and Kokkoro ending up rescuing Charlie made me chuckle. That's because the giant thug Pecorine defeated was in charge of the punks who kidnapped Charlie. Not sure how he escaped Twilight Caravan, but the thug boss seemed bigger than ever. Yet as soon as he saw Pecorine, he and his whole gang (and his token babe) are all bowing and apologizing. That gave me the biggest chuckle.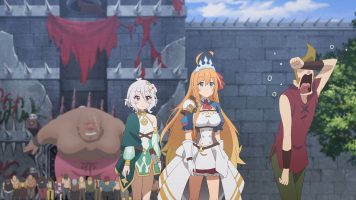 Final Thoughts and Conclusion
In the end, Princess Connect! Re:Dive 11 had a bit of plot and a bit of humor. And Yuuki finally is showing some signs of intelligence.