ユーキューホルダー! 魔法先生 ネギま!2 Manga Review
UQ Holder! Mahou Sensei Negima 2
UQ Holder!: Magister Negi Magi! 2 Chapter 176
UQ Holder Chapter 176
SPOILER Summary/Synopsis: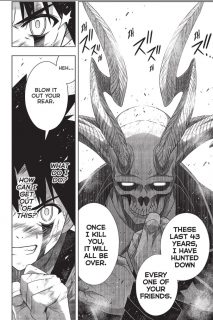 Touta wakes up and remembers the events on the space station when Kirie was put out of action. Kirie's powers are sealed, meaning no reset. Nikitis believes an enemy has the same power as Kirie. Gengorou does some research and finds someone with a Death Penalty ability on the station, but they have no record of them. Meanwhile, Ba'al and three minions show up.
Touta is frustrated by his memory loss and gets a day off. His Nigerian boss hooks him up so he can visit a library. He gets a library card-passport, which costs three month's wages. In the library, Touta can't find info on UQ Holder members. But he did learn that a magical pandemic transmitted via magic apps connected to the Internet infected most of Earth's population. Because the infection could not be purged, Earth has reverted back to 20th century technology.
Touta is depressed. He checks for Mizore and Shinobu on the pandemic death list, but they don't show up. He finds he has pactio cards in his pocket.  Shinobu's and Mizore's cards are dead, meaning the girls are dead. Touta despairs over his failures. Akim finds Touta and treats him to dinner. Touta returns to work and decides to save money to return to Japan. However, an assassin tries to kill him.
Touta's continued injuries from months earlier give him pause on his immortality status. He survives the fall, but has only a fraction of the power he previously had. More assassins target him. Touta is able to escape, but takes more damage. He decides not to give up and find answers. However, one of Ba'al's minions finds Touta. He states that Touta is the last living member of UQ Holder.
Thoughts/Review:
Well, Akamatsu-sensei certainly is putting a twist on things in UQ Holder Chapter 176. Originally, I thought this manga would end at the end of 2020. Now, I'm not so sure.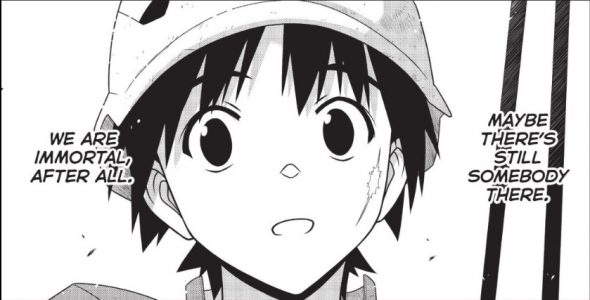 Missing Plot Elements
Akamatsu-sensei has definitively stated within UQ Holder Chapter 176 that this is reality. So, taking that as the truth, I'll proceed from there. Clearly, Touta's convenient memory loss contains key, missing plot elements. So while Touta may have crashed to Nigeria over forty years after the destruction of the space station, I can't help but suspect that we'll have some deus ex machina element that happened during that forgotten time.
Why do I think this? Because assuming Ba'al's minion did kill all of UQ Holder, I do not believe for one moment that they are truly dead. Kirie's powers can easily bring folks back to life. Sure, she had some convenient power-sealing ability slapped on her to supposedly prevent this. But that doesn't mean that during Touta's memory gap, UQ Holder didn't arrange for her to be sent to Dana's realm (as an example).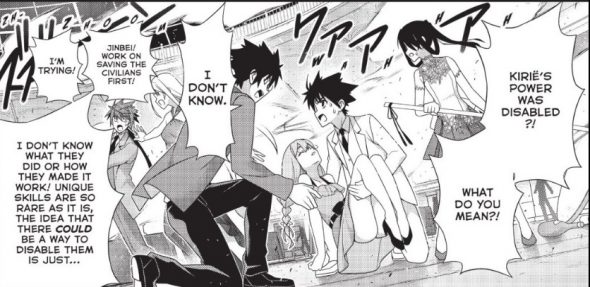 As such, I fully expect that when all is said and done, we'll end up back at the space station before Ba'al's attack, and Touta will lead the way to stop Ba'al so that they can go on to battle the Mage of the Beginning.
Delaying the End?
I realize that the biggest shock element in UQ Holder Chapter 176 was the revelation that everyone in UQ Holder is dead. Thus Touta is alone and quite weak. While I admit this took me off guard, this wasn't the biggest shock for me. The big surprise was seeing Akamatsu-sensei introduce FOUR new enemies to the mix.
Up until last chapter, it felt like UQ Holder was on course to end by early next year. That would put it on pace to end within the 2-3 mark Akamatsu-sensei announced back at the end of December 2018 (click here for more details). However, one doesn't introduce a bunch of new enemy characters just immediately kill them off in a chapter or two. Granted, Sensei could do just that and wrap everything up next year. But to me, that doesn't feel like it would be satisfying with the latest plot twist.
Thus I'm now starting to wonder if Akamatsu-sensei might be reconsidering ending the series. It wouldn't be the first time he's done that. Granted, in Love Hina, it was forced on him. That said, maybe something has changed that caused Sensei to decide to delay the ending. But I guess we'll have to wait and see.
Final Thoughts and Conclusion
Let me wrap up my review of UQ Holder Chapter 176 with some final thoughts.
I had to chuckle at how future Nigeria seems pretty much like Japan at times.
Also, I got a chuckle at how Akamatsu-sensei came up with a reason to have the future now have 20th century technology.
Just how did those pactio cards appear in Touta's pocket? (Maybe Kirie?) And why only Mizore's and Shinobu's cards (other than as a marketing scheme)?
In the end, UQ Holder Chapter 176 is not a bad chapter. I do like how Touta had this sober awakening. And we'll see what happens with these four new enemies.