"Bloom into You Illustration Works" Review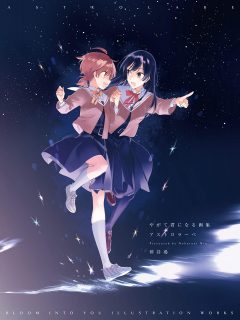 There's only one word to describe Nakatani-san's new picture book, "Bloom into You Illustration Works." GORGEOUS. It's a full-sized 81/2 by 11 paperback with 128 pages on heavy, archival, semi-gloss paper, packed with very high density, full-page color panels by her. Unusually for a paperback it's Smythe bound! The stitching is only about one centimeter apart. It comes in a plastic sleeve-box that is transparent to exhibit the beautiful, specially created cover art.
All the good stuff from"Bloom into You" is included, so literally all the color pictures of Yuu and Touko appear, along with all of the black and white illustrations on the title page of the 45 chapters. Many other characters also appear, including most of those in her "Eclair" work. The real bonus is the many portraits of Yuu and Touko that are NOT in BiY. Also, she includes a sequence of 12 panels showing the stages of creation for the cover illustration. Her rough drafts are so good they don't need much adjusting, and as I suspected she uses many hues of grey to get that great variety of shading in her work. The sequence begins with a very high density photo of her workspace.
Text has been limited to a couple of lines for each picture and it's all in Japanese, but that's no problem for us BiY otaku. We know the whole story, so you can easily fit all these beautiful images into the context. For example, I was always disappointed that we didn't get to see the girls exiting the train after their ride from the aquarium in volume 5, but a two-page panel showing Yuu pulling Touko out of her seat on the empty train in prep for disembarking is included in this picture book. Both girls wear the same clothing that appears nowhere else. Great stuff.
You can order it directly from kadokawa.co.jp. I paid $20, which is a big bargain. It would be at least $40, and probably $50, if printed in the US. Miss Nakatani-sama must be very proud of this top-of-the-line book. "Bloom into You Illustration Works," that contains so much of her magnificent art work.