Yashahime: Princess Half-Demon 06
半妖の夜叉姫 06
Hanyou no Yashahime episode 06
SPOILER Summary/Synopsis:
Moroha, Setsuna, and Towa visit Jyuubei, who offers a small sum for their previous work. He has another job investigating the disappearance of travelers, so the girls head to the location. They find a village filled with cats, where the adults dote on the cats, but ignore their own children. The girls dispatch the cats, which are actually youkai. However, Moroha and Setsuna warn Towa that she needs to forget the niceties of the modern age and deal with the dangerous reality of the feudal era.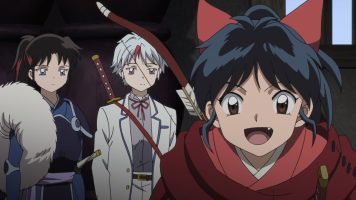 The trio travel to a temple where a priest named Juan (Jyuan) greets them. Towa is excited because he looks like a modern day male idol named Julian. The priest agrees to let them spend the night. After pretending to go to sleep, they are attacked by youkai cats. Setsuna and Moroha go under the temple to the large, cat youkai grave the priest discovered. Meanwhile, Juan places seals on the doors of the temple where he and Towa are.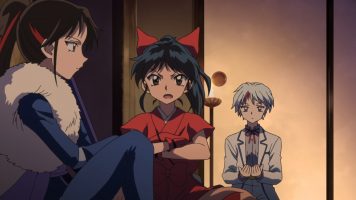 The giant cat youkai comes to life and attacks. Inside the temple, Juan is revealed to be possessed by the cat youkai, leaving Towa in danger. Setsuna and Moroha realize what is happening, so Moroha destroys the temple barrier to allow Setsuna access. Towa prevents Setsuna from killing the priest. Instead, she uses her powers to absorb the youkai energy from Juan and end the cat youkai. Setsuna considers Towa to have been lucky. The trio return to Jyuubei, who offers a low sum for the killing of the cat youkai.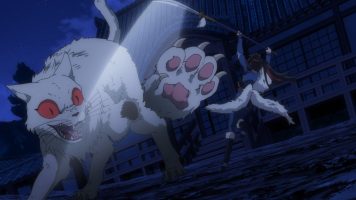 Thoughts/Review:
In Yashahime: Princess Half-Demon 06, we have another fun adventure. However, Towa is the bloody Mary Sue here, and that's not good.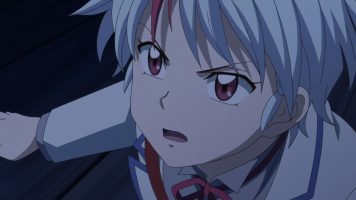 Conflict of Eras
One thing I really liked about Yashahime: Princess Half-Demon 06 is that we have a conflict of eras. Because Setsuna and Moroha got to experience the modern era for some length of time, they have an understanding of how peaceful things are there. Life is pretty easy in the modern times, and there are many wonderful inventions. Such is the world that Towa was raised in and become adapted to.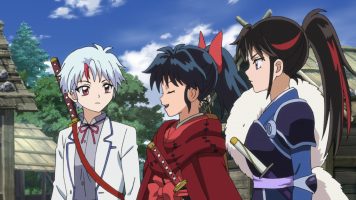 However, in the fictional feudal era, not only are humans potentially at war, there are bandits and other such villains. But more importantly, there are lots of evil youkai about. And in a fight with such monsters, hesitating can get you killed. Setsuna knows this as a youkai hunter, and Moroha knows this as a bounty hunter of youkai. Further, Setsuna and Moroha use their senses to a much greater extent than Towa. So it is understandable they are concerned with Towa's modern time attitude on things.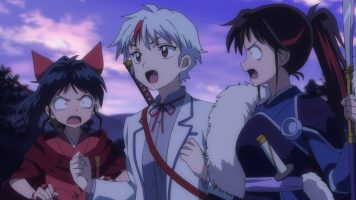 I have no problems with this conflict existing. It makes for some interesting character work for all three girls. However, what I don't like is what the writers are doing with Towa to try to make her less aggressive notions have validity.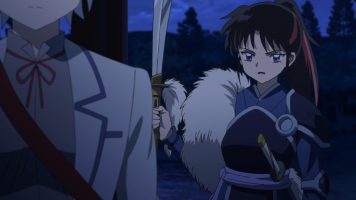 Towa, the Mary Sue
Previously, I had noted that Towa was becoming a Mary Sue character. While Setsuna and Moroha are the same age as Towa, they've had years of training and dealing with the realities of a world in which very dangerous youkai exist. Towa lived in a very peaceful world, where the most dangerous thing she dealt with were thugs. And yet somehow, despite having no training, Yashahime: Princess Half-Demon 06 has Towa doing the impossible to (1) give her less aggressive attitude merit and (2) give her vastly more experienced sister and cousin a reason to respect her.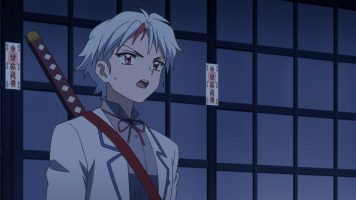 I get that the trap is that Towa becomes a burden by not being able to pull her weight. But outside of scolding Towa for not using her senses like Setsuna and Moroha do, Towa isn't being trained. Instead, when there's a bad situation, she's just able to come up with an ability to fit the situation. And in doing so, she supposedly shows she's actually useful, and that her modern day way of thought can work in the feudal era.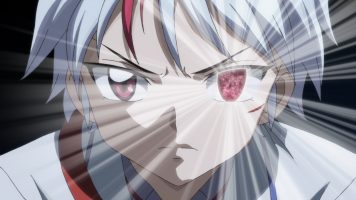 Unfortunately, all this does is make Towa a Mary Sue character. She hasn't earned any of her abilities. But by George, inexperienced, naive Towa can show up the very experienced Moroha and Setsuna. It sucks the writers are making Towa a Mary Sue. I want to like the character. Her motivations to help Setsuna, combined with her guilt for getting separated from Setsuna as a child are easy to understand.  Making Towa a Mary Sue makes me not want to like her.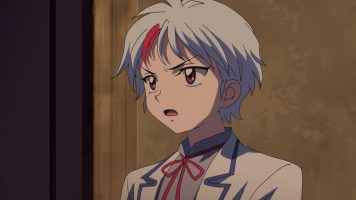 Final Thoughts and Conclusion
Let me wrap up this review of Yashahime: Princess Half-Demon 06 with some final thoughts.
Moroha dodged the question on why she needs money so badly. So I guess we'll get an answer later.
Speaking of Moroha, she's still best girl in terms of character.
The Dream Butterfly aspect is still a major mystery. It did get a name-drop.
There's no discussion of the girl's parentage. Now that Myouga is part of the series, I'd hoped there'd be a bit more of this.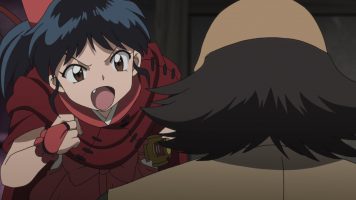 In the end, Yashahime: Princess Half-Demon 06 is fine for what it is. My biggest problem is making Towa a Mary Sue character.