TONIKAWA: Over The Moon For You 04
Tonikaku Cawaii: Fly Me to the Moon 04
Tonikaku Kawaii/トニカクカワイイ
SPOILER Summary/Synopsis:
Tsukasa heads to Nasa's apartment, feeling a bit bummed that her husband ran off. She decides to clean his place, but finds it immaculate. A knock on the door reveals Chitose there. She is a girl who lived in the same household as Hina. Tsukasa refuses to let Chitose in, leaving the girl shocked and dejected at learning Tsukasa is married. Nasa arrives and comforts Chitose, who is initially appreciative of it. However, when Tsukasa puts her head out the window and addresses Nasa as Danna-sama, Chitose becomes enraged.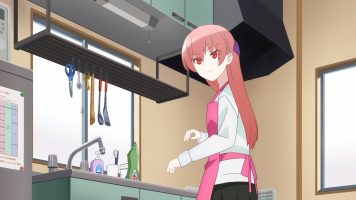 Nasa does a good job at keeping Chitose off balance, so she has him kidnapped and brought to her mansion. There, she asks her maids Aurora and Charlotte to take compromising pictures of Nasa so that Tsukasa will divorce him. Nasa flees and hides in a museum room, that reminds Nasa of his wife. He finds a display with a moon rock. As he ponders this, Charlotte enters with a giant sword and attacks. This damages this hermetically sealed moon rock display case.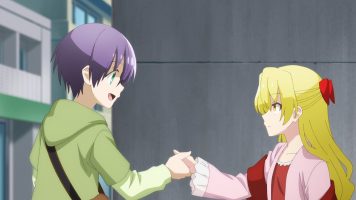 Nasa makes repairs as Chitose expresses disbelief that Nasa doesn't know why a moon rock would give Tsukasa comfort. Chitose recalls how Tsukasa saved her life some years earlier. Meanwhile, Charlotte and Aurora fulfill their mandate and snag a compromised picture of Nasa, which Aurora further doctors. Chitose is happy, more so when an apparent angry Tsukasa shows up.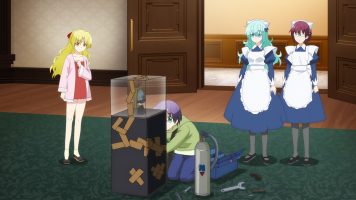 She grabs Nasa and leads him out an escape tunnel to a nearby, abandoned church. There, Nasa makes his official proposal to Tsukasa and kisses her.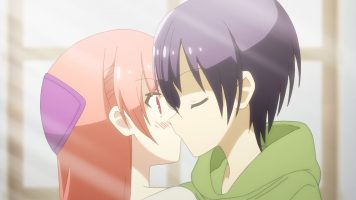 Thoughts/Review:
Well, I have to say that TONIKAWA: Over The Moon For You 04 was another good episode in the series.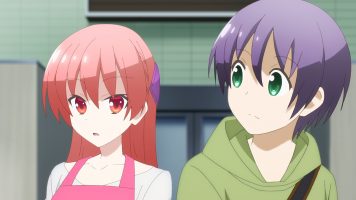 Modifications to the Source Material
Chapters 12, 13, and 14 of the Tonikaku Cawaii manga were used in the creation of TONIKAWA: Over The Moon For You 04. Basically, the only significant modification made to the anime's story is moving Chitose's flashback from before she kidnaps Nasa to after Nasa repairs the moon rock display.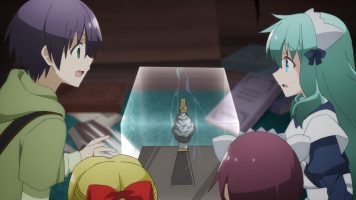 The manga had the flashback as the start of a chapter. So it isn't Chitose remembering things. However, shifting the scene to where Chitose is angry with Nasa for not knowing Tsukasa's secrets makes it work well. This is because it is a personal reflection on Chitose's part rather than a factual reflection for the audience.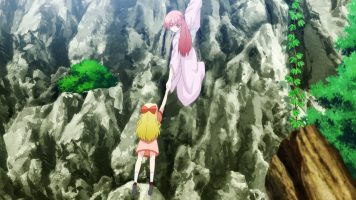 The only other change I noticed was the color page showing the injured Nasa hugging Tsukasa, making a vow to make her wish come true.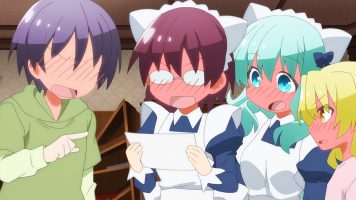 Chitose Arrives
Chitose has been absent from the Tonikaku Cawaii manga for a while now. As such, it was fun seeing her explode on the scene in TONIKAWA: Over The Moon For You 04. Yeah, I get she's a cliched, little sister character who has a major sister complex for Tsukasa, even though they aren't related. And I appreciate why this is because her life was saved by Tsukasa.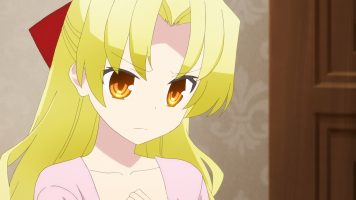 Chitose is a fun, comedy character. That said, her two maids are equally as fun. Charlotte has a bimbo air about her. And certainly, her going after Nasa with a giant, comedy sword shows she can exercise poor judgement. But she's really not that dumb. She just gets very enthusiastic on things and I love how she's played in the anime. Aurora is a bit more of the straight person in the comedy duo, but this trio provides a ton of fun.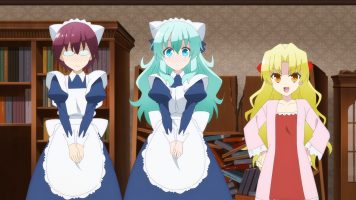 Final Thoughts and Conclusion
I'm trying to not blather as much, so let me wrap up my review of TONIKAWA: Over The Moon For You 04.
I'm not sure how many references were made in this episode. But the Dragon Slayer sword from Berserk was featured. Lum from Urusei Yatsura got a name drop. And the Command Seal (spell) term was dropped from the Fate franchise.
Although the scene was in the source manga, the initial scene in the anime really made me realize how quickly Tsukasa healed from her injury. Of course, if she's immortal, that would explain everything.
The secret way Tsukasa led Nasa out of the mansion to the church made me wonder what all they passed through to get to the church. I can't help but wonder if at some point, Hata-sensei returns to this location, even if in a flashback.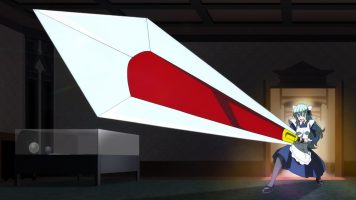 In the end, TONIKAWA: Over The Moon For You 04 was an enjoyable, fun, and humorous episode that was really, faithfully adapted from the manga.