TONIKAWA: Over The Moon For You 10
Tonikaku Cawaii: Fly Me to the Moon 10
Tonikaku Kawaii/トニカクカワイイ
SPOILER Summary/Synopsis:
Tsukasa makes tonkatsu for Nasa. He's amazed by this, since his mom always purchased fried foods rather than make them at home. Tsukasa says she'll make tonkatsu for him whenever he wants. Kaname brings over a melon, which Tsukasa and Nasa share.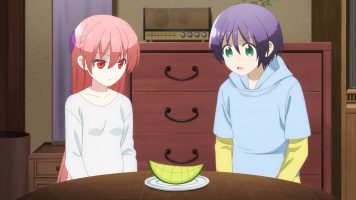 Nasa gets word that his landlord is building a new apartment, which Nasa can rent for the old price. Nasa and Tsukasa head to an apartment tower to see a model room. They are amazed by the luxury of it all. On the way home, Nasa's landlord states that their new apartment won't be as luxurious as the apartment they saw.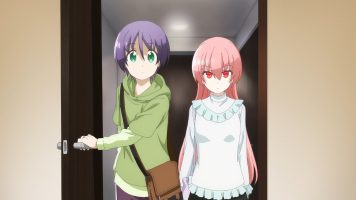 The next day, Kaname gets up early to do her chores at the bathhouse. Tsukasa is also up and offers to help as a means of paying for being allowed to stay in the guesthouse. Kaname agrees and is amazed at how well Tsukasa works. When Tsukasa is finished, Kaname thanks her for saving Nasa's life.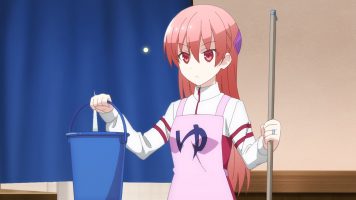 That evening, Tsukasa asks Nasa what he wants for dinner. He suggests curry, so the pair go out to  buy some stuff to make it. Kaname's mom gives Nasa a suggestion on a special route to take, so he can be romantic with Tsukasa. On the way home, Tsukasa denies her husband a kiss, due to her having garlic breath, but he does get to hug her from behind as they chat.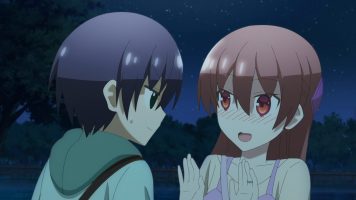 Thoughts/Review:
Gah. Why am I always so far behind? Oh yeah, a combination of work, then a lack of motivation have a bit of free time. 😫 But at last, it is time to take a look at TONIKAWA: Over The Moon For You 10.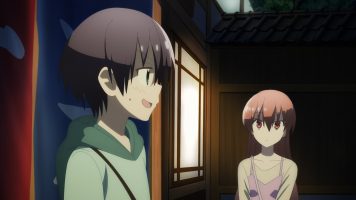 Modifications to the Source Material
Source (Tonikaku Cawaii) Fly Me to the Moon manga chapters 37, 38, 39, and 40 were used. Update: Bits from the omake chapter "40.5" (or 48.5) were also used.
Tsukasa's establishment of a new family tradition of lots of extra rice and cabbage for tonkatsu is removed.
Nasa's thoughts about Tsukasa's remarks on tonkatsu are changed. In the manga, he referenced the cooking manga, Oishinbo.
Kaname's arrival is changed to after Nasa attempts to turn on the TV. Thus Kaname's joke about the place looking like it was from the Showa era (1926-1989) is removed.
Tsukasa's reluctance to check out the model apartment (in favor of checking out all of the old game consoles) is removed.
Saki's cameo is removed.
Some of the walk and talk to the supermarket is cut, including the prayer stop at a local shrine. Some of the conversation is shifted to after they go to the store with a different setting.
Nasa grabbing Tsukasa from behind is anime original material. the omake chapter "40.5" (which is sometimes seen as 48.5). Part of the conversation comes from that earlier walk stuff in the manga.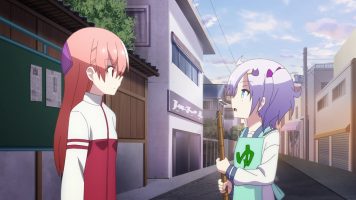 I really am bummed by how much of Tsukasa's love of games and entertainment in general is getting flushed out of the anime.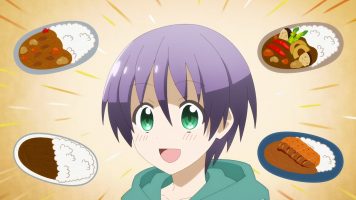 Tonkatsu is Best!
I love tonkatsu. In fact, I think tonkatsu is my favorite Japanese meal. I've never made it myself, though I understand how to do it. And I don't even need the tonkatsu sauce, that the Japanese love. As such, I can appreciate Nasa's reaction to his wife making him this awesome dish. I mean, if I met a girl who could make delicious tonkatsu, well, that would be serious points in her favor.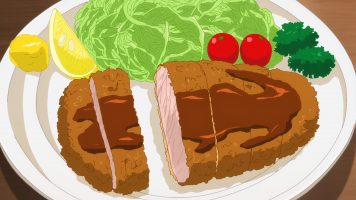 Still, I did find it funny that Nasa's mom apparently never made fried foods, preferring to purchase pre-cooked fried foods in the grocery store. I have had reheated tonkatsu (as part of katsudon), and it is fine. But nothing beats fresh from the fryer tonkatsu…or any other fried food for that matter. 😅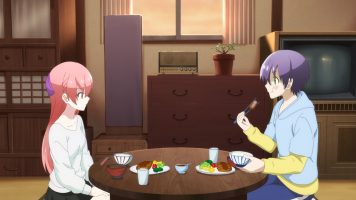 Final Thoughts and Conclusion
I'm am so behind, thanks to work, so I better get this episode review wrapped up. In the end, I did like TONIKAWA: Over The Moon For You 10 as it progresses Nasa's and Tsukasa's new life together. But I'm still bummed at some of the cuts being made.