Tonikaku Cawaii Chapter 138
Tonikaku Kawaii Fly Me to the Moon 138
トニカクカワイイ 138
Spoiler Summary/Synopsis:
Nasa and Tsukasa are at the yakiniku restaurant. Nasa discovers that when it comes to grilling the meat, his wife is very specific on how it should be done. Further, he learns that she has very specific ideas on how nabe, sukiyaki, and dipping sauces should be made.
After eating some of their grilled meat, Tsukasa wants to have rice ordered. She's puzzled that Nasa doesn't want one since rice goes well with yakiniku. However, once Nasa sees Tsukasa enjoying rice with her meat, he decides to order a bowl as well.
Thoughts/Review:
Since Tonikaku Cawaii Chapter 138 is only eight pages, I'll have only a few words to say.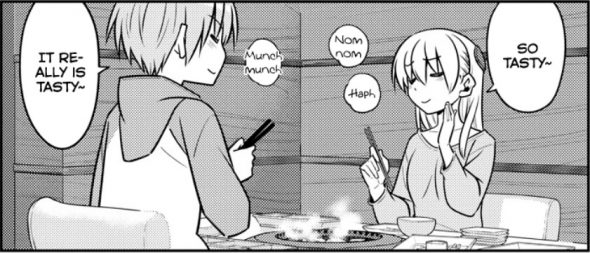 The Fine Art of Yakiniku
I have to say that I got a kick out of how seriously Tsukasa takes yakiniku in Tonikaku Cawaii Chapter 138. She has precision timing on how long yakiniku is to be cooked at the in-table grill. And yakiniku must have dipping sauces and not just be seasoned with salt. Further, yakiniku must be served with white, steamed rice, which is of course, correct. For me, that would be heavily buttered, white, steamed rice.
While there is a good Japanese restaurant somewhat near where I currently live, there's no yakiniku places about. I'd have to travel a while to get to one, and at the moment, doing the yakiniku experience is killed thanks to the insanity of the world today.
Final Thoughts and Conclusion
In the end, Tonikaku Cawaii Chapter 138 was a fun but short fluff chapter that made me hungry for yakiniku.