Tonikaku Cawaii Chapter 140
Tonikaku Kawaii Fly Me to the Moon 140
トニカクカワイイ 140
Spoiler Summary/Synopsis:
Hotaru announces to Hakase that she now wants to be a comedy entertainer. Hakase asks about Hotaru's former plans to be a singer. As such, Hotaru decides they should hit a karaoke joint to see if she really does love singing. Naturally, they chose the establishment that Tsukasa and Nasa are at. Further, they find the booth Tsukasa and Nasa are in.
After barging in, Hotaru starts to ask Nasa something, then has second thoughts in case Nasa and Tsukasa were planning to get freaky in the karaoke box. Nasa denies he and the wife were planning to do something naughty, so Hotaru tells him she can't decide between comedy or song. Therefore, Hotaru decides they should have a singing competition.
Tsukasa agrees to go first, but Hotaru insists that Tsukasa cosplay something. Initially, Nasa refuses to go along with this scheme, but when Hakase joins Hotaru's cause, Nasa picks a princess outfit for Tsukasa to wear. Tsukasa puts up with this, then sings "Get Wild", an end-theme song from City Hunter.
Thoughts/Review:
Since I've been warned that the plot of the series is cranking up in current chapters, I'm pushing ahead to read the fluff-filled Tonikaku Cawaii Chapter 140.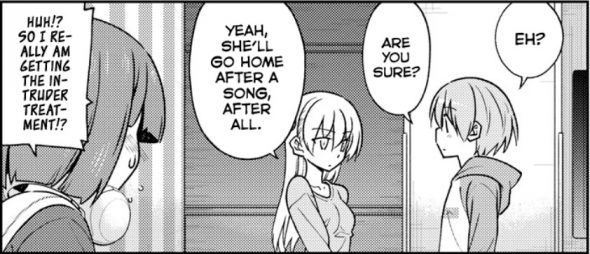 And So It Continues
I honestly didn't expect Nasa and Tsukasa's date story to continue in Tonikaku Cawaii Chapter 140. In reality, the story was over in the previous chapter. But for whatever reasons, Hata-sensei decided to have Hotaru and Hakase crash the party to keep things going.
Sadly, Hotaru (or any of the girls in Nasa's class) have enough of a presence to warrant any kind of actual character development. Otherwise, I'd take Hotaru's comedic "comedy or singing" story as a character moment. But here, it is just something to waste time.
Don't get me wrong, I had fun reading this fluff. But other than give Hata-sensei a reason to put Tsukasa in a princess outfit, this chapter didn't do anything for any of the characters. As such, it makes me wonder what's going through Hata-sensei's mind.
Final Thoughts and Conclusion
In the end, Tonikaku Cawaii Chapter 140 is a fluff chapter where nothing important happens. Still, it was fun to read, even if meaningless.