Yashahime: Princess Half-Demon 15
半妖の夜叉姫 15
Hanyou no Yashahime episode 15
SPOILER Summary/Synopsis:
Riku gives Izayoi's rouge to Houseki to give to Inuyasha. Houseki delivers this and the Black Pearl to Inuyasha's and Kagome's home. Inuyasha hides the pearl in his eye while Kamome keeps the rouge. Sometime later, Riku meets Kagome and warns her that the Grim Comet is heading for Japan. The disaster was averted 500 before by Inuyasha's father and fellow daiyoukai, Kirinmaru. Riku further warns about the dangers of waking Kirinmaru. As such, he wants Kagome to get Sesshoumaru and Inuyasha to take care of the problem.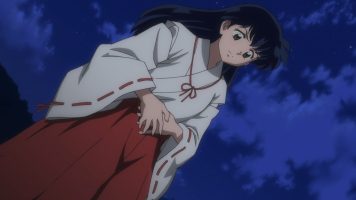 Meanwhile, the female youkai Zero visits Sesshoumaru to warn him about the comet and Kirinmaru. At Rin's residence, Sango, Kagome, and Kaede celebrate the birth of Towa and Setsuna. Sesshoumaru arrives and takes the girls away. Jaken leaves information with Kagome and gives a promise to the tearful Rin. The Ka Youkai leader Jouka attacks Sesshoumaru at Zero's request. Sesshoumaru cuts off her hands and retrieves the Gold and Silver Rainbow Pearls, whom he gives to his infant daughters.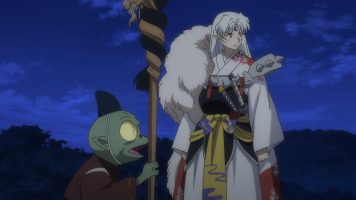 Sesshoumaru deposits his daughters at a tree, where Jaken raises a protection barrier. Jaken promises to bring Rin here. Sesshoumaru and Jaken then meet Inuyasha and Kagome at Sesshoumaru's mother's palace, where they deal with the comet and its hydra-like occupant.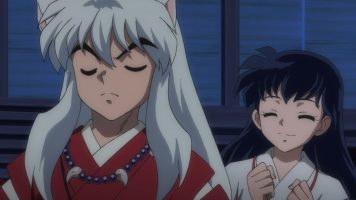 Elsewhere, Zero reports to Kirinmaru regarding Sesshoumaru. Sesshoumaru arrives and implies he will help Kirinmaru kill Inuyasha. However, Sesshoumaru sends Kagome and Inuyasha into the Black Pearl after Kagome sends the infant Moroha off with the youkai Hachiemon. Zero manages to find the young Setsuna and Towa via dreams. As such, she orders Homura to burn down the forest. Sesshoumaru gives no objections. The fire separates the twins and Towa gets sent to the future.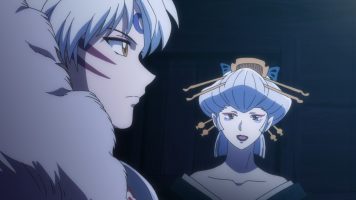 Thoughts/Review:
I gotta say, I didn't expect an Inuyasha episode in Yashahime: Princess Half-Demon 15. However, while things were seriously abbreviated in their presentation, we did get a lot of important backstory.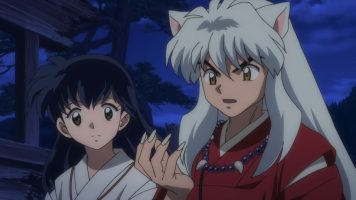 Sesshoumaru's Wife
Yashahime: Princess Half-Demon 15 confirmed that Rin was in fact Sesshoumaru's wife. I expected and wanted this outcome. So why didn't it put me off? I know Sesshoumaru rescued Rin as a child. He even brought her back from the dead once. On another occasion, Sesshoumaru's mother brought Rin back to life. This and other things proved that Sesshoumaru cared deeply for Rin.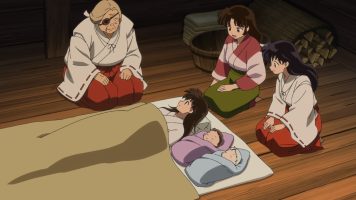 While Rin may have traveled with Sesshoumaru's party, he did not raise her. In fact, he kept his distance from her. Once the evil youkai Naraku was finally defeated, Sesshoumaru gave Rin to Kaede to raise among humans. But, he kept an eye on her and as we saw in episode 1 of this series, made sure Rin was safe from the rampaging plant youkai.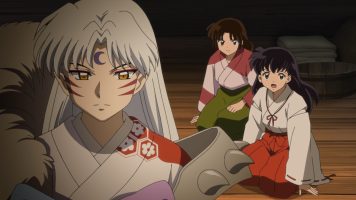 As such, the ick factor of a Sesshoumaru x Rin pairing wasn't there for me. Yes, there's a major age difference, but such was the case with Inuyasha's daiyoukai father Touga and human mother Izayoi. I just wish we could have born witness to Sesshoumaru's love for Rin becoming romantic love and a desire to have children with a young, human woman.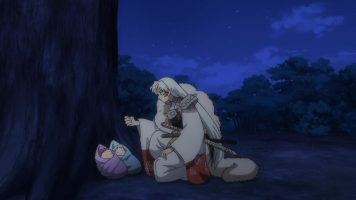 Still, it was sad seeing Sesshoumaru take the newborn Towa and Setsuna away. In typical fashion, he didn't bother explaining the situation to his wife. And though she was saddened, her trust in Sesshoumaru was complete. I guess Sesshoumaru or Jaken put Rin in the tree to protect her.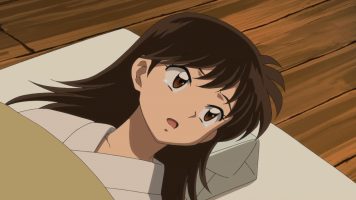 Inuyasha and Kagome
I guess Yashahime: Princess Half-Demon 15 couldn't be an Inuyasha episode without some classic moments being done from that anime series. As such, Inuyasha fires off his Kongōsōha. Then Kagome punishes him with her "Osuwari!" after he partially destroys their humble home. Kagome didn't use any of her battle skills, but we got to see her other range of typical things such as her friendship with Sango and her respect for Inuyasha (when he's not being stupid).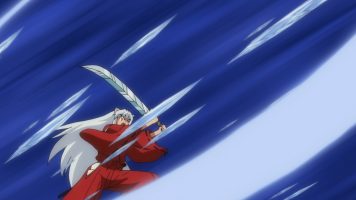 Inuyasha uses his Meidō Zangetsuha attack to finish off the occupant of the Grim Comet fragment that was bound for Earth. We also got to see Sesshoumaru and Inuyasha team up to take care of the comet. And there's even a hint of the old conflict between the brothers. This comes out in part with Jaken's annoyance with Inuyasha's attitude. Later, it shows up in the confrontation between Sesshoumaru and Inuyasha. So much of the trope Inuyasha stuff is touched.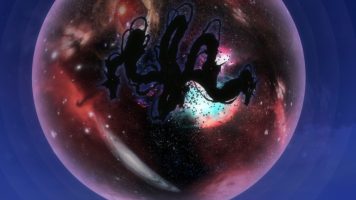 Beyond that, back in episode 8, I predicted the reason Inuyasha and Kagome have been MIA all this time. They were either dead, or more likely, sealed up. It wasn't a difficult prediction, considering the shounen nature of the series. And Yashahime: Princess Half-Demon 15 confirmed that Sesshoumaru sealed them in the Black Pearl.  Thus Sesshoumaru stays true to form in seemingly betraying Inuyasha and Kagome, while in fact he's protecting them.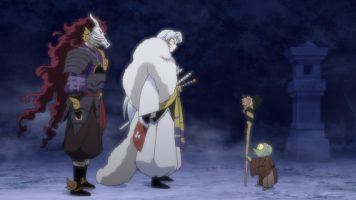 As for Inuyasha and Kagome's daughter Moroha, I'm surprised Kouga's clan didn't speak of him. Or maybe they wanted to protect Moroha by not informing her of her parentage (assuming I'm remembering correctly). But I wonder how Moroha got a robe like her father's.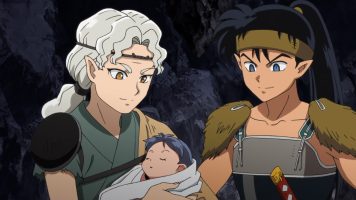 Final Thoughts and Conclusion
I'm guessing there's more I could have said, but work has me super busy again, so I better wrap up my review of Yashahime: Princess Half-Demon 15. I do appreciate the fact that the episode is in fact another Inuyasha episode. While we certainly are given critical backstory information, I did feel that the story was ultra compressed and thus is missing much of the richness it could have had.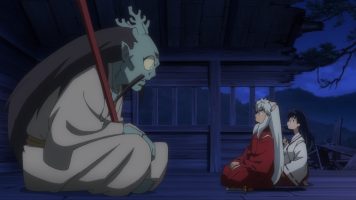 Additional: Riku's role in things was…interesting.