ユーキューホルダー! 魔法先生 ネギま!2 Manga Review
UQ Holder! Mahou Sensei Negima 2
UQ Holder!: Magister Negi Magi! 2 Chapter 188
UQ Holder Chapter 188
SPOILER Summary/Synopsis: 
The Mage of the Beginning, Ialda, uses her Resonance ability to crush the will of UQ Holder. As an example, they witnesses Eva being burned at the stake. Meanwhile, Santa battles Ikkuu in cyberspace. Santa learns that Ikku is acting on his own accord because the real Ikku doesn't want to die. However, Santa starts to overpower Ikkuu, thanks to Sept, as Nanako, helping by using human brains computational abilities to assist Santa.
Santa eventually defeats Ikkuu. As such, Ikkuu "turns good" and encourages UQ Holder to continue their work before dissolving. In a hospital, Ikkuu's body dies. Meanwhile, Touta witnesses Eva reforming after being burned at the stake. Ialda scoffs at Touta, but is surprised to see Eva behind her. Eva encourages Touta to move forward and forget about her.
UQ Holder are pulled back to Earth, thanks to Ikkuu's defeat. Fate meets them and gives them a new assignment. He also reports on the death of Ikkuu. They get prepared for the new mission when Sanda and Kirie show up with Negi's pactio artifact, Mille Vincula. With it, Santa can bring back Eva. Fate reminds them that they have to deal with Ba'al first.
With that, the fleet in Earth orbit launches its "Y-wing Fighters" to start the attack on Ba'al's forces.
Thoughts/Review:
Why is is that when some long-running manga series start coming to an end, things feel like a rush to the finish line? Sadly, that's the case with UQ Holder Chapter 188.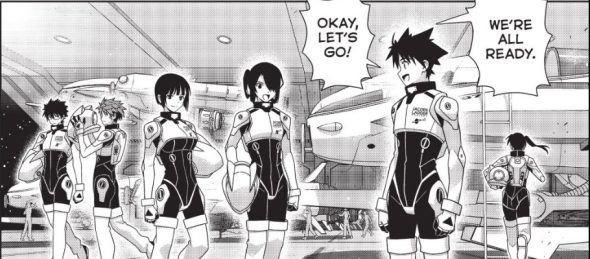 Ikkuu vs. Santa
Santa gets his moment to shine in UQ Holder Chapter 188. However, it becomes painfully obvious that the monthly format of the manga series kinda hurts. Akamatsu-sensei dedicated 18 pages to this fight, which is the normal page length of a weekly series. However, within the 40 pages of the monthly chapter, it felt…abbreviated.
But here's the problem. On one hand, there's no point in making a fight drag on just to drag on. On the other, you don't want it feeling rushed just to get it over with. And the fight felt somewhat rushed to me. I think that in part, it had to do with Nanako's deus ex machina explanation so that Santa could get to Ikkuu.
At the same time, I didn't understand how Santa took Ikkuu's android "heart" in cyberspace. Then once defeated, Ikkuu suddenly stops being an insane loon and becomes "good".  Then he makes it seem like he's willingly sacrificing himself by not doing anything to stop himself from dying.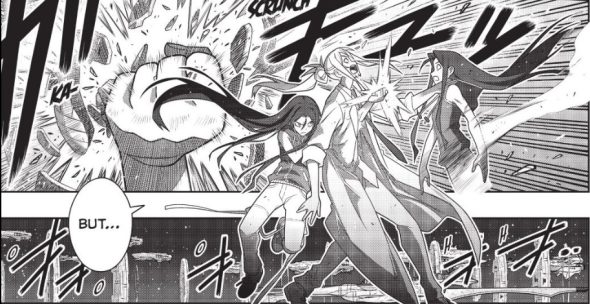 I honestly just didn't feel the sincerity of it. If anything, it felt like a rush to get the fight over so we can move to the next plot element. That was unfortunate as it tainted Santa's win. And I had no emotional impact over Ikkuu actually dying.
Mage of the Beginning
Ialda's Resonance ability was first shown in Negima! We see it again in UQ Holder Chapter 188. This time, Akamatsu-sensei shows Eva being burned at the stake in the past. I couldn't help but remember the time Eva joked about that in Negima! Eva showing up in the mindscape and surprising the Mage of the Beginning was a cool moment. I'm not sure how she did it, but I like Eva, so I let it slide.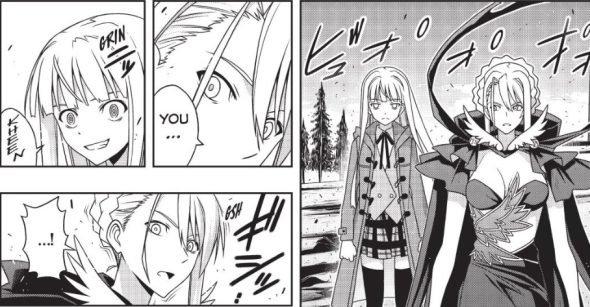 Still, the confrontation between Ialda and Touta felt conveniently abbreviated. I got the feeling that Eva had somehow taken control over Ialda and stopped her from speaking or moving. And then UQ Holder are conveniently returned to Earth so as to avoid any additional conflict at this time.
I really would have enjoyed seeing Ialda's history. We've been told stuff over the many years and two series, but to fully explore Ialda would take several chapters in my opinion. As such, I don't think we'll get more than abbreviated look-see, if that.
One final thing — how is Touta supposed to be able to use Negi's old artifact. I get that technically, Negi is still alive in the Mage of the Beginning. But why would Touta be able to use it? Granted, I haven't reread Negima! in years, so I don't remember the rules of the pactio system.
Next Mission
I found it amusing that the fleet fighters shown in UQ Holder Chapter 188 looked very much like Y-Wing fighters from Star Wars. Well, they do from certain angles. In fact, many elements felt like a nod to Star Wars. When Col. Akashi was introduced, it wasn't merely to tie the character to Negima! It also had a feel of when Luke met his squadron commander in Star Wars.
Then when the fighters are approaching Earth to get to the moon Charon, it felt like the rebel attack on the Death Star as they approached Yavin in Star Wars. As nods, they were fine. But in terms of the actual story, sadly, I'm just not jazzed. Maybe I'm just getting to old for this. 😅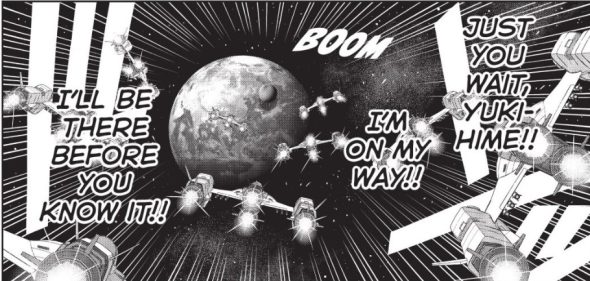 Final Thoughts and Conclusion
In the end, UQ Holder Chapter 188 felt more like going through the motions to get to the end. Outside of one moment with Eva, nothing told in the chapter really gripped me.