Yashahime: Princess Half-Demon 17
半妖の夜叉姫 17
Hanyou no Yashahime episode 17
SPOILER Summary/Synopsis:
Jyuubei returns Riku's Green Rainbow Pearl to him as Jyuubei no longer needs it. As such, Riku heads to Konton's cave hideout. He prods Konton into going ahead with Konton's trap for Setsuna, Towa, and Moroha. Riku even gets Konton to agree to use fellow "Four Peril" youkai Totetsu as bait. Meanwhile, Zero expresses her disappointment to Kirinmaru that he has not yet slain Sesshoumaru's daughters.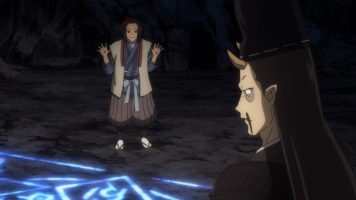 Riku returns to Jyuubei's shop. He informs the frustrated Moroha of a rumor as to Totetsu's location. Jyuubei authorizes the mission and has Takechiyo fly them out. Elsewhere, Setsuna and Towa are under a tree. Setsuna plays the violin as Towa wonders about the Tree of Ages. Moroha arrives with Riku and they enlist Setsuna and Towa to help, since the Dream Butterfly is supposed to be linked to Kirinmaru.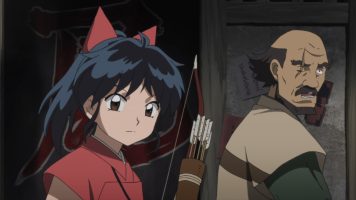 The trio find Totetsu attacking a temple, but reluctant about eating the priest. Towa is distressed that Setsuna wants to attack without regard to the priest. Moroha attempts to sneak up on Totetsu, but Towa gives it away with her facial expressions. The group chase the youkai to a ravine, where he passes through a barrier. Moroha passes through first, followed by Setsuna and Towa. Riku and Takechiyo remain outside.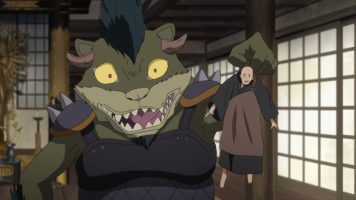 Within the barrier, Moroha finds herself always at the bottom of the ravine, attacked by youkai. Setsuna and Towa find themselves in a field with a large tree in the distance that never gets closer. Towa figures out they are in a Möbius Loop spell. Setsuna detects the rift where youki is escaping. She directs Towa to attack the rift. When they do, they break free and face Konton.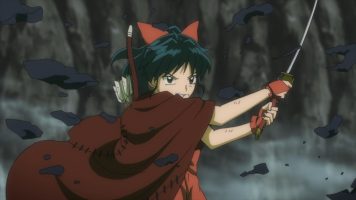 Thoughts/Review:
To date, all of the episodes in the Yashahime series have been episodic. There's an overall plot of sorts, but otherwise, it is a youkai of the week format for the most part. However, with Yashahime: Princess Half-Demon 17, that changes.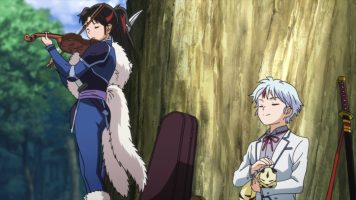 Plot Moving Forward
I haven't really spoken much about Riku. However, while he clearly works for Konton, Yashahime: Princess Half-Demon 17 made it clear he has his own agenda. I'm just not sure what that agenda is. That aside, he was able to prod Konton into taking a more active role in dealing with Setsuna, Towa, and Moroha.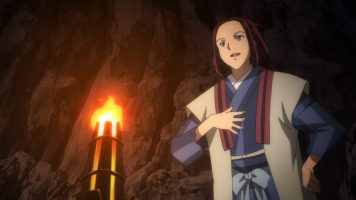 At the same time, I found it interesting that Zero is attempting to prod Kirinmaru into taking action against Setsuna and Towa. I don't remember Zero and Riku explicitly working together. However, I would guess they know each other since they appear to be in league with Kirinmaru and his minions. But whether they are working on another plan together, or if they both have separate goals in mind, I could not say. It will be interesting to find out.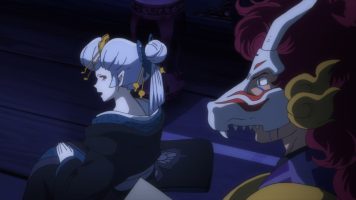 That aside, we got a reminder of Towa's mission to help Setsuna, which was part of the basis of the overarching plot. And then the twins get looped into helping Moroha, all for the express purposes of leading them into the Möbius trap. The way the twins escaped is sorta how one would cut themselves out of a Möbius strip. So I liked that little touch.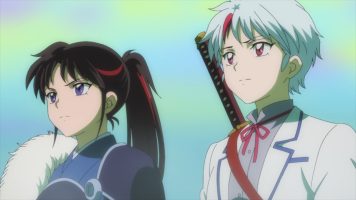 I also liked how Setsuna scolded Towa for her weaknesses. Towa has too long been done as a Mary Sue character. So when Towa jeopardized things by stopping Setsuna AND accidentally giving up Moroha, it was a welcome turn.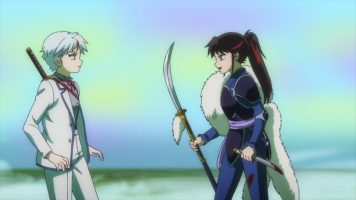 Now to see what Konton does next episode. Also, Moroha has to escape her own Möbius trap.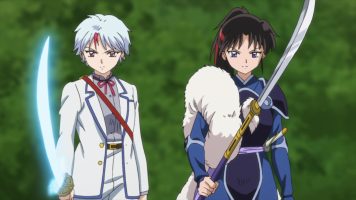 Poking Fun
Another interesting thing in Yashahime: Princess Half-Demon 17 is that the writers kinda poked fun at themselves with this episode. One of the things that often happens in shounen titles is that a big, bad, final boss wants the heroes killed. However, they never can bother to take care of the matter themselves. Instead, they send low-ranking minions out for the heroes to dispose of. That fills quite a few story episodes until finally, the big bad boss is forced to appear.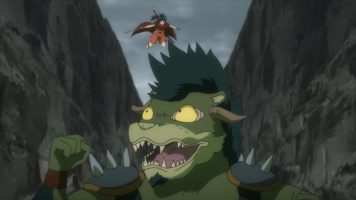 When Riku prodded Konton to take action, he cited this very phenomenon. Likewise, Zero did the same thing with Kirinmaru. If the writers did this on purpose as a jab at traditional shounen writing, then my hat is off to them.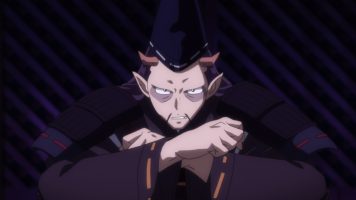 Final Thoughts and Conclusion
In the end, Yashahime: Princess Half-Demon 17 was more interesting than most of the episodes in the series. Further, it breaks free of the single-episode, "youkai of the week" formula in favor of telling a bigger tale. I like that.