Lupin the Third Part 6 – 01
Lupin III Part 6 01
ルパン三世 PART6 Episode 01

SPOILER Summary/Synopsis:
In London, Lupin's gang observes Lord Faulkner as he goes to work early one morning. Lord Faulkner steals an old movie poster and leaves. Later at an outdoor cafe, Lord Faulkner is arrested by Inspector Lestrade and Scotland Yard. Lord Faulkner is revealed to be Albert d'Andresy. Sherlock Holmes appears and explains how he uncovered Albert's plot.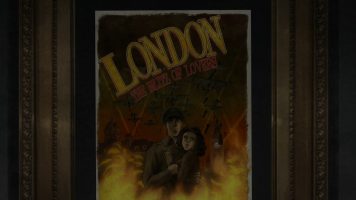 Meanwhile, MI-6 shows up to take custody of Albert. He escapes, but gets shot in the process. Lupin shows up to take Albert to safety. After a massive police and MI-6 chase, Lupin and Albert escape, thanks to help from Jigen and Goemon. However, the poster Albert stole is cut in half. Once at a safe place in the country, Lupin reveals he knows Albert was going after Raven's treasure. Raven is a secret organization who are the true rulers of Great Britain.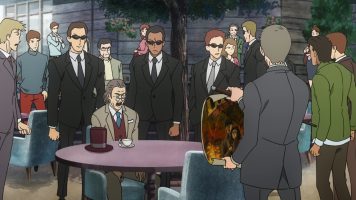 Meanwhile, Holmes picks up a young girl from school named Lily. He walks her to their home at 221B Baker Street. Meanwhile, Inspector Lestrade is getting frustrated with the real Lord Faulkner's refusal to cooperate. Faulkner gets a visit in the interrogation room from a Raven person, who plant a bomb on him, killing the lord and damaging Scotland Yard.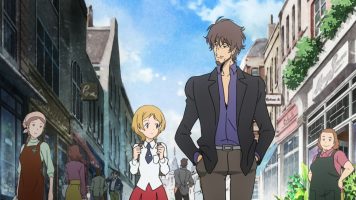 Meanwhile, Fujiko, posing as Lord Faulkner's assistant, attempts to get the other half of the poster, but is thwarted by Zenigata. She escapes with Lupin. However Scotland Yard and Zenigata are in pursuit. Elsewhere, Holmes learns of the bombing from Lily and leaves to investigate. He attempts to have Lily go to safety, but she ends up with him just the same. At the same time, the pursuit of Lupin comes close to Holmes and Lily. Holmes is unhappy to see Lupin, and Lupin recognizes Lily.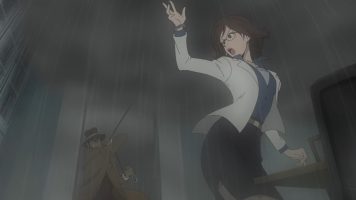 Thoughts/Review:
Since I have not watched any previews or trailers for this series, I have to say that Lupin the Third Part 6 – 01 was full of surprises for me. The writers at TMS certainly get things of with a bang or three.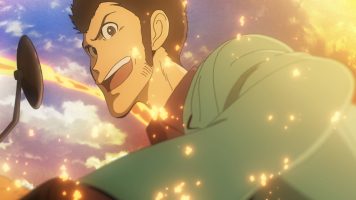 Sherlock Holmes?
I actually laughed out loud a bit when a modern day Sherlock Holmes appeared in Lupin the Third Part 6 – 01. However, considering Lupin's own fiction novel origins, it makes perfect sense. The Sherlock Holmes stories started in 1887 and ended in 1927, and the Arsène Lupin stories began in 1905. Indeed, author Maurice Leblanc has Lupin meet Sherlock Holmes in 1906. The name was changed in later publications due to Sir Arthur Conan Doyle objecting.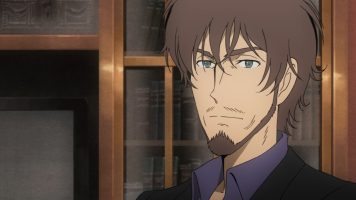 So yeah, it makes sense that a modern day Sherlock Holmes would know the modern day Lupin. The episode implies some kind of past history between the two characters. As such, that will be interesting to explore. Further, Lupin knew Lily. If I had to guess, I'm going to predict that Lily is the daughter of the real Sherlock Holmes, who died. And the guy acting as Holmes now took on the mantle.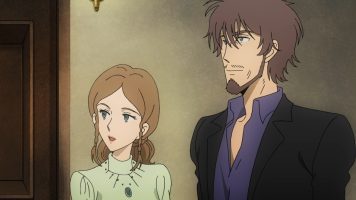 Returning Characters
Even though he wasn't a character I particularly liked, I am glad to see Albert return in Lupin the Third Part 6 – 01. Before Lupin the Third Part 4, there was basically no continuity between stories. The TV series up to that time were episodic in nature. Further, the specials, OVAs, and movies had no relation to each other.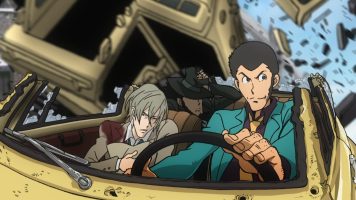 Thankfully, the Lupin III franchise has opted for serial story telling. As such, not only do we have Albert return from Lupin the Third Part 5, but also Zenigata's second, Yata. These are continuity touches I really appreciate. In that light, I REALLY hope we get to see Rebecca in some kind of supporting role. And I'd also like to see Lupin check in on Ami.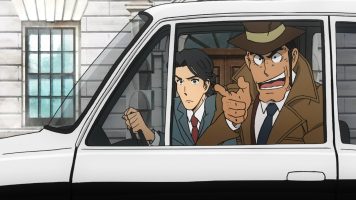 Final Thoughts and Conclusion
Let me wrap up my review of Lupin the Third Part 6 – 01 with some final thoughts.
Goemon and Jigen are relegated to cameo appearances, though they do help Lupin escape at one point.
I liked Fujiko's role here. Her infiltration techniques were balanced between the practical and the sexual. I always hate it when they just have her rely on sex to get something done. And she's not working against Lupin at the moment, which is cool.
Since this story is based in London, I with the Japanese would use English honorifics like "Lord" or "Mrs." rather than have London be more Japan-like.
To that end, I didn't like the subtitles changing "Lestrade-san" to "Inspector Lestrade". There are times when characters addressed Lestrade as "Keibu", which is "Inspector". However, if Lestrade is addressed as "Lastrade-san", it should be "Mr. Lestrade" on the translation, IMO.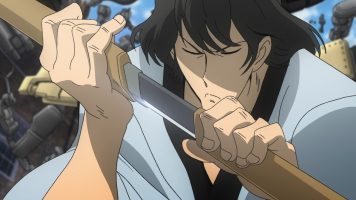 In the end, Lupin the Third Part 6 – 01 got the actual series off with multiple explosions, car chases, Lupin Physics, and an episode that ends by leaving me wanting more. Good stuff so far.