Yashahime: Princess Half-Demon 19
半妖の夜叉姫 19
Hanyou no Yashahime episode 19
SPOILER Summary/Synopsis:
Princess Aiya pays the youkai exterminators a visit.  As Kohaku isn't there, Hisui agrees to her request for a battle contest. The prize is employment by her father, Ogigayatsu Hiiragi Danjo, the Deputy Shogun. However, they will have to fight a group of bizarre, random bounty hunters, including Moroha. Hisui isn't worried about the bounty hunters, but he is worried about Moroha, who's there to try to clear her debt. As such, Hisui enlists Setsuna, who makes them promise not to tell Towa.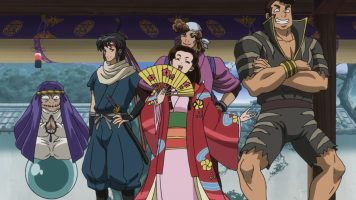 On the day of the battle contest, Moroha attempts to sneak away. Towa catches her and realizes something's up. As such, she follows Moroha. Meanwhile, the bounty hunters have constructed a castle backdrop. The youkai exterminators decide to put on a great show for Princess Aiya, so they open up with catapults flinging burning oil pots.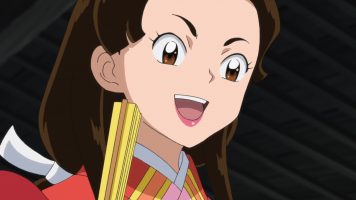 Towa comes in and rescues Moroha from the flames. Setsuna is annoyed and confronts her sister. More oil bombs rain down on them and Setsuna launches an attack on Towa. Towa gets mildly injured, so Moroha battles Setsuna. The princess is excited by the spectacle. Towa stops the fight, so Hisui jumps in to chastise her. Towa decides she's going to help Moroha. Hisui attacks and hits Moroha, who's protecting Towa.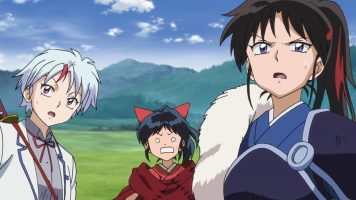 Meanwhile, Kohaku has returned and learns the truth–the princess had no intention of hiring anyone. As Hisui and Moroha explain that everything in the battle was scripted for the princess, Kohaku breaks the bad news about the princess to them. He encourages the youkai exterminators to not take jobs for money. Meanwhile, Danjo scolds his daughter for arranging this spectacle. Elsewhere, Setsuna and Towa feel guilty for making Towa worried.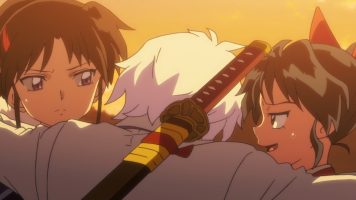 Thoughts/Review:
After some more interesting, plot-driven episodes, Yashahime: Princess Half-Demon 19 decides to go into the realms of some slapstick and cliche humor.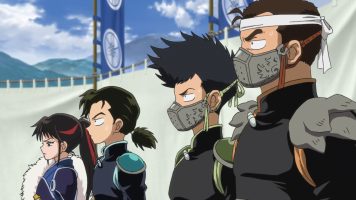 Silly Episode
The moment Princess Aiya showed up and gave that cliched ojousama laugh, I knew that Yashahime: Princess Half-Demon 19 was going to be a filler episode. I can't remember when I last watched an anime with the ojousama laugh in it. However, it did amuse me, more so 'cause the Princess Aiya character is so over the top cliched.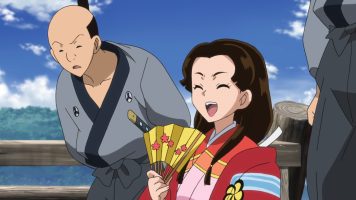 Speaking of cliches, the bounty hunter team, took the cake. Good grief. The less said about them, the better. 😅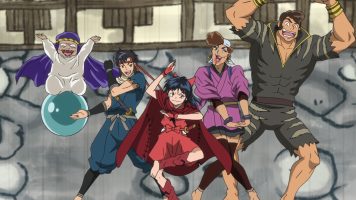 I will say the slapstick elements of the oil bombs raining down on characters did make me chuckle. But that was about it. Otherwise, the episode just made me shake my head.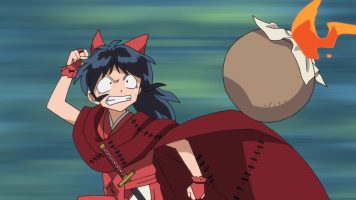 Final Thoughts and Conclusion
In the end, Yashahime: Princess Half-Demon 19 is just a silly, filler episode.