Lupin the Third Part 6 – 02
Lupin III Part 6 02
ルパン三世 PART6
SPOILER Summary/Synopsis:
Lily passes out after seeing Lupin drive by on a motorcycle with Fujiko. Lupin escapes the police, leaving Sherlock Holmes to wonder why Lupin is back. Holmes takes Lily to Scotland Yard in order to go after Lupin. Inspector Lestrade convinces him otherwise. As such, Holmes inspects the bomb scene. He and Lestrade discuss Lily's returning memories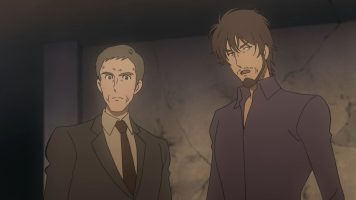 At Lupin's hideout, Lupin watches the movie advertised in the old poster. He briefs Fujiko, Goemon, and Jigen about the organization known as Raven. However, they have to get Holmes off their back. Meanwhile, Lily wakes up in her room. She questions Holmes about Lupin and her deceased father. After getting Lily back to bed, Holmes takes a map, a tobacco pipe, and a walking stick out into the night.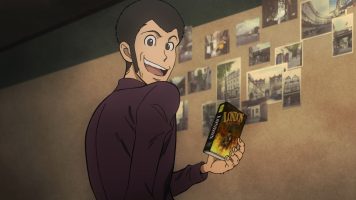 Back at Lord Faulkner's place, Zenigata and Yata examine the Black Drawing Room where the movie poster was stolen from. Inspector Lestrade comes in and offers a cooperation deal to Zenigata. The next morning, Lupin's crew are disappointed to see him packing up to abandon the hideout and Raven's treasure. They are skeptical that Sherlock Holmes is as good as Lupin makes him out. However, Holmes shows up at their door.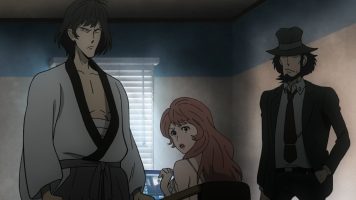 Goemon goes out to confront Holmes, but Holmes manages to defeat him. Jigen takes to the rooftops, but Holmes manages to stay a step ahead of him. Fujiko picks up Jigen on her motorcycle. They pursue Holmes, who leads them to an abandoned building due to be demolished. He defeats them, then squares off against Lupin. However, Holmes bails on a fight, having giving Lupin up to Zenigata.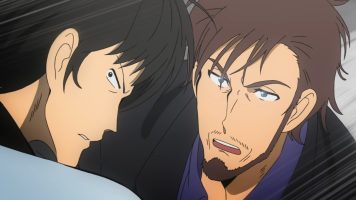 Lupin brings down the building and escapes. Meanwhile, Lily has a dream Lupin killed her dad. Elsewhere, Albert gets briefed on the situation.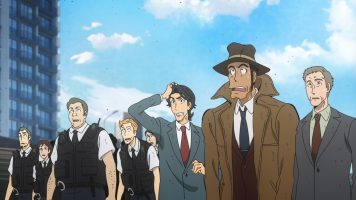 Thoughts/Review:
With Lupin the Third Part 6 – 02, the writers make sure to establish that Sherlock Holmes as a credible opponent for Lupin and his gang.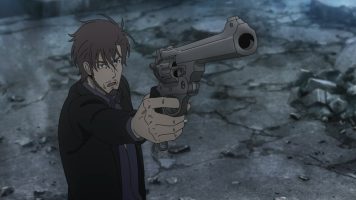 Establishing Sherlock Holmes
One of the things I liked about Lupin the Third Part 6 – 02 is that the writers established Sherlock Homes credentials. Since Sherlock Holmes is a well known fictional name, the writers could have relied on that. Instead, the writers actually showed Holmes defeating all of Lupin's gang. I appreciate that, especially since Sherlock Holmes that I read was quite skilled.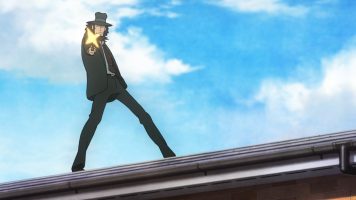 To that end, I did appreciate how Holmes tracked Lupin to his lair. How he countered Goemon worked for me as well. His battle with Jigen is a little more of a stretch, as it involved Holmes dodging bullets. But, Holmes's defeating Fujiko worked for me. And then I laughed at how Holmes basically had Zenigata there for Lupin at the end.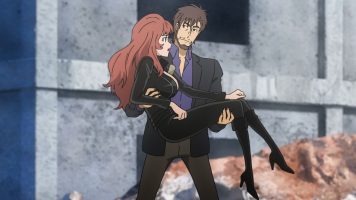 As such, episode 2 works to show how Holmes will be the toughest opponent for Lupin to deal with. But, I suspect the two will partner up before the series is over.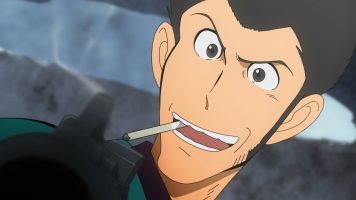 Final Thoughts and Conclusion
I hate to cut this short, but it is insanely busy at work. So let me wrap up my review of Lupin the Third Part 6 – 02 with some final thoughts.
We learned that Sherlock Holmes is an inherited title. This is something that the Lupin III franchise has attempted to establish for Lupin III. This may account for the Sherlock Holmes III in episode 15 of Lupin III Part 2.
The Holmes III "faker" referenced in the episode is likely a node to the thief Holmes III character claiming to be a descendant of Sherlock Holmes in episode 97 of Lupin III Part 2.
Lily appears to be the deceased John Watson's daughter. That would explain Sherlock Holmes's attachment to the girl.
When Albert was getting briefed on Lupin, I wanted to see Ami or Rebecca in one of the photos. Alas, 'twas not to be.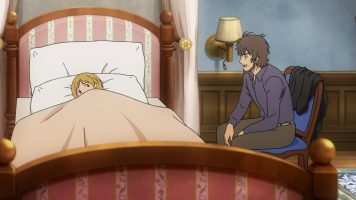 In the end, Lupin the Third Part 6 – 02 was a pretty entertaining episode. So far, the writers are doing a good job with this series.