Yashahime: Princess Half-Demon 23
半妖の夜叉姫 23
Hanyou no Yashahime episode 23
SPOILER Summary/Synopsis:
In the present, Kirin-sensei speaks with Kagome's little brother, Souta, and his daughter. He learns that normal people cannot see the Grim Comet. In the Feudal Era, this information is relayed to Kirinmaru. Elsewhere, at the ruins of Izayoi's mansion, Zero and Riku discuss bringing out Towa's youkai powers. Meanwhile, Setsuna inquires of Jyuubei about the youkai mark on her arm. Moroha joins them and learns the twins want to hire her to slay Zero.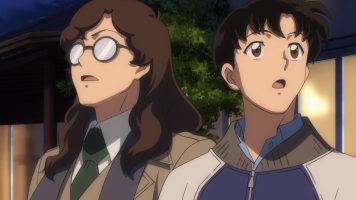 At Sesshoumaru's mother's palace, Kirinmaru apologizes to her for the problems Zero has caused her. Back at Izayoi's mansion ruins, Setsuna, Towa, and Moroha battle Zero and Riku. Towa is stunned to learn that Zero is the "ane-san" (older sister/leader) he admired. However, he reveals to Zero that he has five Rainbow Pearls in his possession, to say nothing of Setsuna's and Moroha's pearls. This incenses Zero, since they are at the place Touga died.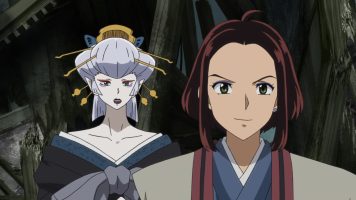 Zero rips the pearls from Moroha and Setsuna. However, Setsuna uses her Blood Blade, the youkai mark on her arm, to slay Zero. Elsewhere, while Sesshoumaru is visiting Rin, she shows signs of dying. He immediately leaves to find Zero. Meanwhile, Sesshoumaru's mother has a chat with Zero before the later goes into the afterlife. During this time, Sesshoumaru arrives and uses Tenseiga to bring her back to life. This in turn saves Rin's life.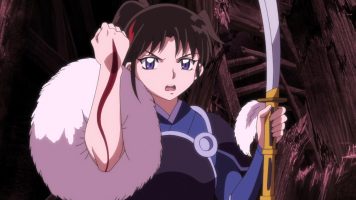 Zero becomes unhinged with rage at learning what Sesshoumaru did. As such, she draws from the power of the pearls and fires magical energy at Tenseiga, breaking the sword. She decides she will slay Sesshoumaru's daughters. At that time, Kirinmaru floats down to join them.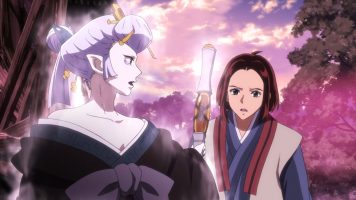 Thoughts/Review:
I gotta say, Yashahime: Princess Half-Demon 23 continues the trend of interesting writing. It has not been a chore to watch the series any more.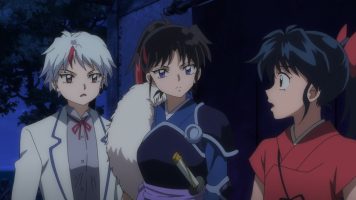 Sesshoumaru's Mother
In the previous episode, Sesshoumaru's mother made a cameo during a flashback sequence. In Yashahime: Princess Half-Demon 23, she gets a substantial part. Not only that, the writers did something that I doubt Takahashi-sensei would have done, had Yashahime been a manga first. They actually addressed the issue of Touga (Inu no Taishou) having married a human. Yes, this was technically in Inuyasha by virtue of the nature of the story. But as a subject, I don't recall it getting touched.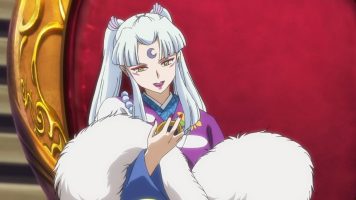 That aside, I liked that Gobodō-sama (as Jaken calls Sesshoumaru's unnamed mother) used her Meidou Stone to communicate with the deceased Zero. While I think that ultimately, Gobodō-sama's intent was to delay Zero, giving Sesshoumaru time to arrive with Tenseiga, the topic of Touga's marriage to a human did come up. Even though she didn't admit it, I'm sure Sesshoumaru's mother didn't like it that her husband went off with a human woman. That said, Gobodō-sama didn't answer Zero's question on how she felt when Izayoi walked the path in the Underworld.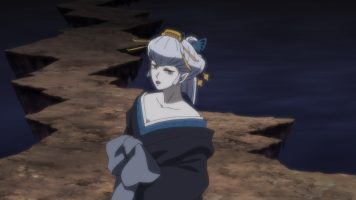 If that wasn't enough, Sesshoumaru's mother had a chat with Kirinmaru. The fact that he would come to her to apologize for Zero's recent behavior shows how respected Gobodō-sama is. Further, Kirinmaru was probing her to see what her reaction would be if he killed her granddaughters. She played it off, but I think she might be a tad displeased. In my opinion, she knows Sesshoumaru's sole focus is for his wife and daughters. So I think she fibbed a bit in her conversation with Kirinmaru.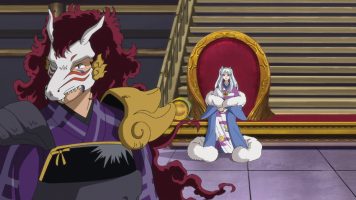 I hope we see her again. Further, I want Towa and Setsuna to meet her.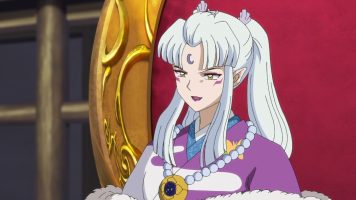 Zero
If there were any doubts before, Yashahime: Princess Half-Demon 23 clearly showed how unhinged Zero is. Sesshoumaru's mother rightly pointed out that Zero's jealousy and such were the behaviors of a love-sick human. It is a shame Zero got resurrected then as she got really pissed with Sesshoumaru's mother. I would have been interested to see how the conversation went.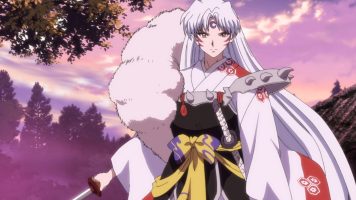 Still, Zero completely flipped out after she was brought back from the lands of the dead. She breaks Tenseiga without any effort. And she vows to kill Sesshoumaru's daughters personally. But now that Kirinmaru has arrived, I'm interested to see how things go.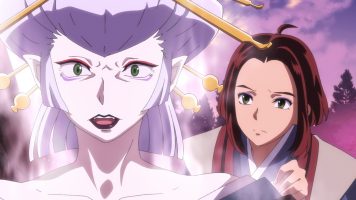 Final Thoughts and Conclusion
I really could say a lot more, but I need to get things wrapped up.
Kirinmaru is able to see what Kirin-sensei sees. So is this Kirinmaru in the future (modern times)? It reminded me of an old Doctor Who episode where an alien ended up being split and scattered throughout time. They all could communicate across time and set in motion a plan. I wonder if that's what Kirinmaru is doing.
Setsuna again states that Riku smells of Kirinmaru. Could Riku be another Kirinmaru? But if so, what is his true purpose?
Setsuna's new Blood Blade power is kinda interesting. She really does take on more of Sesshoumaru's attributes with it.
I like how Sesshoumaru chooses his wife over whatever this new "Wheel of Time" McGuffin is. He may not express himself in normal ways, but it is clear he loves his wife and daughters dearly.
Finally, the episode confirms that Moroha got paid (along with Towa and Setsuna) for Totetsu. However, the writers were cagey on whether Moroha paid off her debt or not. I suspect she has.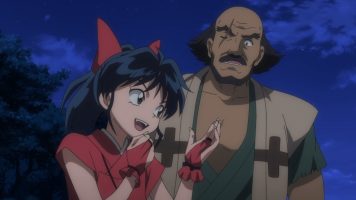 In the end, Yashahime: Princess Half-Demon 23 was another, really enjoyable episode.