Yashahime: Princess Half-Demon 22
半妖の夜叉姫 22
Hanyou no Yashahime episode 22
SPOILER Summary/Synopsis:
In the past, Touga (as Inu no Taishou) works with Kirinmaru to take care of the Grim Comet. Touga has kind words with Zero before departing. In the present, Zero disguises herself at Otsuyu and pays Miroku a visit. Because she has no youki coming from her, Miroku doesn't realize she's a youkai. As such, she traps him and takes from him the spell that will release the seal on Setsuna.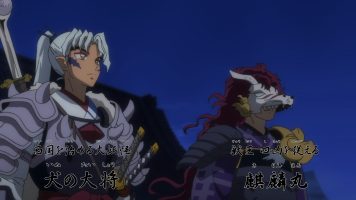 At Jyuubei's place, Setsuna and Towa show up to have Setsuna's naginata sharpened. Moroha states that she's the weapon sharpener. However, Moroha suspects something may be amiss with Setsuna's powers. The trio decide to pay Miroku a visit. However, Towa is snagged by Zero, who possesses her. Moroha goes to deal with Zero, but learns that killing Zero will kill Towa.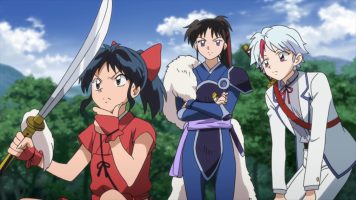 Zero unseals Setsuna's youkai blood and frees Towa. Moroha attempts to dispatch Zero, but even without her youkai powers, she's still too much for Moroha. Zero leaves while elsewhere, Sesshoumaru senses what is happening to Setsuna. Back with Miroku, his eldest daughter Kin'u frees him from the webbing of Zero.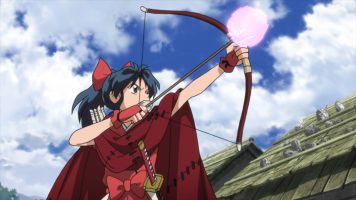 Back in the village, Setsuna goes berserk and produces butterfly wings. She flies off, so Moroha uses the rouge in order to try to catch her. Hisui arrives with Kin'u, who has instructions on how to seal Setsuna's powers. They arrive as Moroha is defeated. Towa grabs Setsuna and manages to reach her. Kin'u attempts to seal Setsuna's youkai blood, but fails. Setsuna is no longer berserk, but she knows her blood is free.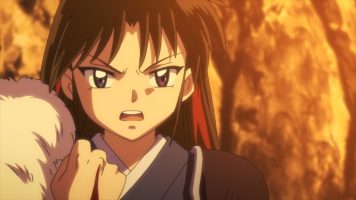 In the present, Towa's teacher, Kirin-sensei, sees the Red Comet.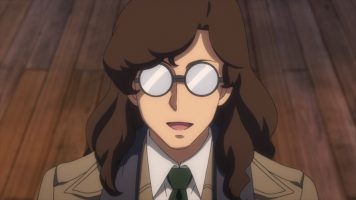 Thoughts/Review:
I gotta say, with Yashahime: Princess Half-Demon 22, I'm really fully invested into this series. I'm so glad the series has shifted to more interesting stories rather than youkai of the week stuff.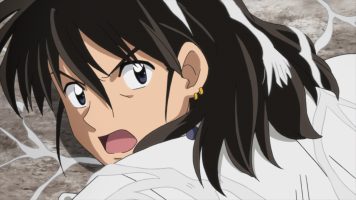 Zero's Plan
It is interesting to me that Zero is actually Kirinmaru's older sister. I think I knew they were related, but before Yashahime: Princess Half-Demon 22, I didn't know she's the elder sibling. Still, after this episode, I begin to suspect that Zero may be the ultimate villain of the series, not Kirinmaru. I say this because he has been shown to have a great sense of honor. Zero, on the other hand, does not.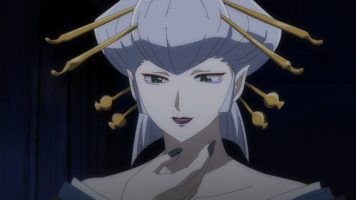 I think I was wrong about Riku acting on his own behalf to restore Zero's powers. Zero quietly thanked Riku, who was not around, for getting Towa's Silver Rainbow Pearl. At the very least, Zero knows what Riku is up to. However, I now suspect she's pulling the strings.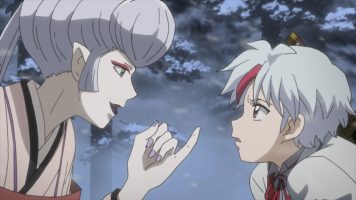 What's interesting is that even though Zero no longer has youkai powers, she is in essence an insanely powerful mage. She managed to rip the sealing spell from Miroku with no problem. She easily possessed Towa. And she easily fended off Moroha's youkai and miko abilities.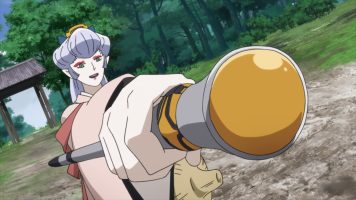 Finally, considering the prelude of the episode, combined with the previous episode, I'd say that Zero has gone insane. In her meeting with Touga, it seemed clear that she had a deep affection for him, which he did not return. Then when he died, she made the wish that caused the Rainbow Pearls to form. Now, she's going after the yashahime in a way that Kirinmaru is not.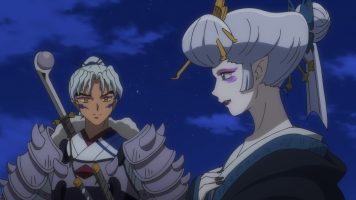 Of course, I could be all wrong about this. I've not been very right to date. 😅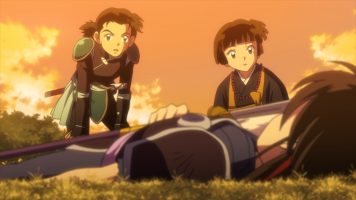 Final Thoughts and Conclusion
Work is busy (as usual), so let me wrap up my review of Yashahime: Princess Half-Demon 22 with some final thoughts.
Tsuchigumo is a spider youkai. This kind of youkai is part of Japanese mythology. One appeared in episode 94 of Inuyasha.
It is interesting that Miroku had his nun daughter Kin'u attempt to reseal Setsuna rather than do it himself. I wonder why.
It looks like Zero may be the cause of Rin being sealed up. In fact, it is implied that Zero's linked to Rin.
Sesshoumaru is aware of what happened to Setsuna. I suspect he will make another appearance.
Totosai (Toutousai) makes a cameo. Wow! Not sure what his words mean, but I'm intrigued.
Speaking of cameos, we got one of present time. How does Towa's teacher see the Grim Comet? His family name of Kirin makes me wonder.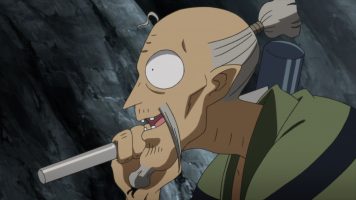 In the end, Yashahime: Princess Half-Demon 22 was another highly entertaining episode. Two more episodes until this series ends and the new one begins.