My Senpai is Annoying 04
Senpai ga Uzai Kōhai no Hanashi 04
先輩がうざい後輩の話 Episode 04
SPOILER Summary/Synopsis:
Futaba calls in sick. Takeda comes into the office, unaware this has happened because he doesn't have a smart phone. Meanwhile, despite feeling bad, Futaba forces herself to go out to get some groceries. However, Takeda is there when she opens her apartment door. Since he has groceries with him, she asks him to fix something for her. As such, Takeda makes udon for Futaba. She goes to sleep and when she awakes, Takeda is gone.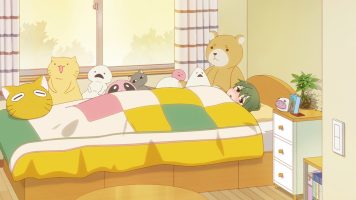 When Futaba returns to work, she doesn't want it known that Takeda was at her place. While out on sales calls, Futaba offers to help her senpai purchase a smart phone. As such, on their day off, Futaba and Takeda meet to buy the phone. Futaba shows Takeda how to exchange contact info. As the pair go home, Natsumi spots them. That night, she calls Futaba about this.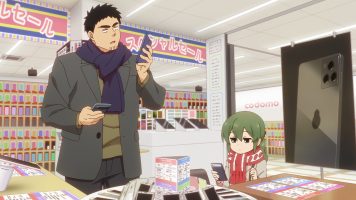 The next day, Futaba is still waiting for an initial text from Takeda. However, he doesn't know how to use Line, so Kazama has to show him. Kazama is amused that it took five minutes for Takeda to write "thanks" in a text. The following day, Takeda calls in sick. Sakurai asks if Futaba is going to do something for Takeda. Futaba denies it.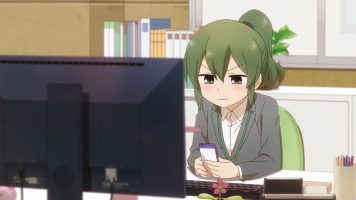 Meanwhile, Takeda decides to force himself to go to the store. Futaba is at the door. She decides to return the favor and cook for him. Takeda finds her cooking to be amazing. After he goes to sleep, Futaba decides to touch his scraggly beard. This wakes him and freaks her out, so she flees. When Takeda returns to work, he horrifies Futaba by bragging about what she did. However, after work, she offers to cook for him again. He decides to take her up on that offer.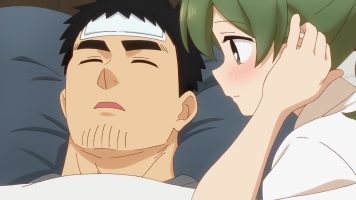 Thoughts/Review:
Man, despite the cliched scenario, I love the wholesome goodness in My Senpai is Annoying 04.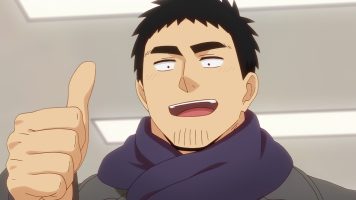 The Sick Trope
I've read many a manga and watched many an anime where a character gets sick. Naturally, another character with romantic feelings has to tend to them. As such, My Senpai is Annoying 04 follows this trope. However, it is somewhat unique in its presentation. For a start, the two leads get sick at different times. As such, the non-sick lead takes care of the sick one. Normally if the second lead gets sick, it is part of a gag that says, "Ooops! You got my cold/flu!" But that wasn't the case here.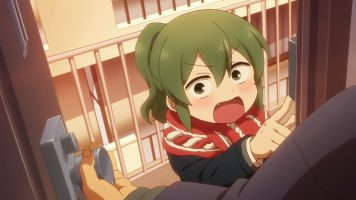 Futaba is certainly a tsundere character type. Yet when she was sick, she cast that aside out of a genuine desire to be cared for. To that end, Takeda makes her a meal. Further, the story avoids the cliched bad food trope and all is well.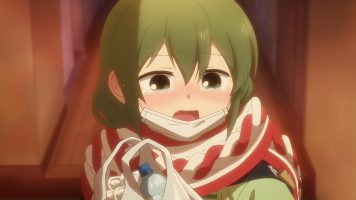 When Takeda gets sick, Futaba returns the favor. The tsundere element is there, but she too makes a good meal. So thankfully, none of the "bad food" cliches are touched. Indeed, Takeda likes her food so much, he wants her to cook for her again. That aside, we do get a moment where Futaba lets her guard down when she thinks Takeda is sleeping. Getting busted is a somewhat cliched thing, but the moment was so funny in the anime, I didn't mind.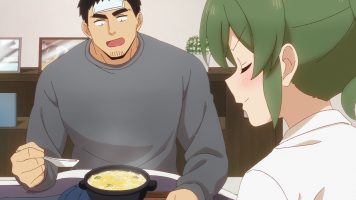 Final Thoughts and Conclusion
Let me wrap up my review of My Senpai is Annoying 04 with some final thoughts.
I'm glad the anime had Futaba wearing the scarf (muffler) Takeda bought her. And Takeda wore the tie Futaba bought him.
The side story (from the manga) about Takeda getting a cell phone fit a a nice break between the two sick stories. And it allowed Natsumi the chance to see Futaba with Takeda.
Speaking of Natsumi, she's got a pretty impressive room for gaming, especially in Japan.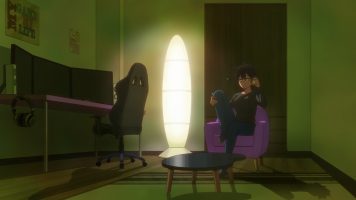 In the end, My Senpai is Annoying 04 was a fun, enjoyable episode that avoided certain cliches while doing the sick character trope.